Opinion: New UC president has opportunity to defund UCPD, improve student resources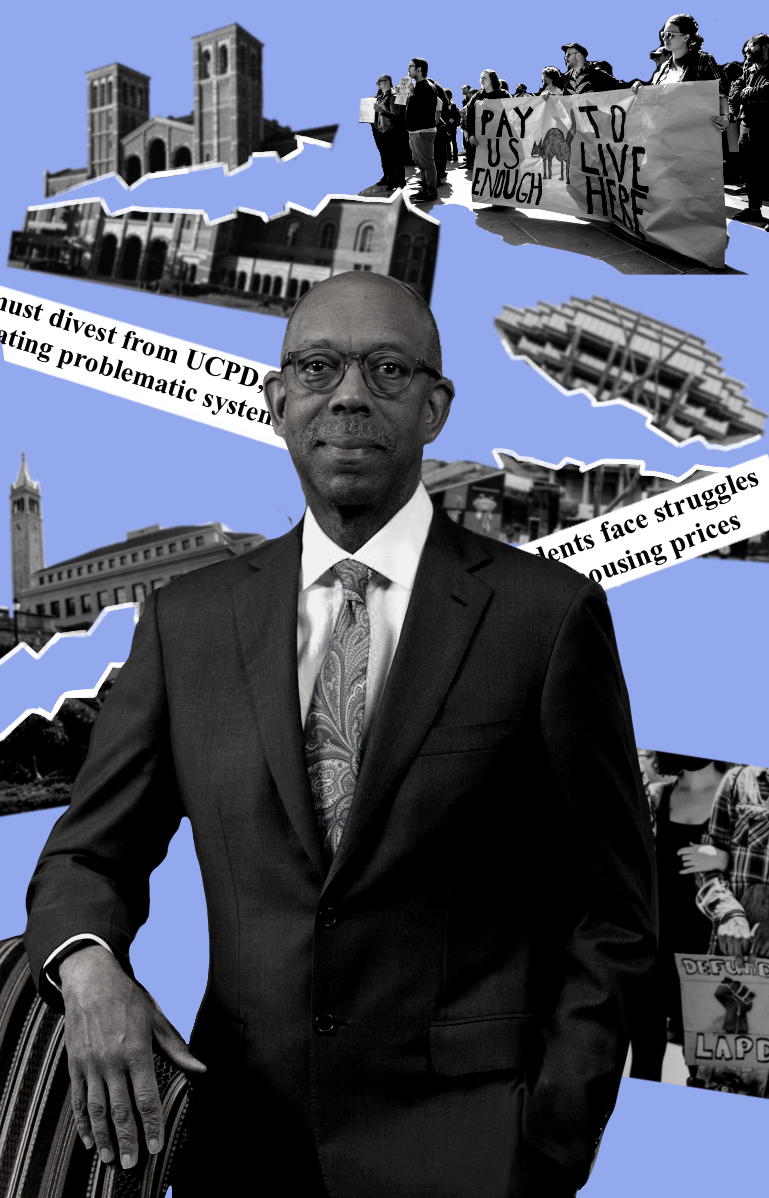 (Center photo courtesy of University of California Office of the President. Clockwise from top left: Photos by Tanmay Shankar/Daily Bruin senior staff, Jintak Han/Daily Bruin senior staff, Lauren Man/Assistant photo editor, Kanishka Mehra/Photo editor, Tanmay Shankar/Daily Bruin senior staff, photo illustration by Emily Dembinski/Illustrations director)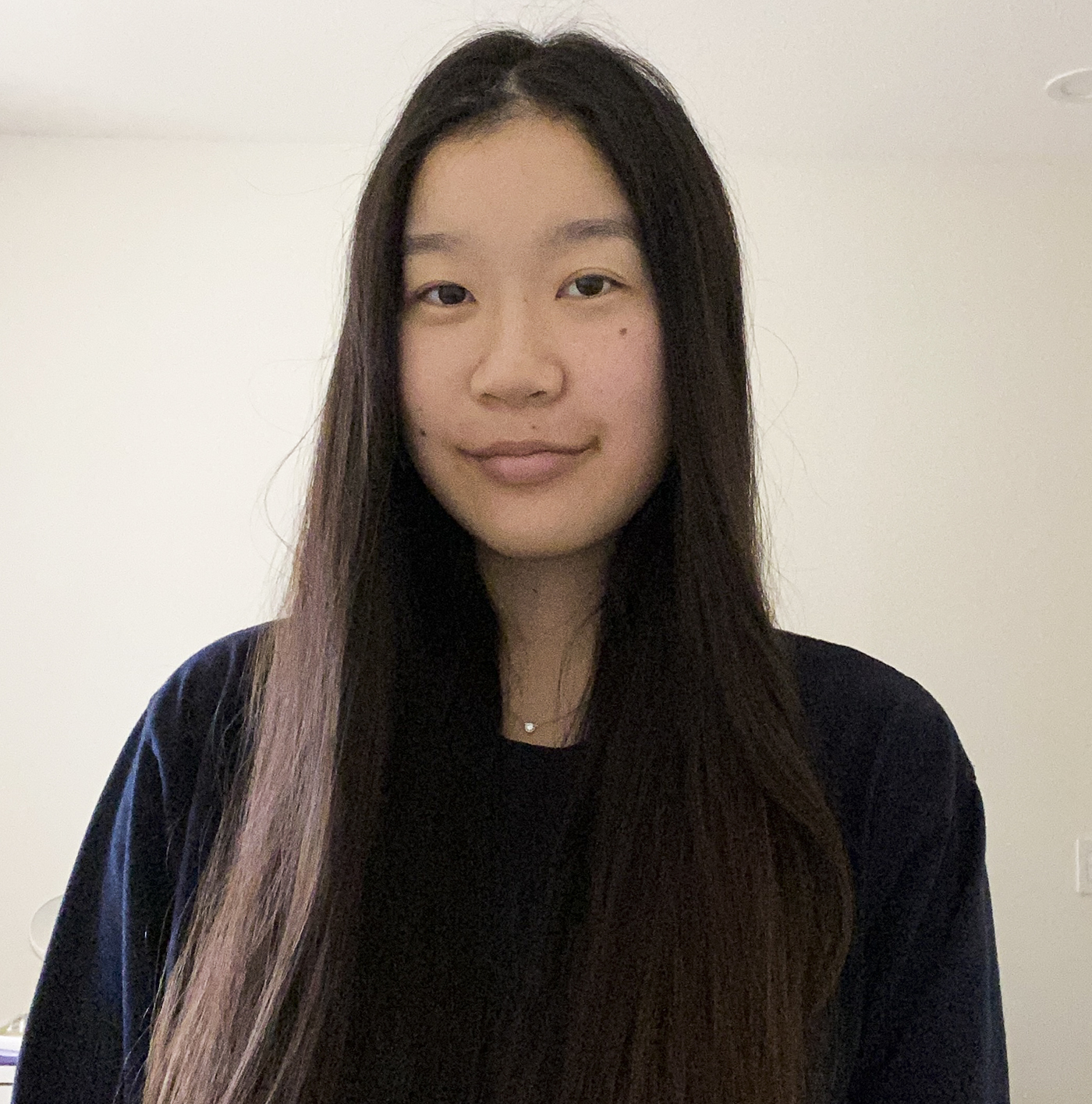 The saying "out with the old, in with the new" symbolizes the sentiment of moving forward.
And with a new president taking over the University of California, we can only hope that forward is truly the direction the UC intends to head.
The University of California announced Michael V. Drake as the new UC president July 7 after a 10-month search. Drake will assume the position previously held by outgoing president Janet Napolitano by Aug. 15 at the latest.
This makes Drake the UC's first ever Black president – and such a momentous occasion is long overdue. However, it's just the start. Amid continued demonstrations against racial injustice, students have been paying more attention to the harsh policing tactics on their own university campuses, as well as the lack of resources for students of color.
If the UC Board of Regents truly wants to be a leader in the fight for racial and social equity, they must work with Drake to listen to students' demands and tackle the issues that campus activists have long been lobbying for. And they can start with reducing the budget of the UCPD and taking steps to ensure that UC students from all backgrounds have the means, both academic and otherwise, to succeed.
Aidan Arasasingham, a fourth-year global studies student and external vice president of the UCLA Undergraduate Students Association Council, lauded the historic nomination of the UC's first Black president and noted Drake as a champion for diversity and inclusion.
"I think that an appointment like this couldn't have come at a better time," Arasasingham said. "It's far overdue but very much needed right now."
But at the end of the day, it's just that – an appointment. Unless there's committed action from the UC toward the campus-related concerns students have, the appointment may as well be another empty gesture.
As the Black Lives Matter movement shines a much-needed spotlight on nationwide policing tactics, students have started to advocate for the reform of the UCPD.
Emily Hong Van Luong, a fourth-year communication student and internal vice president of USAC, said she wants to see the defunding of UCPD on Drake's agenda.
"[An issue] that I would really love to see, as someone that oversees campus safety, is better oversight into [UCPD's] practices and their eventual abolishment," Luong said.
The UC has employed its own police force since 1947 and spent a whopping almost $140 million on policing in the 2019-20 fiscal year alone. However, even with such an extensive budget, there still seems to be a shortage of oversight. UCPD has faced criticisms throughout the years for excessive use of force.
Such incidents include a photo that went viral of a UC Davis campus police officer pepper spraying students who were protesting as part of the Occupy Wall Street movement. Even UCLA faced its own policing scandal when UCPD used a taser five times on a student in Powell Library.
More recently, UC Santa Cruz police showed up in riot gear and arrested 17 graduate students who were protesting for cost of living adjustments.
But demands for reforming or defunding UCPD seem to be falling on deaf ears. UC Berkeley, Davis and Los Angeles are among several UC campuses which are projected to increase their police department's budget for the 2020-21 fiscal year.
Drake has spoken out about his personal experiences with harsh policing tactics. And while the specifics of his stance toward UCPD remain unclear, he recently stated his intent to take on the issue of campus security to the Los Angeles Times.
But if Drake is serious about addressing policing on campus, he must reduce the already exorbitant UCPD budget.
In addition to the glaring issue of the campus police system, both Luong and Arasasingham mentioned their hopes for the UC to make itself more accessible to students from different racial and social backgrounds.
Retention rates of Black and Latino students in the UC system are lower than their white and Asian peers. Making education accessible and fair to all students is a necessity.
James Yoon, a third-year chemistry student, pointed out that many of the systemic issues people of color face in the UC system can't be solved by selecting one person for a position of power.
"I think we need to acknowledge that it is really important that people of color are in these positions but it's not going to be the end-all be-all of racism," Yoon said.
Fortunately, Drake is no stranger to the mission of boosting enrollment among students of color. During his tenure at Ohio State University, Drake oversaw the entry of a historically diverse freshman class and an increase in the first-year retention rate for African American students. This was done while maintaining the university's academic profile. He credited those statistics to the increased efforts taken to promote college education in communities of color as early as possible.
Drake must continue this mission as head of the UC and prioritize outreach efforts among low-income communities of color.
Of course, taking on such matters is going to present its own set of challenges, thanks to the hefty budget deficit resulting from the COVID-19 pandemic. The loss of income has even caused all 10 UC chancellors to agree to a 10% pay cut in May.
Nevertheless, Drake has great potential to serve the UC and make the system more equitable. His former accomplishments at Ohio State University speak for themselves.
Still, this is just the beginning. The work in advancing systemic change and equity within the UC is far from over.