Petition to rename Campbell Hall for Black Panthers killed in 1960s gains support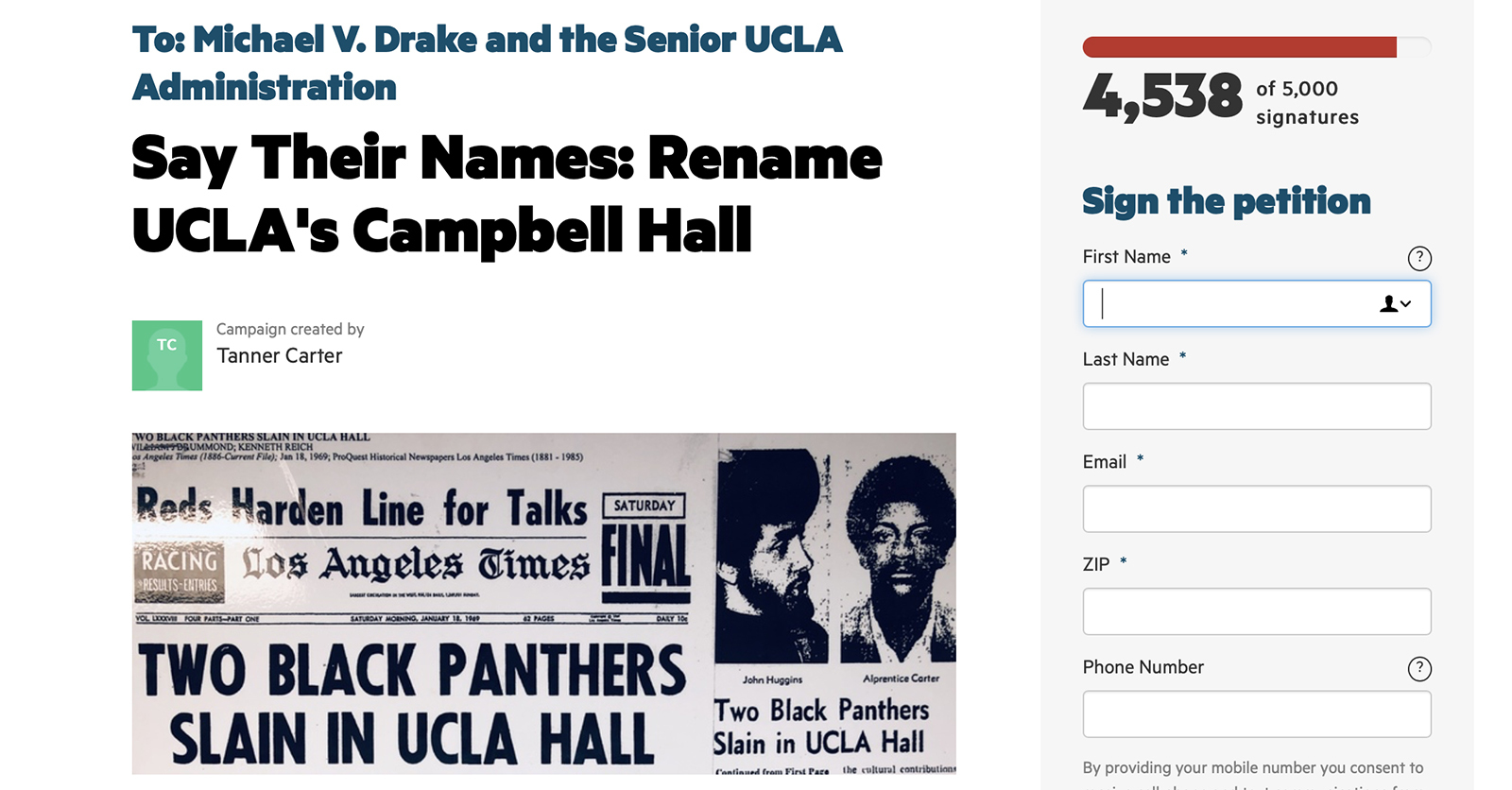 A petition to rename UCLA's Campbell Hall created by fourth-year student Tanner Hall has already garnered over 4,500 signatures as of Aug. 3. (Screen capture by Kanishka Mehra/Photo editor)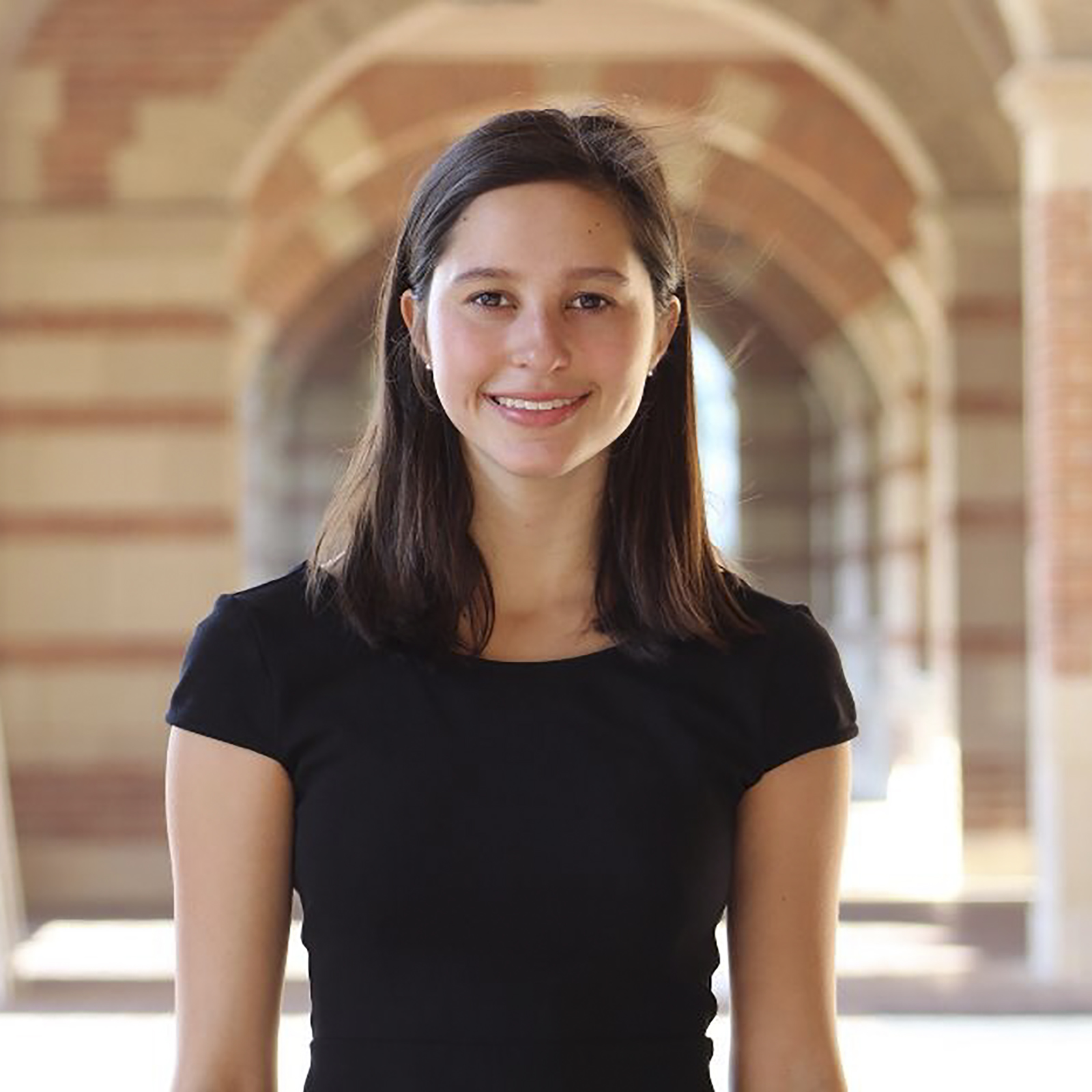 This post was updated Aug. 6 at 7:59 p.m. to include the NWWNC's vote in support of renaming Campbell Hall.
UCLA community members are calling on the UCLA administration to rename Campbell Hall to honor two Black activists who were killed inside the hall in the 1960s.
Tanner Carter, a fourth-year political science student, started a petition in July which calls on UCLA to rename Campbell Hall after Alprentice "Bunchy" Carter and John Huggins Jr., two Black UCLA students who were killed in Campbell Hall at a Black Student Union meeting in 1969. As of Aug. 3, the petition has received more than 4,500 signatures.
UCLA spokesperson Bill Kisliuk did not clarify if UCLA would consider renaming Campbell Hall, but said UCLA appreciates student efforts to bring attention to opportunities for UCLA to make facility names more diverse and representative.
Campbell Hall is named after Lily Bess Campbell, who was an English professor at UCLA from 1922 to 1950 and was an influential scholar on the subject of Shakespearean and English Renaissance literature, Kisliuk said.
Carter and Huggins founded the Los Angeles chapter of the Black Panther Party, an organization that promoted Black nationalism. Claude "Chuchessa" Hubert shot Carter and Huggins amidst tensions between the US Organization, another black nationalist group, and the Black Panther Party, which were instigated by the Federal Bureau of Investigation's COINTELPRO program.
Carter and Huggins were also members of the High Potential Program, which offered higher education opportunities for people from historically underrepresented backgrounds. This program later developed into the Academic Advancement Program.
Today, the AAP is located in Campbell Hall and serves approximately 5,600 multiethnic, low-income, first generation and multiracial students. The AAP renamed its Community Development and Social Justice Program to the Carter-Huggins Community Development and Social Justice Program in February and teaches all of its members about their history.
Mary Corey, a history professor, has taught the history of Campbell Hall in her classes for 24 years. In 2010, students in Corey's 1960s activism class heard about the story of Carter and Huggins and decided to advocate for their memories. The seminar, called the Memory Project, spent the quarter raising awareness about Campbell Hall's history.
[Related: History seminar, the Memory Project, to unveil plaques in memoriam of Black Panther students killed at Campbell Hall]
The AAP has held memorials for Carter and Huggins on the UCLA campus frequently since 1999. At many of these memorials, former Black Panthers, Huggins' widow and others have urged for Campbell Hall to be renamed to Carter-Huggins Hall.
The Memory Project submitted a formal proposal to rename Campbell Hall to UCLA in 2010, but UCLA did not respond to the proposal.
Tanner Carter said he had not heard about the topic until he took Corey's 20th century history class.
"I was not aware of this incident whatsoever until I had taken the class with Professor Corey, and I think that's a shame," Carter said. "One of the goals of this petition is to make sure that all students, regardless whether or not they are a part of the AAP, are aware of this part of UCLA history."
[Related link: Campbell Hall renovation reminder of student activism history]
The general lack of knowledge of Campbell Hall's history among UCLA's student body shows that more action from the university is needed, Carter said.
Corey and Carter also worked with Masai Minters, the associate director of AAP, to urge UCLA to rename Campbell Hall.
Minters said he wants much more tangible efforts from the University to honor Carter and Huggins — the plaque placed in front of Campbell Hall honoring them, the memorials and the AAP program name change were all non-university initiated efforts, Minters said.
"That's not enough," Minters said. "Not close to enough, particularly given the experience (Black people have faced) not just over the last 400 years but just experienced at this campus alone," Minters said.
As a UCLA graduate and Black man, Minters said he recalls feeling unwelcome at UCLA and worries Black students experience similar things today.
Corey said she believes avoiding discussion of Black history on campus is damaging to Black students on campus.
"Erasing things is not a good way to do history, and this has been erased," Corey said. "If you don't talk about history, and you don't know history, how can Black students feel the sense that this is a place where they really want to be or they have a place?"
Corey said that the UCLA administration might be hesitant to promote a tragic event like the 1969 shootings, but she believes it is still a step towards rectification.
"(University administrators) certainly don't want parents coming to campus and finding out that people were murdered," Corey said. "But Kent State has found a way to do it and Berkeley has found a way to memorialize similar things."
Since Michael Drake was recent appointed as president of the University of California, the first Black person to hold the position, Corey said she is hopeful that the petition might receive new attention.
"It is my hope that with the president of the UC system coming in, who is a man of color … that there would be some listening that would be done, there would be some reading that would be done, there would be some understanding of a way to invite this history," she said.
Corey said she hoped this iteration of the petition will strike while the iron is hot in light of ongoing protests in support of the Black Lives Matter movement.
"Everyone seemed to agree that if we could ever do it, the time would be now because of the way race is being reframed, not only in the United States, but across the world right now," Carter said.
The North Westwood Neighborhood Council recently voted in favor of renaming Le Conte Avenue and Janss Steps after both namesakes were deemed problematic for their racist actions and ideals.
Michael Skiles, founder and president of the NWWNC, said that UCLA's recent decision to form a Black Resource Center, after more than five years of advocacy from the Afrikan Student Union and Black Graduate Student Union, was as a sign of the university realizing that it needed to do more to support Black students.
"UCLA realized this petition (for a Black Student Resource Center) was one they couldn't ignore any longer," Skiles said. "I think there's a chance that they might realize now that this petition (to rename Campbell Hall) is one they can't ignore any longer."
The NWWNC voted unanimously to support the petition to rename Campbell Hall at their meeting Wednesday.
Skiles said he thinks the origins behind Campbell Hall's name make this petition different from other renaming efforts.
"The big difference in this call to rename is that it has nothing to do with criticizing or denigrating the contributions of the namesake of the building," Skiles said. "(Carter and Huggins) were martyrs, along with other greats in the history of the civil rights movement like Martin Luther King Jr., and deserve to be remembered and respected."
Carter and Huggins died fighting for a place for African Americans, and there is nowhere better to raise awareness and to honor them than in the place where they died, Skiles said.
Corey and Carter plan to present the petition to Drake and other senior administrative staff on Aug. 15, the day Drake is expected to take office.
Minters said it is crucial that UCLA immediately recognizes and addresses the needs of its community.
"The Panthers used to say 'seize the time, and the time is here," Minters said.