NWWNC votes to rename Le Conte Avenue, citing namesake's racist past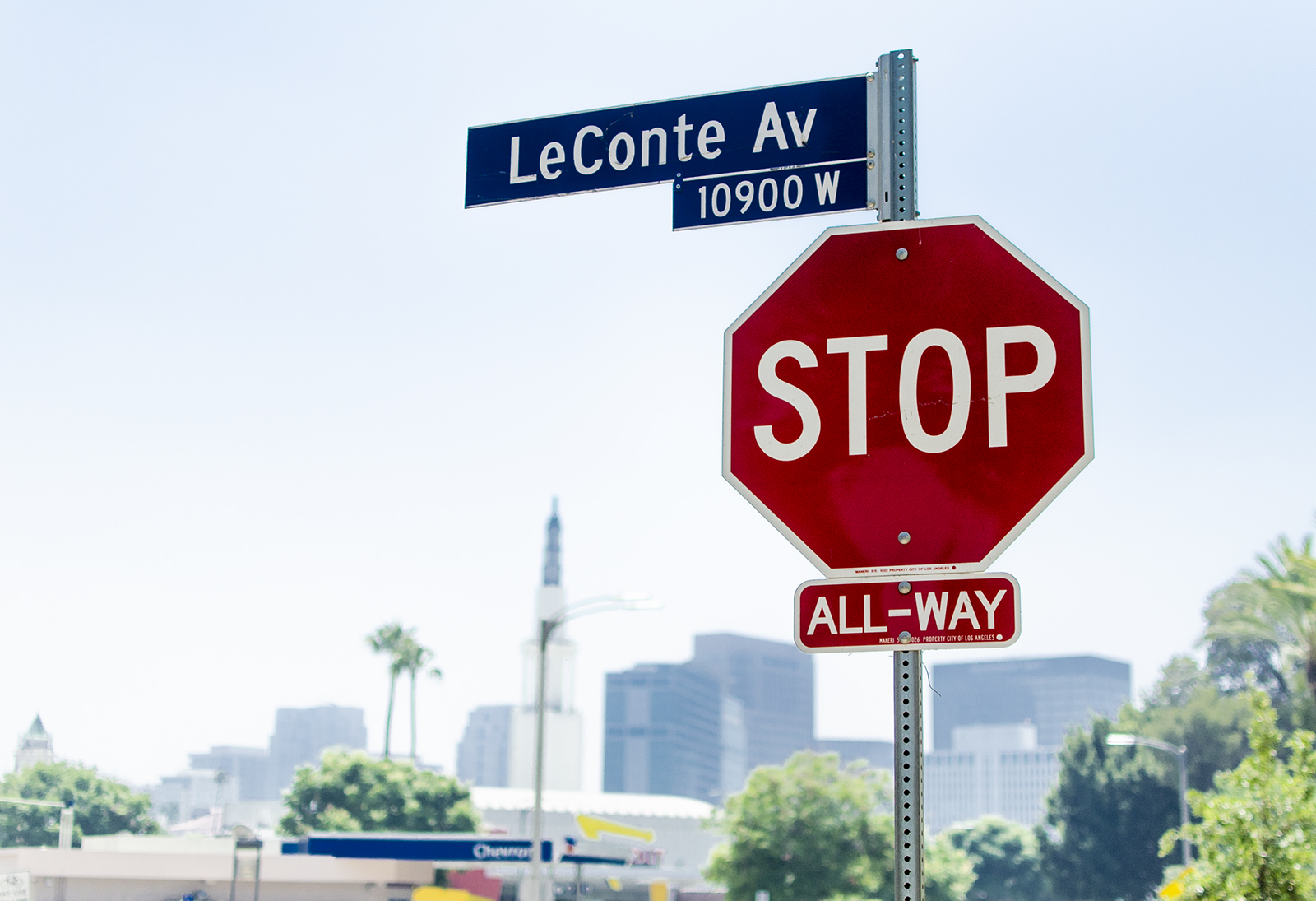 The North Westwood Neighborhood Council voted unanimously to rename Westwood's Le Conte Avenue at a meeting July 1. (Kanishka Mehra/Photo editor)
This post was updated July 21 at 4:41 p.m. to reflect new statements from the North Westwood Neighborhood Council.
Local council members unanimously voted in favor of a resolution to rename Le Conte Avenue in Westwood at a July 1 meeting.
The North Westwood Neighborhood Council endorsed a resolution to recommend notable UCLA alumni of color as possible namesake replacements for Le Conte at its monthly meeting.
Although the NWWNC adopted the resolution, the Los Angeles City Council must approve the measure before the street name can be changed. NWWNC resolutions sent to the city council are generally dependent on the support of city councilman Paul Koretz, who represents the 5th district, which contains Westwood.
The council's recommendations included James LuValle, a Black Olympian who founded the Graduate Student Association at UCLA; Ralph Bunche, a famous UCLA graduate and political scientist; and Jackie Robinson, a UCLA alumnus who was the first Black baseball player in Major League Baseball.
The street is named after Joseph LeConte, who was a professor of geology, natural history and botany at UC Berkeley in the 19th century. LeConte also co-founded the Sierra Club, one of the first worldwide environmental preservation organizations, and was nominated to the National Academy of Sciences.
The NWWNC released a statement July 16 stating that Le Conte Ave was not named after Joseph LeConte, but was named after his son, Joseph LeConte Jr. The NWWNC cited an archived transcript of an interview with Herbert Foster, who named the streets in Westwood.
In the interview, Foster said that he named several streets in Westwood after buildings on the UC Berkeley campus, such as Le Conte Hall, which is named after LeConte Sr. and Hilgard Hall, which is named after former UC Berkeley professor Eugene Hilgard. Foster said he chose the name for LeConte Ave because he enjoyed a class he took with LeConte Jr. at UC Berkeley, but it is not clear if Foster named LeConte Ave after LeConte Sr. or LeConte Jr.
NWWNC councilmember Grayson Peters said he wrote the resolution after he heard about LeConte's racist and controversial legacy.
LeConte worked for the Confederacy during the Civil War and opposed voting rights and education for Black people during Reconstruction, the period after the Civil War when the U.S. grappled with how to move forward after the end of legalized slavery. He advocated for scientific racism, an ideology that favors political superiority for white people on the basis of supposed biological superiority.
Peters said streets should be named after people the community wants to honor, and added he thinks LeConte's life weighs heavily in the negative.
"It's not merely a question of the complexity of one's legacy, but rather a question of whose legacies we want to promote and glorify," he said.
The resolution also states that several other locations in California have already removed LeConte's name, including Le Conte Elementary School in Berkeley, which the Berkeley School Board renamed for Sylvia Mendez, a desegregation advocate, in 2018.
The NWWNC also passed a separate resolution calling to rename the Janss steps on UCLA's campus, named after Janss Investment Company, a family-run real estate development entity that developed land around Westwood in the 20th century. The Janss Investment Company used racial covenants to exclude people of color from renting or owning property in Westwood.
Peters and other council members said they attributed the recent discussion to rename Le Conte Avenue to the renewed national dialogue on race after a police officer killed George Floyd, a black man, on May 25 in Minneapolis.
[Related link: Protests erupt in Los Angeles in response to death of George Floyd]
Recent nationwide protests led to more dialogue about social justice among the council, said NWWNC president Michael Skiles.
While changing street names may seem like a small step to combat racial inequity, the vote was important to uphold values of diversity and inclusion that define Westwood and UCLA, Skiles said.
"I don't think that any person at UCLA should have to walk down a street, look up at a street sign, and think … the person for whom that street is named did not want me here," he said. "This person did not think that I am equal to him."
Stephen Aron, a history professor, said that although conversations about renaming Le Conte are productive, Westwood's dialogue on race needs to extend far beyond changing street names or monuments.
"Symbols and statements matter but I would be troubled if that was all we did," Aron said. "There are important ways that we should be tackling the issues surrounding Floyd's death, and I hope that we don't focus exclusively on symbolic issues."