Editorial: UCLA needs to stand up to legal databases with ties to ICE, promote alternatives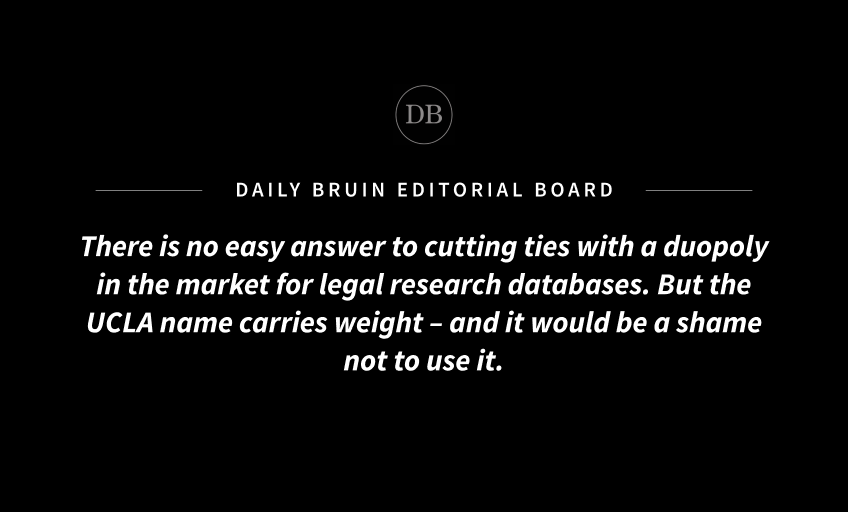 UCLA has long claimed to be a champion for undocumented students, but contracts speak louder than words.
Specifically, contracts with legal databases that sell information to the U.S. Immigration and Customs Enforcement.
A recent investigation revealed that the UCLA School of Law holds contracts with Westlaw and LexisNexis that total nearly $600,000 for online legal research services. Their respective parent companies, Thomson Reuters and RELX, have been known to sell data and services to ICE that helps it arrest undocumented immigrants.
It is unconfirmed whether or not the companies sell research conducted through Westlaw and LexisNexis to immigration enforcement agencies, but the possibility should still be a cause of unease.
Because there are no other databases that match the abilities of Westlaw and LexisNexis, law students have no choice but to inadvertently sustain ICE whenever they use UCLA law databases – even if they hope to advocate for immigrants' rights in their legal work.
Put simply, every time a student learns more about immigration law, that information may be resold to their opponent in the courtroom.
There is no easy answer to cutting ties with a duopoly in the market for legal research databases. But the UCLA name carries weight – and it would be a shame not to use it. A statement from one of the nation's top public universities condemning the actions of Thomson Reuters and RELX increase attention on the companies' practices, and considering UCLA's history of support for the undocumented community, it's the least it could do.
UCLA has said, time and time again, that it stands with Deferred Action for Childhood Arrivals recipients. In February, the School of Law established a new immigration law center thanks to a donation from alumna Alicia Miñana, an immigrant herself. And just over three weeks ago, the University of California announced that it would sue the federal government over restrictions that would force international students to leave the U.S.
But when it comes to legal contracts, UCLA seems more than content to remain hush about the issue altogether. Maybe it's the massive financial investment that comes with these contracts, or perhaps the internal nature of their dealings with Thomson Reuters and RELX – but regardless of the reasons, the university has an obligation to let its law students know what they're getting into.
And if it wants to do better by its students, the university already has somewhere to start.
UCLA law students are circulating a petition demanding that UCLA inform the community of the contracts, push Thomson Reuters and RELX to cut ties with ICE and train students to use alternate tools for legal research.
So if UCLA is unwilling or unable to cut ties with these companies, it needs to start taking notes.
There's a remote possibility it would be enough to ignite a change in the two companies. There's a greater chance it would let some smaller, lesser-known legal databases grow. But regardless of what happens, UCLA must invest in alternatives, and encourage other universities to follow suit. At the very least, it would make some waves and start a discussion.
Until then, the only stake UCLA has in this issue is its platform.
It's time to use it.