UCLA School of Law holds contracts with companies selling personal data to ICE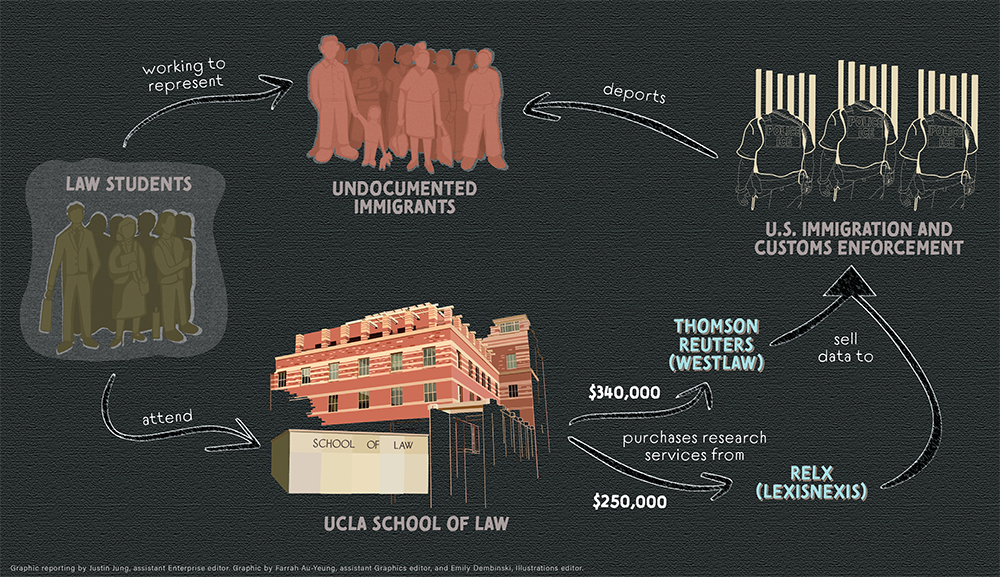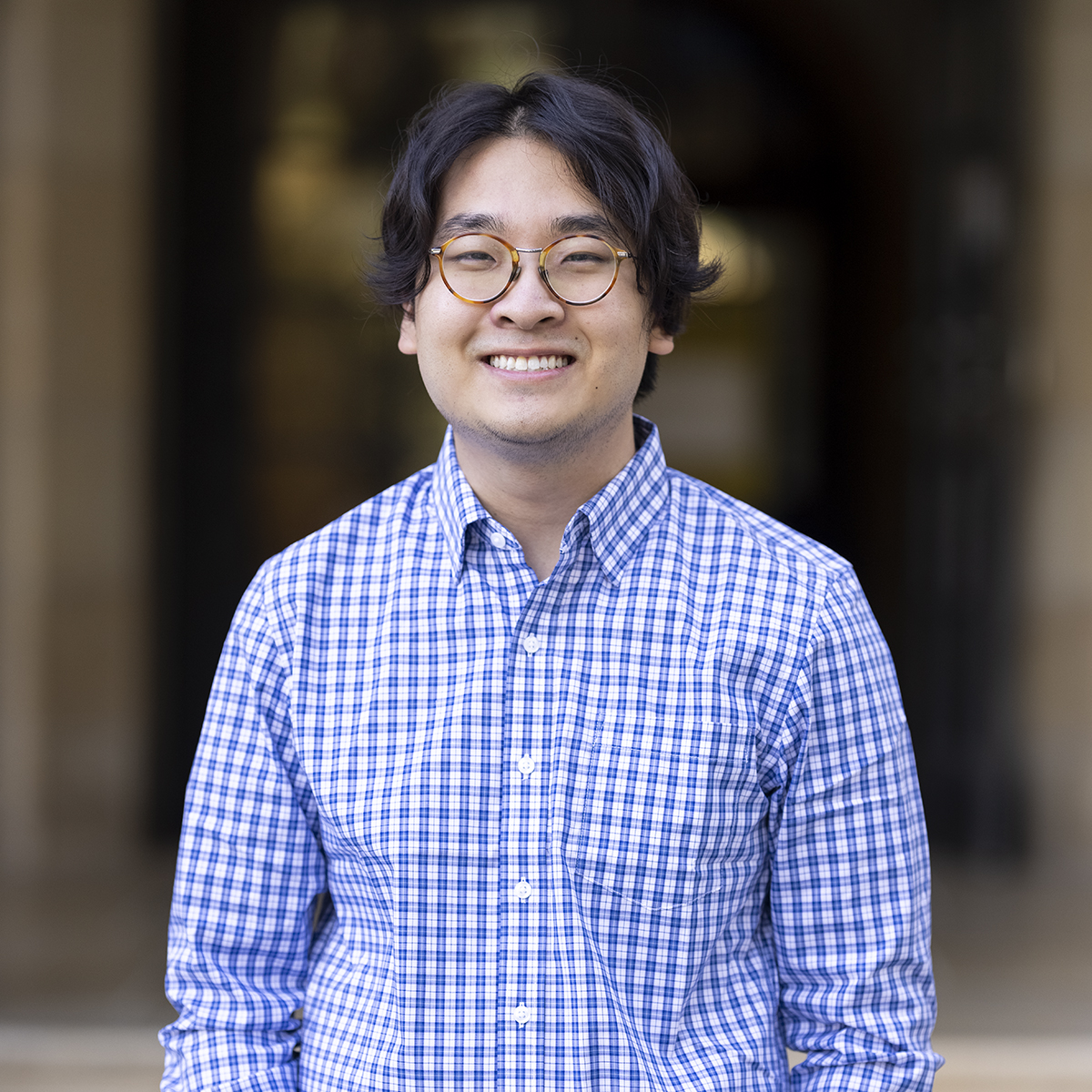 This post was updated July 17 at 11:29 a.m.
UCLA currently has contracts with companies that sell personal data to the U.S. Immigration and Customs Enforcement agency.
The UCLA School of Law paid about $340,000 to Westlaw and $250,000 to LexisNexis for access to the companies' online legal research services for the academic years between 2015 and 2020, according to Westlaw and LexisNexis invoices since 2015. According to the school's current LexisNexis contract, the School of Law will make additional payments totaling about $100,000 for access until 2022. Thomson Reuters and RELX are the parent companies for Westlaw and LexisNexis, respectively.
Thomson Reuters and RELX own subsidiaries that sell data and other services to ICE. Thomson Reuters' contracts with the U.S. Department of Homeland Security, for ICE operations, have a current value of about $25 million while RELX's contracts with the DHS for ICE operations have a current value of nearly $2.5 million.
ICE, a DHS agency, arrested about 143,000 people who were not U.S. citizens in the 2019 fiscal year. ICE is also responsible for conducting investigations and gathering intelligence related to transnational crimes.
ICE uses personal data purchased from Thomson Reuters and RELX to help make its arrests, said Mijente spokesperson Jacinta Gonzalez. The data sold to ICE includes home and work addresses, Gonzalez added. Mijente is a nationwide political advocacy group that is working with some UCLA law students to raise awareness of some data companies' ties to ICE.
Despite the ties to ICE, teaching with Westlaw and LexisNexis legal research services is necessary to fully prepare law students, said Kevin Gerson, the UCLA Hugh and Hazel Darling Law Library director, in an emailed statement.
The two companies' legal research services are used by nearly all lawyers, said Sarah Lamdan, a City University of New York School of Law professor and librarian. Lamdan said when she was in law school, LexisNexis had a red color brand and Westlaw had a blue color scheme, and the two were dubbed the red and blue pill.
"When I started law school, they (said,) 'OK, either you choose the red pill or the blue pill, and that is the drug (that) you're going to be hooked on for the rest of your law career,'" Lamdan said.
Data privacy
It is unclear whether Thomson Reuters and RELX sell UCLA legal research data to ICE, Lamdan said. For example, when individuals conduct research through Westlaw and LexisNexis services, they are not sure whether their own research is sold to ICE, Lamdan said.
Thomson Reuters spokesperson Dave Moran said the company does not sell customer data or research to law enforcement.
LexisNexis also does not directly share customer data with its law enforcement databases, according to a Nov. 18 LexisNexis emailed statement to law faculty. The company also denied that its products were a key role in ICE surveillance and raids.
Most of the value of its ICE contracts was for providing access to legal research services for detainees, LexisNexis said in the email to law faculty. These services include bilingual user guides and immigration forms to inform detainees of their rights and help them prepare their legal cases, the company said.
However, the public cannot verify whether Thomson Reuters and RELX are following their data privacy policies, Lamdan said.
"Their algorithms and their information flows … are like a black box, we can't see inside of them," Lamdan said. "We don't know how they treat our user information. … In the past, research information has been used in surveillance efforts, so it does raise some red flags."
RELX and LexisNexis did not respond to a request for comment.
Nina Papachristou, a law student who is training to become an immigration attorney, said she is concerned about using Westlaw and LexisNexis without knowing if her research is shared with ICE.
"What are the ethical implications of doing research for a specific client using these (services), if we're not sure whether or not the research that's happening is being shared with the person on the other side of the courtroom?" Papachristou said.
Regardless of if there is direct data sharing, Lamdan said ties to ICE raise ethical questions for law students and immigration lawyers.
"(The concern is) that you are breaching your responsibility to zealously advocate for your clients when you pay thousands of dollars for Westlaw and (LexisNexis) subscriptions, knowing that (your) money goes to (research and development) efforts to build surveillance products that get sold to ICE," Lamdan said.
Data contracts
Some UCLA law students have organized to raise awareness of the ties to ICE and circulate a petition against the School of Law, Thomson Reuters and RELX. These students are members of UCLA Law Students Against ICE, UCLA Law Students for Immigrant Justice and the UCLA chapter of the National Lawyers' Guild.
The law students demand Thomson Reuters and RELX divest from their ICE contracts. Their petition also calls on UCLA professors to tell their students about Thomson Reuters' and RELX's ties to ICE and train with alternative research services.
"(We) demand that (the School of Law recognizes) the ethical implications of offering these two research (services) as the only way to practice law and to do legal research," said Papachristou, a member of these student groups.
The School of Law has been working to provide access to alternative legal research services, Gerson said. A list of available legal research services can be found on the UCLA School of Law library website.
UCLA academic freedom policies allow professors to control their curriculums and research methods. However, School of Law professor Jennifer Chacón said she thinks the UCLA administration should still consider ICE ties when forming contracts with Thomson Reuters and RELX.
Alternative legal research services could immediately replace Westlaw and LexisNexis in some law classes, Chacón said. However, Westlaw and LexisNexis are more advanced and widely used than the alternative services, Chacón added.
Since law students use Westlaw and LexisNexis services for many purposes including researching previous court cases and writing legal memos, UCLA is unlikely to divest from the companies, Papachristou said. However, law students should still continue to campaign against UCLA Law and the companies, Chacón said.
"We're all complicit in some ways with things that we don't like," Chacón said. "It's hard, but that doesn't mean that you shouldn't try to generate transparency and accountability around these issues."
"Data cartels"
ICE's digital surveillance of undocumented immigrants is made possible through data supplied by companies like Thomson Reuters and RELX, Lamdan said.
"It's a phenomenon that I call data cartels," Lamdan said. "(It's) the changing dynamic of publishers and how they're becoming data brokers and data vendors and at the pinnacle of the law enforcement data brokering market."
Lamdan said the data sold to ICE includes surveillance camera videos, criminal records, addresses, credit reports, government licenses and social media use.
ICE has started using purchased data to make arrests directly at peoples' homes and workplaces, Gonzalez said.
"People ask, 'Well, how (does ICE) know their address? How did they get their information … to be able to take them away from their family, take them away from their community?'" Gonzalez said. "The answer is that (the) information is coming from Thomson Reuters and RELX."
Companies like Thomson Reuters and RELX will not change their data policies and contracts without pressure from law schools, Papachristou said.
Law schools have a responsibility to advocate for undocumented immigrants, Papachristou said. UCLA is particularly poised to address these issues because of its focus on critical race issues, Papachristou added.
In addition to searching for alternative legal research services, UCLA has created a guide for students approached by immigration officers, said UCLA School of Law spokesperson Bill Kisliuk. The UC Police Department does not work with ICE, Kisliuk added.
"We think that UCLA Law should be a leader on this issue because we think that the abuses of ICE is one of the most important human rights issues in America," Papachristou said.
Jung is the 2021-2022 assistant News editor for the city and crime beat and was previously the assistant Enterprise editor. He is also a photographer and Copy contributor for the Daily Bruin. Jung is a third-year global studies and geography student.
Jung is the 2021-2022 assistant News editor for the city and crime beat and was previously the assistant Enterprise editor. He is also a photographer and Copy contributor for the Daily Bruin. Jung is a third-year global studies and geography student.