Art student draws from memories, emotions to create surreal landscapes and portraits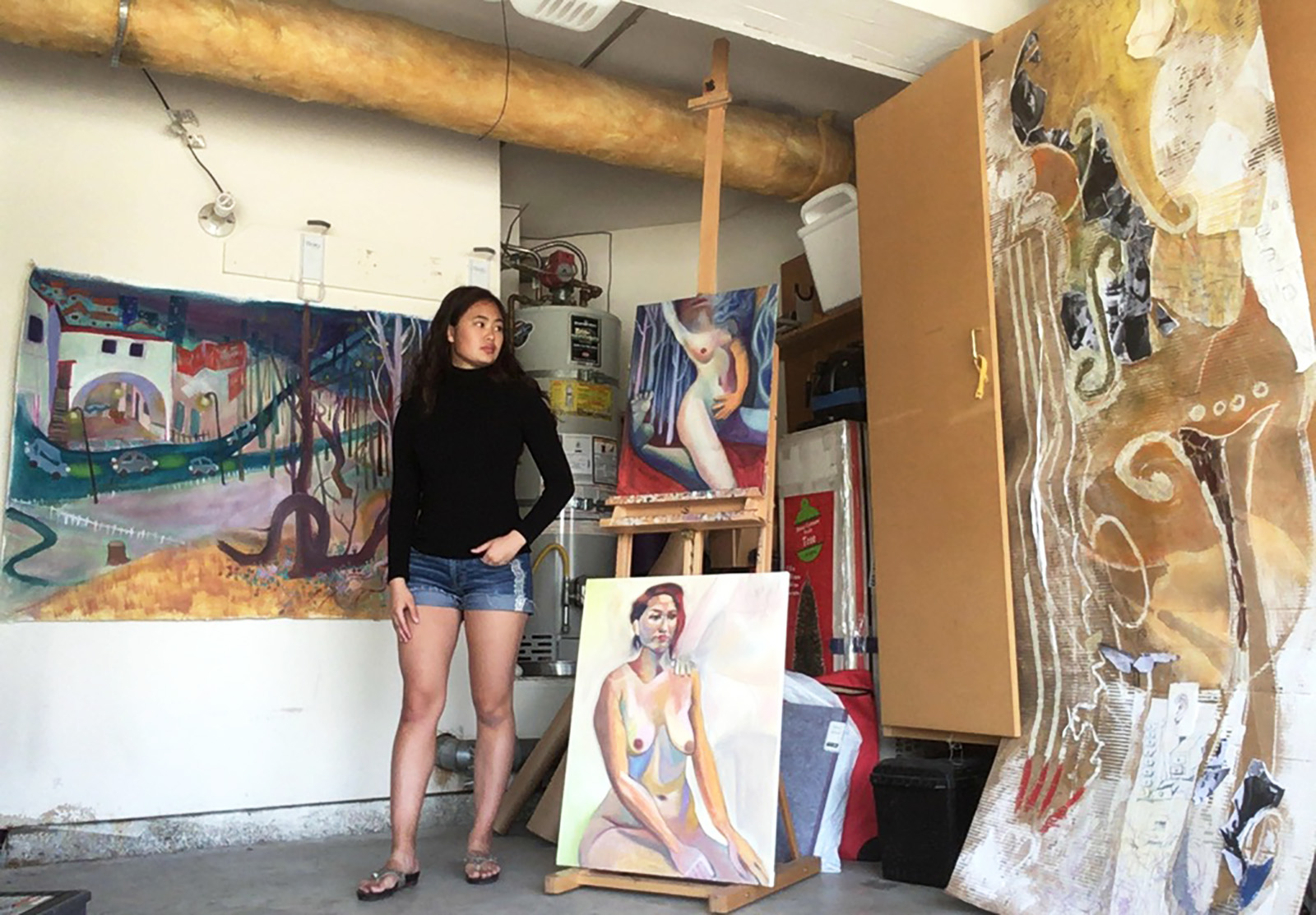 Student artist Fiona Hsu creates whimsical and autobiographical pieces that she wants her audience to connect with on a personal level. She is currently working on mastering digital art. (David Rimer/Daily Bruin)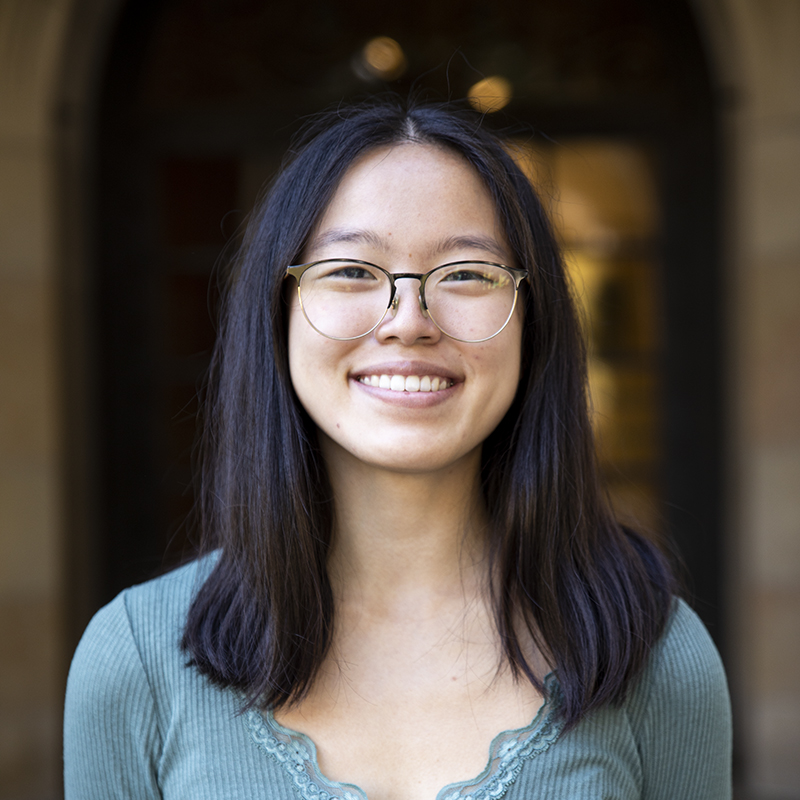 Fiona Hsu's artwork is a visual autobiography – navigating both her unconscious and conscious realities.
The second-year art student said she uses the freedom of her craft – from oil painting to fine art photography – to find her voice. By using art as a mode of self-expression, Hsu said she channels memories like music recitals and figure skating performances that define her life's story. Hsu is currently venturing into digital art during her free time in quarantine, and she hopes her audience can connect with her pieces on a personal level.
"I don't want to directly put a scene in my art in a way where people will look at it first glance and know what's happening," Hsu said. "I want them to look at it and then be able to relate it to themselves."
Hsu said her personal connection with art began at a very young age when her mother suggested she make paper dolls rather than buy plastic ones. While she did not take art lessons as a child, Hsu said she was able to teach herself basic drawing techniques through YouTube tutorials. Learning from the works of other artists on sites like Pinterest and Instagram also helped Hsu solidify her skills as she eventually expanded into Photoshop, oil painting and fine art photography.
[Related: Arts therapies continue to unite, heal communities through virtual formats]
Regardless of the medium, Hsu said her preferred method of processing her emotions is through symbolism embedded in her work. After suffering a figure skating accident in middle school that left her in a wheelchair for a year, Hsu said she created a series of oil paintings entitled "Garden of Wounds" that detailed her mental and physical journey to recovery. The 12 paintings progress in order, beginning with a girl sprawled on the ground surrounded by birds and ending with the girl sewing a bird into her back.
"In that period of my life, … I (was) trying to physically heal and also heal emotionally and mentally," Hsu said. "Being stuck in a wheelchair, I couldn't do anything. … I was kind of comparing myself to a wounded bird."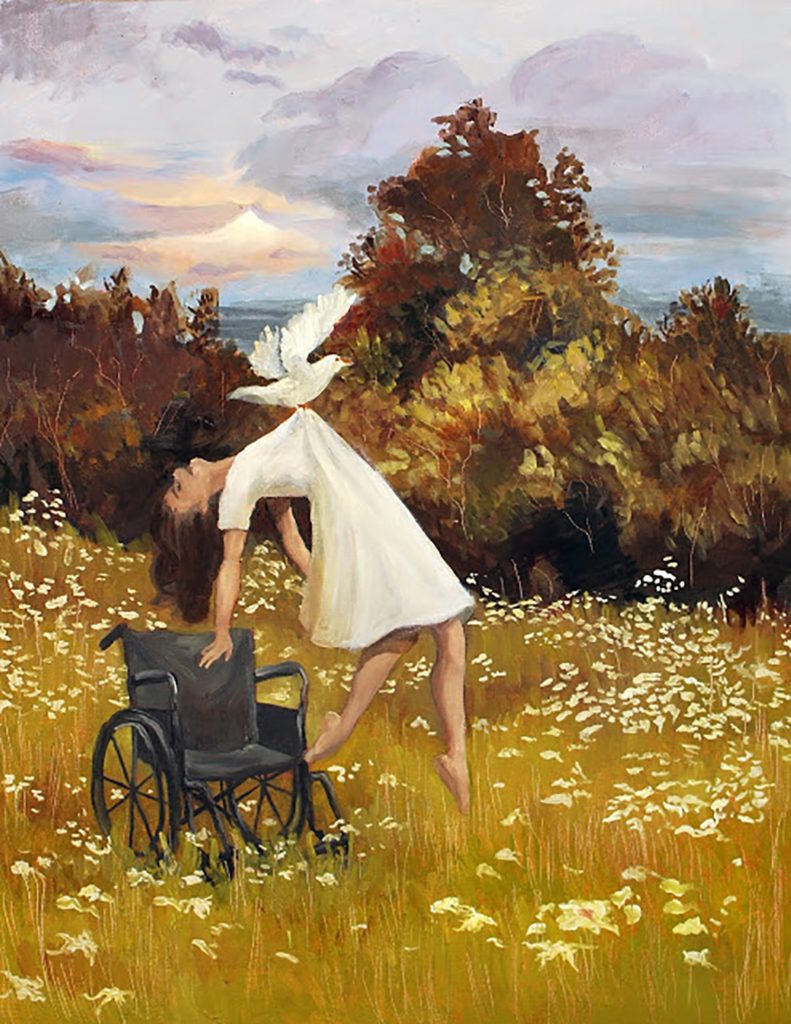 Years after the injury, Hsu still uses central themes of symbolism in her current work, said Victor Estrada, a lecturer of painting at the UCLA School of the Arts and Architecture. He said Hsu investigates aspects of her life within her paintings that are metaphorically larger than the images themselves. In particular, Estrada said her final project for his class – a 5-by-7-foot self-portrait – gravitated away from a traditional or Renaissance painting style into a more abstract style.
"She was able to move beyond just painting something from observation and begin to develop ideas that might be encompassed by notions of surrealism," Estrada said.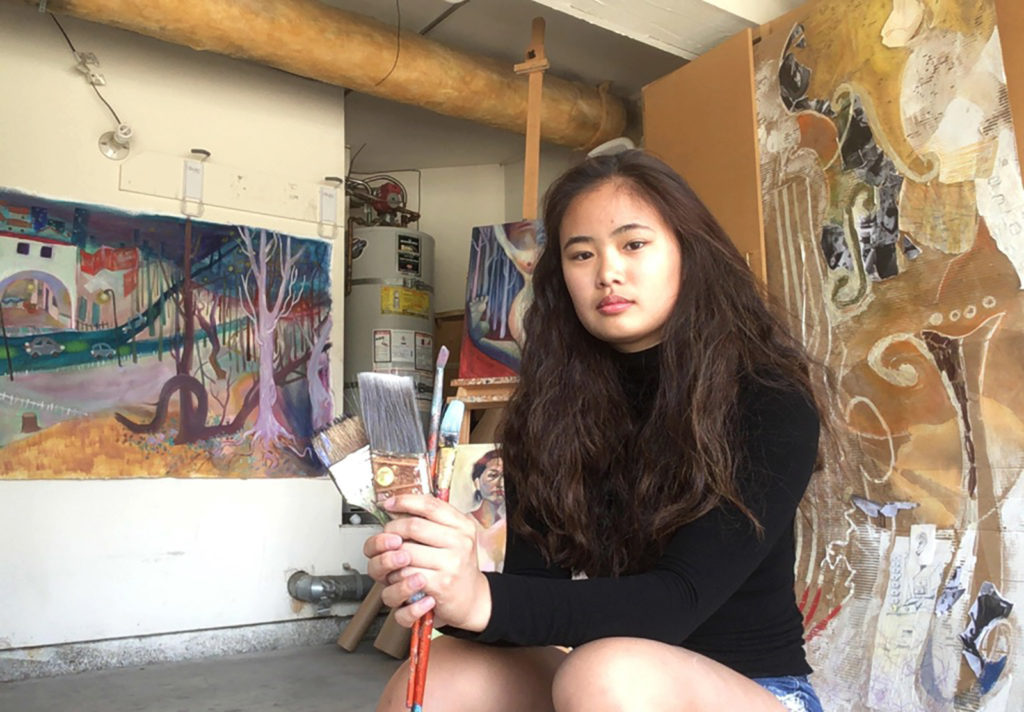 The artistic movement of surrealism is characterized by subconscious creationism, which intends to liberate thoughts buried within the mind. Hsu's pieces are often a reflection of the unconscious, said her friend Margaryta Tumashyk, who has modeled for some of Hsu's fine art photography pieces. Tumashyk said Hsu's open-minded approach to her creative process results in dramatic pieces that reflect her whimsical style.
"(Hsu) uses dark colors, high contrast and sharp lines in her work, and uses Photoshop to complete the piece," Tumashyk said. "The works mostly convey a dreamlike state because she takes most of her inspiration from her dreams."
[Related: Perry Picasshoe reimagines famous art with LGBTQ+ imagery, emphasizes theme of love]
Currently, Hsu said she is working on mastering digital art – a medium that she has tried before but has never had time to fully pursue until now. She said her interest in 3D animation and fantasy movies – where landscapes are designed from the creator's imagination rather than modeled after reality – encouraged her to register for online art courses in digital concept design.
As she began familiarizing herself with digital art, Hsu was inspired by her favorite novel "Jane Eyre," and said she is using the computer graphics software Blender to design a room for one of the novel's characters, Bertha Mason. In the book, the character is locked in an attic by her husband due to her erratic and violent behavior, which Hsu said she is trying to convey through the musty ambiance of the room.
"There's only little light, plates are on the floor, the room is a mess – blankets, towels everywhere and such," Hsu said. "The atmosphere is hazy, … you can see dust."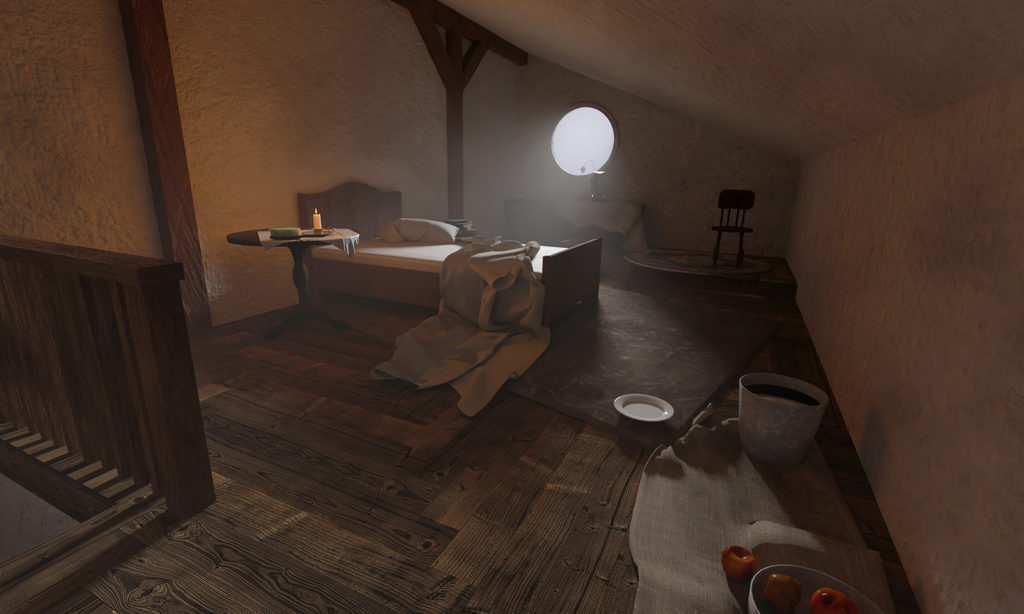 Though digital art is relatively new for Hsu, she said her training in oil painting and photography has been extremely helpful during the learning process. Her knowledge of art concepts like perspective have come in handy when using shading blocks to construct landscapes, while her familiarity with performing heavy manipulations in Photoshop have made it easier to navigate the digital realm.
Ultimately, Hsu said she hopes that she will be able to pass on her knowledge in these various mediums by teaching art to children later in her career. Art is far more meaningful than simply learning how to draw, she said, as it also encompasses life skills like problem-solving. Beyond that, Hsu said she wants to teach children that art should not be tossed aside as a simple pastime, but should rather be embraced as a meaningful pursuit.
"I really want to teach kids that art is really useful and it's not just a hobby," Hsu said. "That's the idea I grew up listening to, 'Oh it's just a hobby,' but it's (more than that.)"
Xu is the 2021-2022 Arts editor. She previously served as the music | fine arts editor from 2020-2021 and was an Arts reporter from 2019-2020. She is a third-year neuroscience student from Philadelphia, Pennsylvania.
Xu is the 2021-2022 Arts editor. She previously served as the music | fine arts editor from 2020-2021 and was an Arts reporter from 2019-2020. She is a third-year neuroscience student from Philadelphia, Pennsylvania.