Perry Picasshoe reimagines famous art with LGBTQ+ imagery, emphasizes theme of love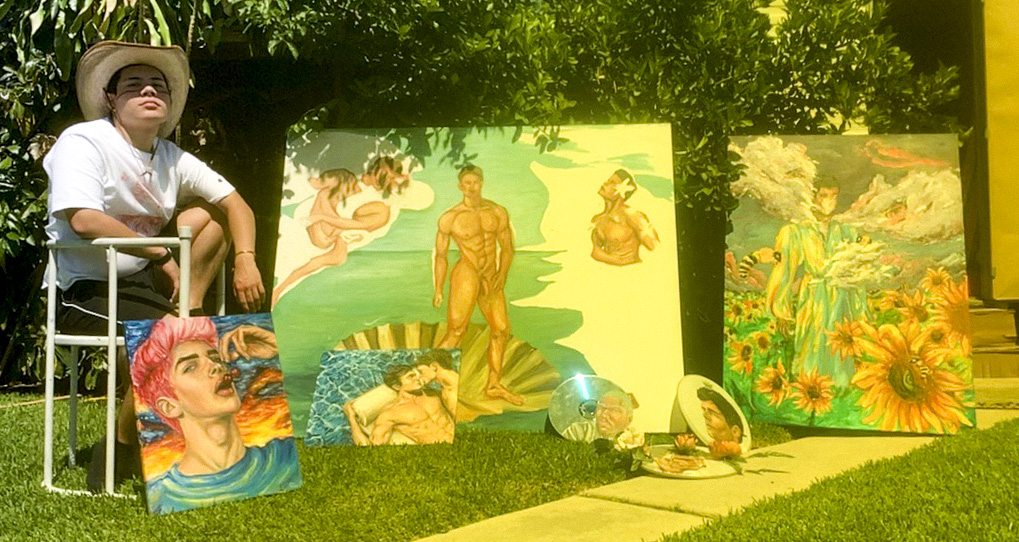 Student artist Perry Picasshoe plans on creating and curating an exhibit dedicated to LGBTQ+ inclusivity over the summer. Many of his pieces that he will include focus on embracing all forms of love. (Alex Driscoll/Daily Bruin)
Perry Picasshoe is reimagining "The Birth of Venus" for the modern age.
Second-year visual arts student Juan Hernandez creates art under the pseudonym Perry Picasshoe, a name that acts as an homage to renowned artist Pablo Picasso while playing on the term "art hoe" – someone who feigns an intense interest in art without knowing anything aside from famous works. His current work in progress is an oil painting that is a queer rendition of Sandro Botticelli's "The Birth of Venus," using LGBTQ+ imagery such as pride flags. Picasshoe said he hopes to include this piece and others in an LGBTQ+ inclusivity-focused art collection that he will develop over the summer.
"There's two different ways to define queer art. The first is art made by queer folks, so it could just be any work, but the artist happens to be queer; and the other way of describing it is work that depicts queer culture," Picasshoe said. "For my case, I'm doing both at the same time."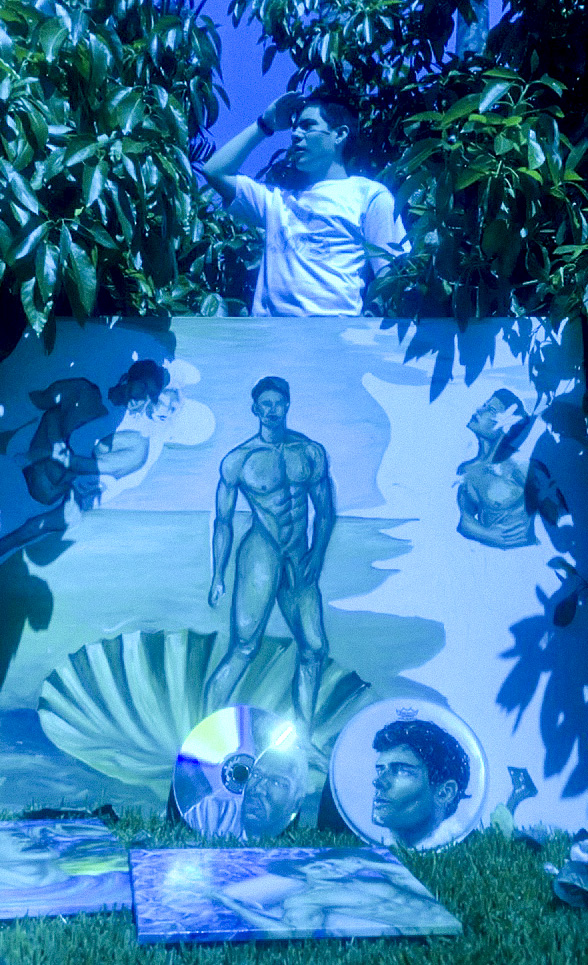 By choosing a well-known work of art that depicts a heteronormative view of beauty, Picasshoe said people's preconceptions of beauty in the original work will carry over to his reimagination to show that queer love is equally as beautiful. The original painting depicts Venus, the Roman goddess of love and beauty, in a giant seashell on the beach surrounded by three angelic figures covered in drapes. Most of this imagery, including the massive shell and figures covered in drapes, will remain the same to capitalize on the original themes of beauty, he said.
"I'm hoping that (the piece) will show people that queer love is beautiful just as much as hetero (love), because we already have this interpretation of 'The Birth of Venus' as this beautiful thing," Picasshoe said. "If it's reinterpreted with queer folks, it will hold the same message but show it in a different light."
Picasshoe plans to change the drapes to different LGBTQ+ flags, such as the rainbow pride flag. In doing so, Picasshoe said the celebration of queer love will become more obvious to the viewer. Additionally, instead of a female depiction of Venus, Picasshoe said his version will feature a male figure modeled after one of his close friends.
[Related: Alumni will rewrite traditional LGBTQ narratives in Outfest short films]
While the focus of Picasshoe's work has now expanded to include queer themes, his close friend Stephanie Ramirez said the focus of his work has changed over time. Having known each other since elementary school, Ramirez said she has seen Picasshoe's work develop in conjunction with his journey to embrace his identity as a gay Chicano man.
Picasshoe's art has shifted from studying other artists' techniques and compositions to beginning to develop his own style, Ramirez said. His paintings use bright, warm colors that evoke a sunset or sunrise. Picasshoe's content matter can be very direct – like showing queer couples kissing – but Ramirez said regardless of the content matter, his use of warm colors creates aesthetically pleasing images.
"(Picasshoe) started drawing more detailed pictures of men and the beauty of men – these couples kissing in these pictures, women kissing each other, men kissing each other," Ramirez said. " It was not in a very cheap way – it was very beautifully done and it was amazing to see because he was speaking to (his friends) through art."
[Related: QueerCurrent speaker to explore impact of LGBTQ+, minority models on industry]
Another painting Picasshoe hopes to include in his exhibit depicts two male faces, each painted on a drum head. The painting, "Untitled: Perfect Lovers," was inspired by Felix Gonzalez-Torres' work of two synchronized clocks called "'Untitled' (Perfect Lovers)." Building on the original work, Picasshoe said his version on drum heads is meant to imply at first that the lovers portrayed have hearts beating in perfect harmony. However, he said one of the drum heads is torn to suggest that the lovers' hearts are not beating at the same pace because of widespread anti-LGBTQ+ sentiments.
"At the time when I made it, gay marriage was just being legalized," Picasshoe said. "So during that time, their love – queer love – wasn't accepted as it should have (been)."
Picasshoe's art changed with his own self-acceptance, Martin Perez said. As a close friend of Picasshoe's and a fellow artist, Perez characterizes Picasshoe's work as free, pushing back against traditional rules through techniques like finger painting. In particular, one of Picasshoe's paintings, a man wearing a pink cowboy hat with sunflowers over his face, evokes a sense of serenity in the act of simply being, Perez said. Through pieces like these, Perez said Picasshoe's own journey to accepting his identity became evident.
"(Before coming out as gay, Picasshoe) was kind of caged in and he was using art to break through," Perez said. "Once he did break through, he became just like this flower that blossomed."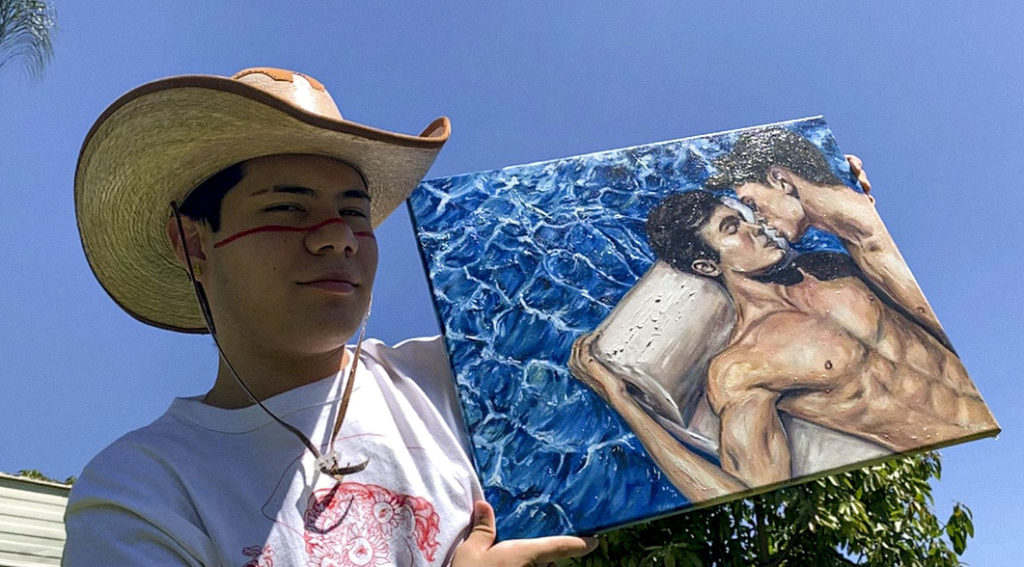 Ultimately, Picasshoe hopes his art and planned exhibit offer more queer representation in the fine arts world. By using themes of love and acceptance, Picasshoe said he is creating art that he and other members of the LGBTQ+ community can identify with.
"I'm hoping that people in the (LGBTQ+) community find comfort in (my work), that they feel like they're included, that they have representation and relatability," Picasshoe said. "And (for) people who are allies, that they gain an appreciation for the community and an appreciation toward art."