'Yes, God, Yes' examines relationship between religion and teen sexual exploration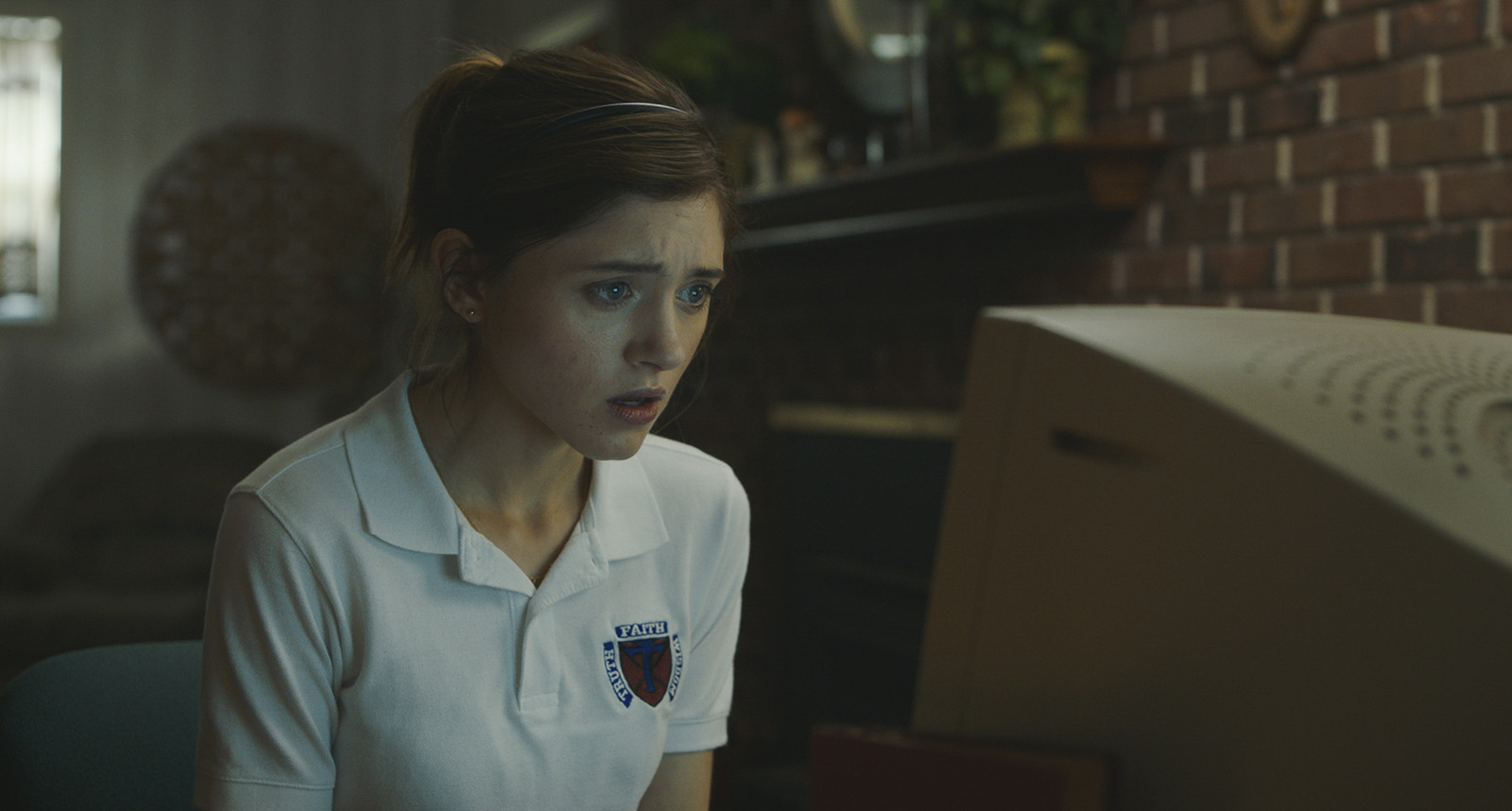 (Courtesy of Vertical Entertainment)
"Yes, God, Yes"
Directed by Karen Maine
Vertical Entertainment
July 24
A teenage girl's sexual exploration and her faith mix like oil and water in "Yes, God, Yes."
Starring Natalia Dyer from "Stranger Things," the semiautobiographical directorial debut from writer Karen Maine premiered Friday in select drive-ins and virtual cinemas. Dyer takes on the role of Alice, a naive Catholic high school student whose hesitant exploration of her sexual urges threatens to unravel the glaring contradictions in her conservative community. Though the film was set in the '90s, Maine said the taboo against female sexual pleasure is still a very prevalent issue for audiences today.
"(When) discussing sexual education or reproduction, it's usually just about reproduction, and female sexual pleasure isn't a component of that," Maine said. "Even today, young women … aren't able to have these honest frank conversations and are often left to discover their bodies on their own."
Having grown up attending a Catholic school in Iowa, Maine said most of the film was heavily inspired by her upbringing, including the times when she had to sit through abstinence-only lectures and partial abortion videos. Additionally, many of the adult characters in the feature were composites of the nuns and priests from her own school. Maine said she was careful to not paint these religious characters as distinctly black or white, but rather as nuanced individuals to reflect the realistic spectrum they exist in.
Yet the film's salient critique about Catholicism is not as morally ambiguous as the characters – teaching one to repress any sexual urges aside from reproductive purposes is demonstrably harmful, Maine said. The explicit shaming of exploring one's own body has caused numerous dilemmas for those who follow the Catholic faith, Maine added, including Alice, who struggles to come to terms with her natural, sexual instincts.
[Related: "The Claudia Kishi Club" explores cultural impact of Asian American representation]
Setting the film in the '90s was also meant to heighten Alice's struggle and isolation in her closed-off community, Maine said. There was no reference, guide or online forum to help her analyze and accept her own feelings.
"Today's teenagers can go online to TikTok or Instagram, … where if you're like, 'Am I normal?' you could just Google it and find hundreds or thousands (of people) who were the same," Maine said. "Back then, you couldn't really do that."
But beyond the dated and religious setting, Alice's character arc also reflects Maine's perception of others regardless of age or faith – in the end, she said everyone is just doing their best to navigate the world around them. Thus, having Alice eventually realize the humanity and complexity in every person makes her more enlightened than many of the adults in the film, she said.
From an acting perspective, Dyer said she also felt a lot of intuitive similarities with Alice's story as both are females who have struggled between finding their truth and trying to fit in at the same time. Moreover, Dyer said attending a religious school in her younger years helped her be more familiar with her character's experience.
Dyer said at the core of Alice's story is the idea of being receptive and open-minded to the experiences of others.
"It's not about closing off conversations or making people feel ashamed of themselves for something that's natural or instinctual," Dyer said. "It's about listening, accepting and encouraging people instead of shutting them down."
Dyer said she had a very open and collaborative process with the director in order to bring such a vibrantly complex character as Alice to life. Maine gave Dyer the letters she saved from her actual Kairos – a Roman Catholic retreat program for high school and college students – and presented a lot of anecdotes and resources throughout the production.
[Related: "The Half of It" offers fresh perspective on what a teenage rom-com can be – Daily Bruin]
Similarly, Wolfgang Novogratz, who plays the camp leader Chris, the subject of Alice's romantic attraction, said he not only based his character on Maine's real-life stories, but also on the leadership qualities he strives for in his own life.
"I have a lot of brothers and sisters and I'm the oldest sibling," Novogratz said. "So I kind of feel the similarity of wanting to set a good example and be a good leader for them."
A part of effectively conveying this protective and leaderlike attitude toward Alice came from the natural chemistry and energy he had with Dyer, Novogratz said. A lot of the narrative and feelings could be conveyed through her eyes without much dialogue, and as an actor, he said it was easy to connect and react off her emotive expressions.
Further remarking on the ensemble performance, Maine said the cast's organic chemistry and the distinctive touches that everyone brought to the project helped transform her initial screenplay into something that is much more well-rounded and complex. However, she said the end product still carries crucial fragments of herself, as well as inspirations and lessons she learned over the course of her life. Ultimately, Alice's growth into a more open-minded and mature individual is what Maine hopes audiences of all ages can relate to.
"I made a film that I hope a teenage me would have wanted to see," Maine said. "If (the viewer is) feeling lost or lonely or shameful for exploring their bodies or having sexual urges, hopefully this will make them feel a little less alone."
Kong is the current Theater, Film and Television editor and news contributor for the Daily Bruin. She was previously an A&E reporter. She is also a fourth-year communications and cognitive science student at UCLA.
Kong is the current Theater, Film and Television editor and news contributor for the Daily Bruin. She was previously an A&E reporter. She is also a fourth-year communications and cognitive science student at UCLA.