Alumna uses 'Comedy Crossing' shows to host a 'safer at home' stand-up experience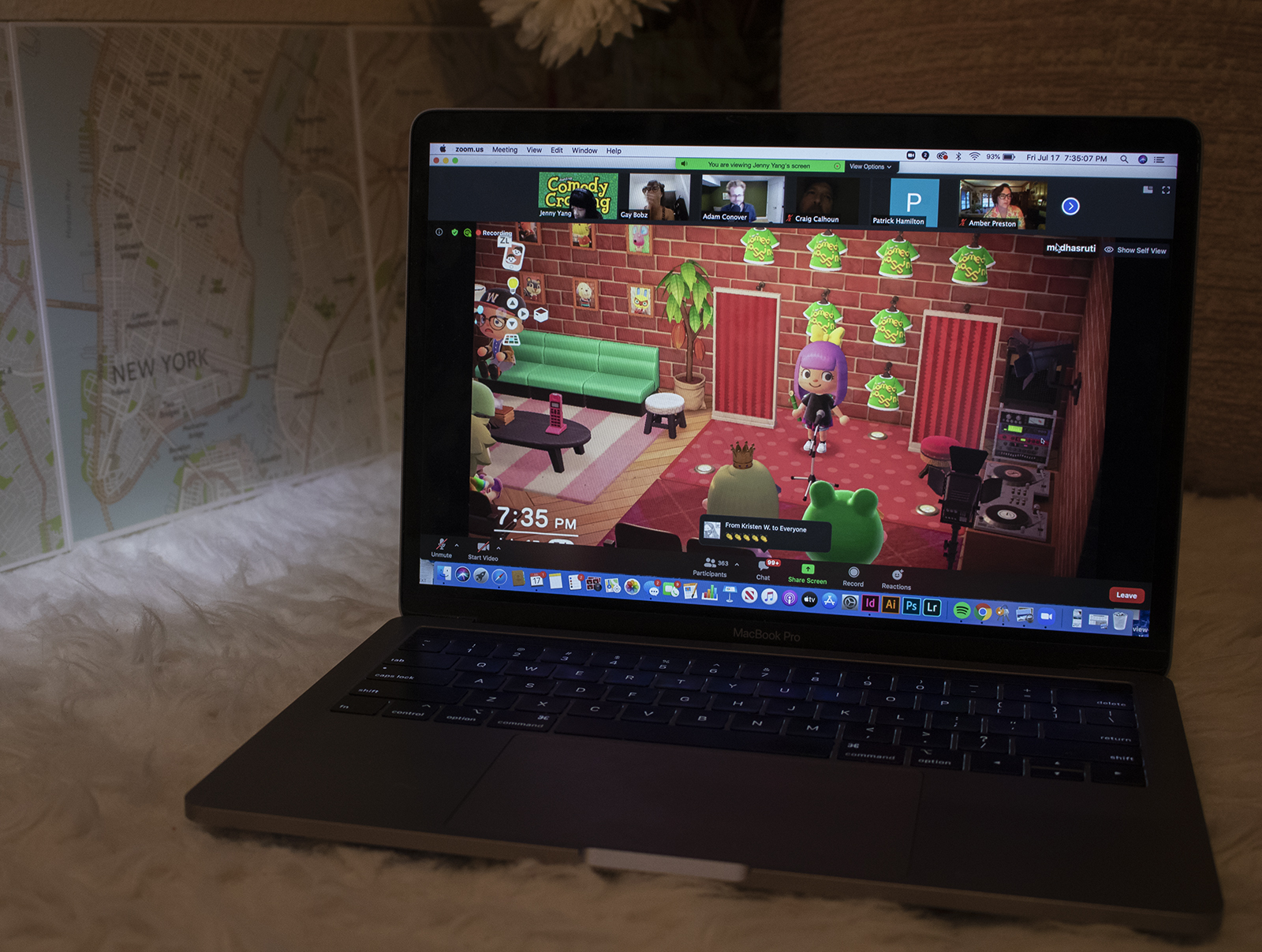 UCLA alumna Jenny Yang hosts a bi-monthly comedy show, "Comedy Crossing," set in the hit Nintendo Switch video game "Animal Crossing: New Horizons." The show takes place in Yang's virtual in-game basement and is streamed publicly over Zoom. (Medha Vallurupalli/Daily Bruin)
The "Animal Crossing" island Lil Taiwan puts on the "Comedy Crossing" show twice a month – no masks or social distancing required.
Hosted by comedian and UCLA alumna Jenny Yang, "Comedy Crossing" is set in the hit Nintendo Switch video game "Animal Crossing: New Horizons," which simulates life on an idyllic deserted island among animal villagers. The show takes place in Yang's virtual in-game basement, featuring varied lineups of performances by stand-up comedians. Streamed over Zoom, "Comedy Crossing" tries to create an intimate environment for lighthearted connection in the midst of the COVID-19 pandemic, Yang said.
"Combining comedy with another thing that has brought me joy during this really bleak time has been nothing short of revelatory for my life," Yang said. "I love that we're bringing that kind of pure joy. It brings out the kid in me when you're allowed to play in this very cartoon and adorable world."
Yang first entered the cheerful environment of "Animal Crossing" at the beginning of quarantine in an effort to bring more joy into her own life, she said. The game became something to look forward to as well as a way to check in with friends without having to speak directly about real-life stressors.
Then, Yang said she noticed that the game's vast catalog of furniture included a microphone and stage lighting and decided to create a comedy club in her basement – and "Comedy Crossing" grew from there.
[Related: Creatives continue to create through entertainment industry's pause amid pandemic]
During the show, Yang said she invites performers to her island and streams her game publicly through Zoom. Each comedian performs their audio live over the Zoom call as their "Animal Crossing" avatar stands on the virtual stage. The viewers of the Zoom call then have the option to unmute themselves and laugh in real-time or react in the chat, which Yang said was the best approximation of a live show environment while also utilizing the technology of the game.
The show also mimics the element of the unknown that characterizes live comedy, said comedian and "Comedy Crossing" performer Amber Preston. In "Animal Crossing," Preston said she has to juggle comedy with selecting reactions for her avatar or timing costume changes to enhance a joke.
Preston performed as herself in the very first show but has since helped comedians who don't play the game by cosplaying as them using her own avatar. During the July 17 show, she made her avatar look like Laurie Kilmartin and approximated the right facial expressions for the avatar during the comedian's set.
"It feels a little closer than the other (virtual Zoom) shows because of that unknown, maybe because you have to focus on your game," Preston said. "Your brain's back in that timing mode … outside of the work you've done of the writing of the funny joke, you have those other things to think about, which is kind of a fun use of brain space."
The most recent "Comedy Crossing" show was full of bits that made use of the mechanics of the game. Comedian Ify Nwadiwe donned a tank top with defined abs when talking about friends being lonely enough in quarantine to ask about his keto diet, while Adam Conover pulled out a fish he had caught earlier in the game as a prop.
"You guys are a great crowd," Conover said. "Unlike the crowd at my last show, who were a bunch of dead fish."
The "Animal Crossing" setting itself can create chaos that adds to the experience. If one of the comedians lets their Switch fall asleep, they leave the island and the other players get sent back to the island's airport – something that's happened in almost every "Comedy Crossing" show. Conover accidentally left Lil Taiwan in the July 17 show, and Yang joked that "Adam ruins everything," a nod to Conover's TV show. While waiting for Conover to return to the island, Yang gave an impromptu tour of her secret outdoor spa.
Yang's interior design isn't just limited to her stage or spa. After the show, Yang invites the comics to a green room area she created for post-show conversation, something that might have happened privately in real life but has now become a part of the streamed show, adding intimacy to the experience.
[Related: The laughs continue via Zoom with UCLA's student-run comedy club]
At each show, Yang raises money for critical grassroots organizations. In light of a Supreme Court decision issued the morning of the July 17 show, donations benefited the Florida Rights Restoration Coalition, a group working to end the disenfranchisement of formerly convicted persons.
During the July 17 show, Yang announced that the previous show raised nearly $4,000 for The Okra Project.
From the Venmo donation stream to the Zoom chat, "Comedy Crossing" works to create a feeling of community and closeness in a time when physical distance is necessary. The interactive online experience that has grown out of the cute game design adds to the kind of real-life stand-up comedy audiences typically see on stage, Yang said.
"I got into stand-up comedy because I want to express myself and I want to connect with people," Yang said. "Laughter and comedy is one of the best ways to do that, so if you're going to take away a live comedy show experience from my life, I'm going to find other ways to connect with people through comedy."