Album review: Quinn XCII's risks pay off in self-reflective and exploratory 3rd studio album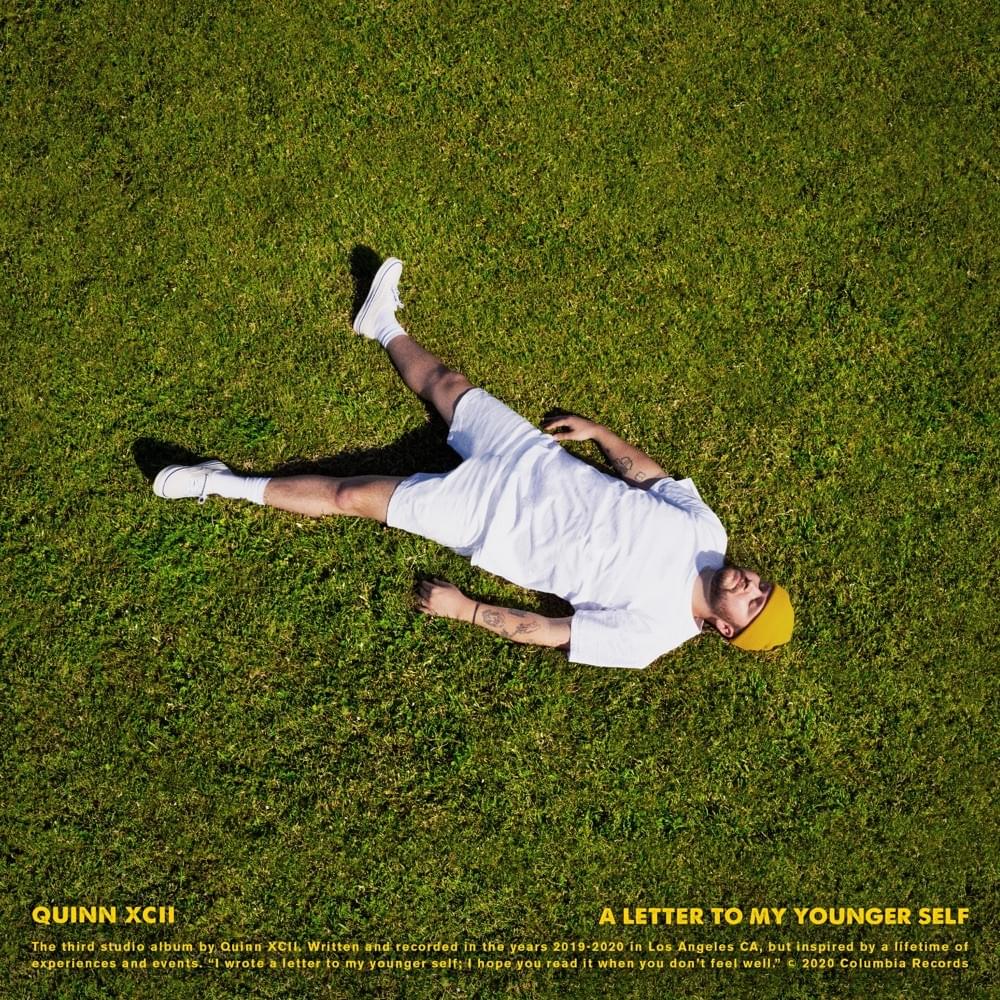 (Courtesy of Columbia Records)
"A Letter to My Younger Self"
Quinn XCII
Columbia Records
Released Friday
A journal entry on young love and spontaneity, Quinn XCII's "A Letter to My Younger Self" successfully takes risks to develop a robust soundscape.
Playing on his established pop, hip-hop, electronic and soul roots, Quinn XCII weaves in power ballads and rhythmic rap verses in his thematically cohesive third studio album. His honest lyrics easily allow listeners to relate to universal experiences of complicated relationships and self-discovery. In only 12 songs, listeners are transported back to high school football games, late-night parties and everything in between.
Pulsing instrumentals in "Am I High Rn" open up the album as Quinn XCII's high-pitched vocals make listeners feel as if they are floating in a heavenly oasis, leading them to ask the same question as the artist: "Am I high right now?" The track sets up a redefined style that he carries throughout the album as he simplifies his productions and pairs electronic pop with rap.
Maintaining lighthearted electric guitar and drum beats, Quinn XCII evokes rebellious hookups and drug experimentation with a nostalgic, no-strings-attached relationship in "Stacy." Building on the introduced pop instrumentation, the '80s electronics in the third track, "Sleep While I Drive," provide an upbeat soundscape contrasting his raw lyricism exploring a tender love. Performing a dynamic dialogue with Ashe, both artists remind listeners that even when "both the highs and lows are just too much," being with the one you love is all that matters.
[Related: Album review: Dua Lipa's 'Future Nostalgia' wows with throwback disco sound and relevant themes]
Yet, this positive outlook on love is soon crushed in "Coffee," as Quinn XCII opens up about heartbreak in a groovy manner – shedding a playful light on an oftentimes painful situation as he sings, "I just made two cups of coffee/ But you're not here to drink it now." The track stands as a highlight of the album with its bouncy instrumentals that skillfully balance pop and electronic styles.
Although Quinn XCII's discography is primarily characterized by cheerful melodies and lyrics, "Second Time Around" grapples with candid themes of second chances, self-reflection and faith. He revealed in a tweet that the track is "the most powerful song (he has) ever made," and his simplistic instrumentals – often relying solely on a piano and silence – allow Quinn XCII to sensitively perform the heartfelt ballad. He admits he has made mistakes in his life and works toward self-improvement for his own sake, as "the mirror is my only witness/ And he don't sympathize."
Continuing with relatable, feel-good lyricism, the album moves into an ideal track for borderline introverts who still want to be recognized with "Notice Me." Matching the production with his lyrics, Quinn XCII sings "And I'm stuck stranded on planets/ Where I swear I'm the only one who notices me" alongside bold guitar strums. Bumping drum beats escalate through the track as he explores the funky feelings of being shy, yet angry, when unnoticed.
Midway through the album, the inspiring title track "A Letter to My Younger Self" stands as a synopsis of the entire work as Quinn XCII sings "I hope you read it when you don't feel well/ I hope this helps." His motivational lyrics focus on self-growth as he maintains his classic musical style of slow rapping and singing. Yet, the nuanced production of mixing piano with snare beats and horns manages to modernize his sound.
[Related: Concert review: Vulnerability takes center stage in Quinn XCII's engaging, humanizing performance]
Returning back to authentic love songs, Quinn XCII opens "More Than Friends" with a personalized rap flow as he speeds through lines, slowing as they conclude. Continuing into "Mad At Me," Quinn XCII again slows down his sound with flowing string instrumentals that match the song's realistic lovestruck theme, encapsulating leftover feelings as he sings, "I still ask the hostess if she can save our favorite seats/ And take some bread to that old park bench."
Closing out the album with the standout track "Everything I Need," Quinn XCII urges listeners to live in the moment instead of worrying about the future. With jazz and soul-inspired production, he imitates the sound of a trumpet with his voice and incorporates old-timey alterations to his vocals, truly revolutionizing his previous styles. The bouncy, simple instrumentals in the chorus amplify his message and foster feel-good vibes in the closing track. In its entirety, "A Letter to My Younger Self" is honest, yet playful, and it is clear that Quinn XCII's musical risks were worthwhile.
The artist has proved his instrumental and lyrical talents as he reinvents old sounds and reflects on common experiences – all while remaining true to himself.
Madjidi is the Lifestyle editor at the Daily Bruin. She was previously an Arts & Entertainment contributor. She is also a fourth-year English student with a minor in Literature and the Environment and a transfer student from San Diego.
Madjidi is the Lifestyle editor at the Daily Bruin. She was previously an Arts & Entertainment contributor. She is also a fourth-year English student with a minor in Literature and the Environment and a transfer student from San Diego.