Hammer Museum moves meditations to Zoom, sees attendance spike in stressful times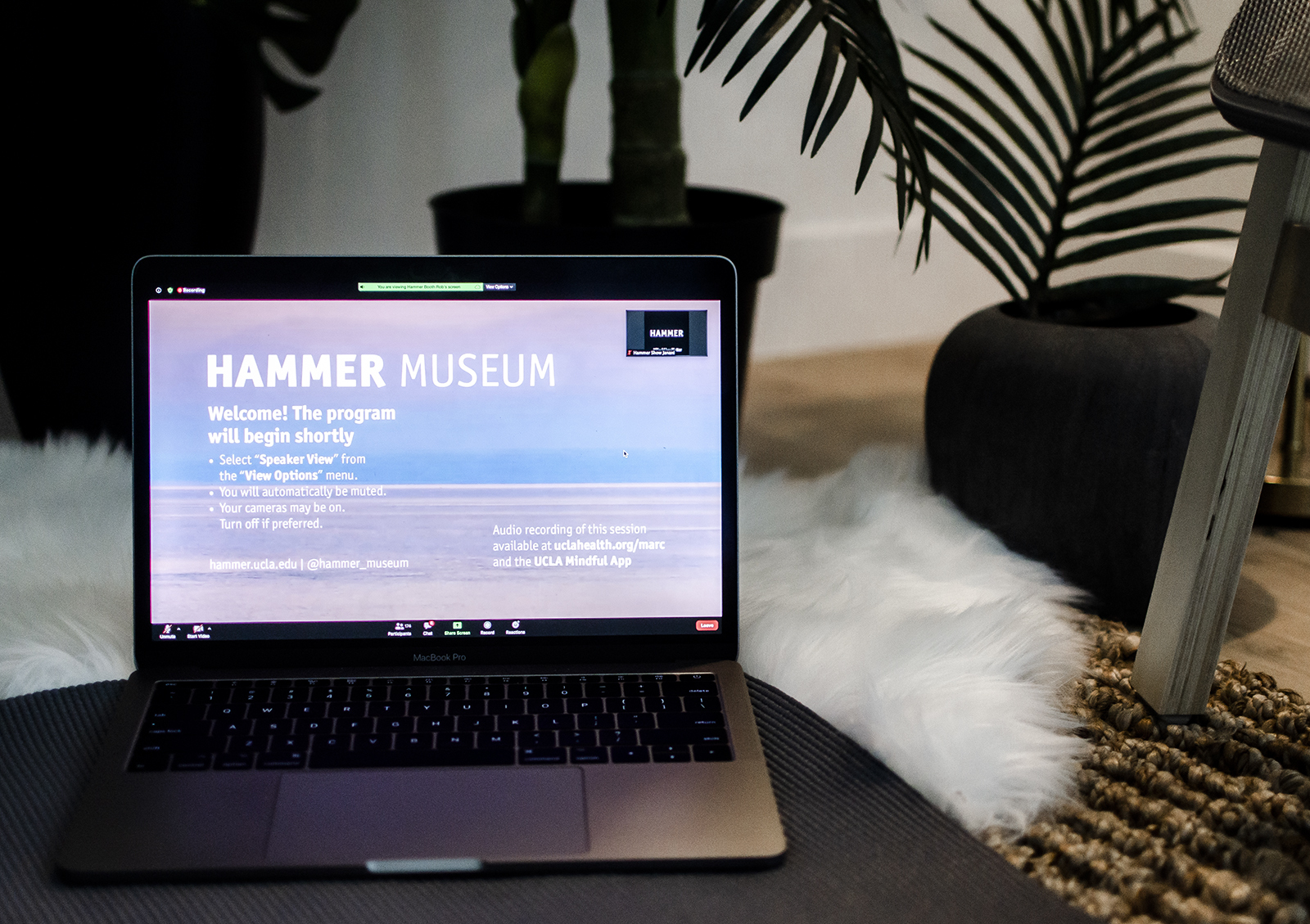 The Hammer Museum's weekly mindful awareness meditation sessions teach attendees to approach their life with openness and curiosity, all the while developing compassion for themselves and others. (Kanishka Mehra/Photo editor)
"Mindful Awareness Meditation"
Thursdays, 12:30pm - 1:00pm
Online via Zoom
Free
Mindful awareness meditation sessions at the Hammer Museum are like an oasis in the middle of the busy city.
In partnership with UCLA's Mindful Awareness Research Center, the Hammer Museum currently offers weekly meditation sessions to the general public at no cost. Prior to the COVID-19 pandemic, the sessions were hosted in the museum's auditorium, but they have now transitioned to being on the online platform Zoom, Claudia Bestor, director of public programs at the Hammer Museum, said.
"Right now, our focus is just on executing the programs that we're already doing at the highest level of excellence via online platforms," Bestor said.
After partaking in an expensive meditation course in 2008, Bestor wanted to share the helpful and powerful practice for understanding how emotions are connected to the body with others – without the associated hefty price. The program began in early 2010 with Bestor's goal of making mindful awareness meditation financially and socially accessible to all who are interested.
"We wanted to make it very approachable and non-threatening so nobody has to sit on the floor in yoga pants," Bestor said. "You don't need a mat. You can come in a business suit and sit in a comfortable armchair."
[Related: Exploring how Los Angeles art museums have curated virtual visitor experiences]
Mindful awareness meditation – one type of meditation out of many – places an emphasis on paying attention to the present moment with openness, curiosity and acceptance, said Diana Winston, session instructor and director of mindfulness education at MARC. Beyond its calming effect, Winston said practicing mindful awareness meditation also offers numerous physical and mental health benefits, such as chronic pain management, boosting the immune system and helping manage anxiety and depression.
"(Mindful awareness meditation) teaches us how to work with our thoughts and not get lost in our thoughts and stuck there in a way that can lead to a lot of suffering," Winston said.
In a typical session, Winston said the instructor centers the meditation around a theme, which could range from working with difficult emotions to current events like the Black Lives Matter movement. After discussing the idea, the whole group begins a guided mindfulness meditation which is followed by a closing activity. In a recent session with the theme of equanimity – a concept of mindful resilience and calm in the midst of a challenging situation – Winston ended it by asking the group to repeat reinforcing phrases.
"There's this practice which specifically develops equanimity where you use words and phrases like 'things are as they are' and 'be with things as they are,'" Winston said. "It really helps to cultivate a more balanced and calm, non-reactive mind."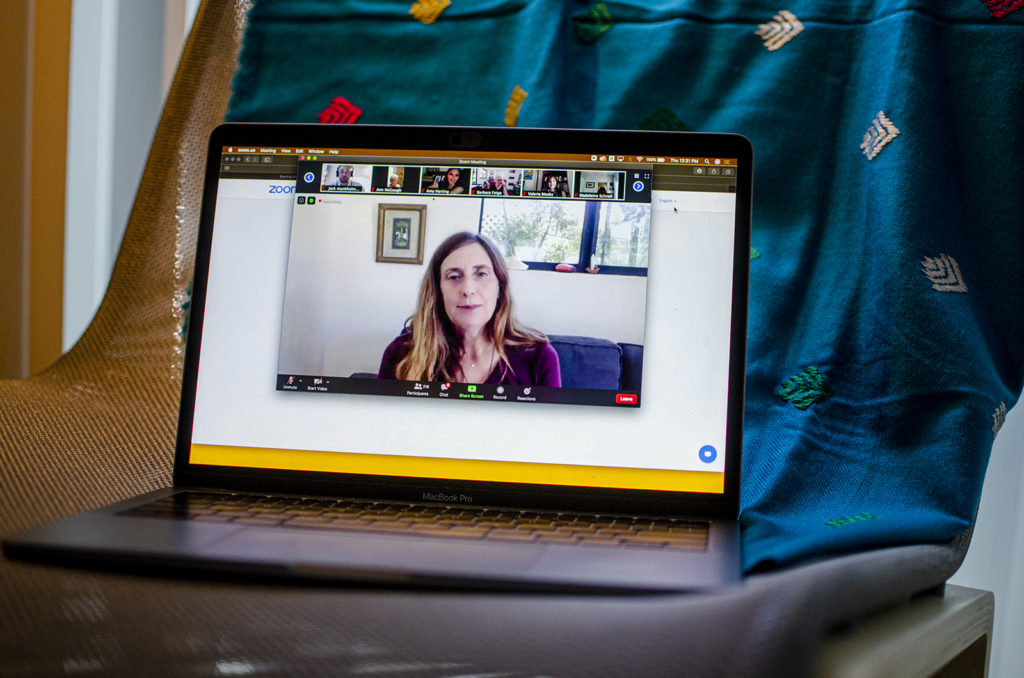 When the program was still hosted in person, each session would usually receive more than 200 participants, Winston said. However, since the start of the COVID-19 pandemic, Winston noticed a growing interest in the meditation sessions, with attendance increasing to upwards of 300 people. She hypothesizes that the underlying cause for the sudden increase in attendees is a greater sense of uncertainty caused by shelter-in-place orders.
The participants' ability to join the sessions from the comfort and safety of their homes, however, allows them to retain some semblance of their pre-pandemic routine, all while practicing self-care, Bestor said. Despite the transition to online sessions and Zoom's tendency to feel cold and isolating, she said there is still a welcoming environment amongst the community.
"People can choose to leave their video on or off and usually at the end of a meditation, everybody sort of is waving at each other and greeting each other," Bestor said. "It seems like it would feel artificial but it actually really feels warm – like you're in a room full of people."
[Related: HOPE's online Zumba lessons inspire physical exploration of space and self]
Regular attendee Sheila Gross first participated in the museum's mindful meditation sessions a year and a half ago and has noted changes in her attitude toward life, including experiencing more joy and clearer thinking. Gross said she has developed skills that have allowed her to process her emotions in a productive way, especially in her reactions toward the pandemic as well as the nationwide Black Lives Matter protests, she said.
"If, for instance, I become angry reading a newspaper, I can bring myself back to clearer thinking and be more responsive rather than reactive," Gross said. "Or if it's fear I'm triggered into, I can again ground myself."
As the lives of many people have been uprooted and greatly impacted by recent events, Winston said the museum's meditation sessions aim to help people connect with themselves. Forging a deeper inward connection can help advocates continue their work and increase compassion for others and for oneself, she said.
"I think people are looking for mental health solutions (because) people are so scared and living with so much uncertainty," Winston said. "It helps us cultivate kindness for ourselves, and a lot of us really could use a lot more kindness today."