HOPE's online Zumba lessons inspire physical exploration of space and self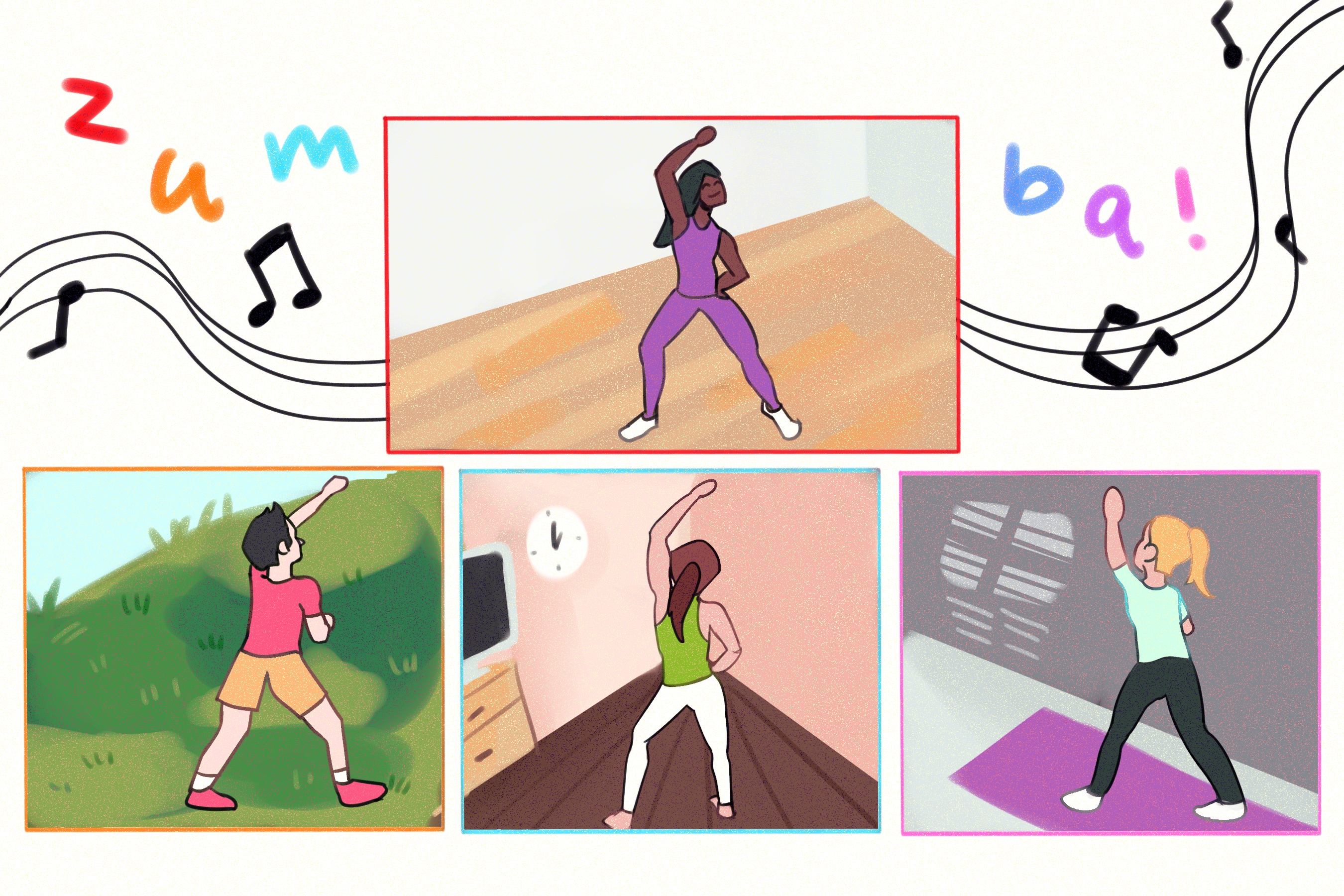 (Jennie Wang/Daily Bruin)
UCLArts & Healing's online Zumba class offers participants an opportunity to dance their stress away in the comfort of their own homes.
The class is part of the program's Healing Online for People Everywhere (HOPE) series that aims to provide free online classes on building resilience and improving mental health. Ping Ho, a professional partner with UCLA and the founder and director of HOPE, said she created the series shortly before the COVID-19 pandemic began. Originally, she said the program sought to provide accessible online programs to help the general public with finding mental stability and self-care through participation in the arts.
"It's unfortunate for the context in which HOPE has grown," Ho said. "But there's a silver lining that HOPE is here with the resources needed to provide people with a healthy channel to find comfort and a sense of being in difficult times."
The Zumba class is one of the first long-term programs in the HOPE series and will hold its last session Tuesday after running for almost two months. Instructor Tessie Herrasti said the course was created to help people use dance to find a channel for self-expression and to reconnect with their bodies. Her previous experience teaching Zumba in Paris helped solidify the creation of the course as well as influence the core values she hoped to propagate. For Herrasti, the focus of the program is less on the physical movements and more on self-awareness through the exploration of space and emotion.
"I encourage my students to participate to whatever degree they can," Herrasti said. "While Zumba has traditionally been used for fitness purposes, here it's used as a method to get in touch with oneself."
[Related Links: Dance showcase provides students with platform to share experimental works]
Herrasti said ideas of self-expression and self-validation are integral to helping people find a sense of stability. Throughout each class, she said she checks in with herself and her students, encouraging them to tend to their physical needs through rest and hydration. By listening to the needs of their bodies, Herrasti said the class encourages participants to practice better self-care and adopt a healthier mindset during challenging times.
One of Herrasti's students, Barbara Ketchum, said Herrasti's approach to Zumba has introduced a sense of regularity to her everyday life. Ketchum has been a long-term participant in many of HOPE's programs and an attendee of the Zumba class since day one. While she was originally attracted to the course as a way to exercise, Ketchum said Herrasti's focus on self-care made the class a central part of her life in quarantine.
"It's something that I've come to count on," Ketchum said. "I get to exercise in my room, work up a sweat, and I feel a lot livelier and energetic after it's all over.
The musical and cultural diversity Herrasti brings to each class helps introduce new elements into everyday life, Ketchum said. Unlike other Zumba classes which may simply play common pop songs, Harrasti introduces music and dance styles from different genres and cultures. By pulling from Indian or Celtic dance traditions, Herrasti said she intends to further the expressiveness and relatability of her sessions. This diverse approach is part of the social-emotional-arts style that is central to her course's principles.
"Part of (social-emotional-arts) is about making everything very inclusive," Harrasti said. "For warmup, I have these exercises where we stretch the limbs and spine to explore the space around us, and throughout the session I always encourage free expression through movement."
[Related Links: Dance piece 'Phoenix' invokes Greek mythology to portray struggle of life]
Herrasti's expression-focused approach has made the course exceptionally accessible, Ketchum said. As a first-time Zumba student, Ketchum said Herrasti's nurturing teaching style has helped her destress and encouraged her to listen to her body, which has resulted in a calming effect that carries into her daily life.
While the class is set to end soon, Ho said there will still be other opportunities to participate in similar programs. For those who have missed out, Ho said the team at HOPE is currently working on creating videos of these classes and uploading them to their website to make the content permanently available for the public. To fulfill the program's mission, Ho said HOPE will continue to hold regular events throughout the year that will continue to foster a sense of well-being.
"HOPE was created to help more people find a healthy lifestyle," Ho said. "Through social-emotional arts, we can continue to create inclusive events and safe environments for individuals to reconnect with themselves and practice self-care."