Off the Waldman: Sports shouldn't resume until number of COVID-19 cases decline, player safety is ensured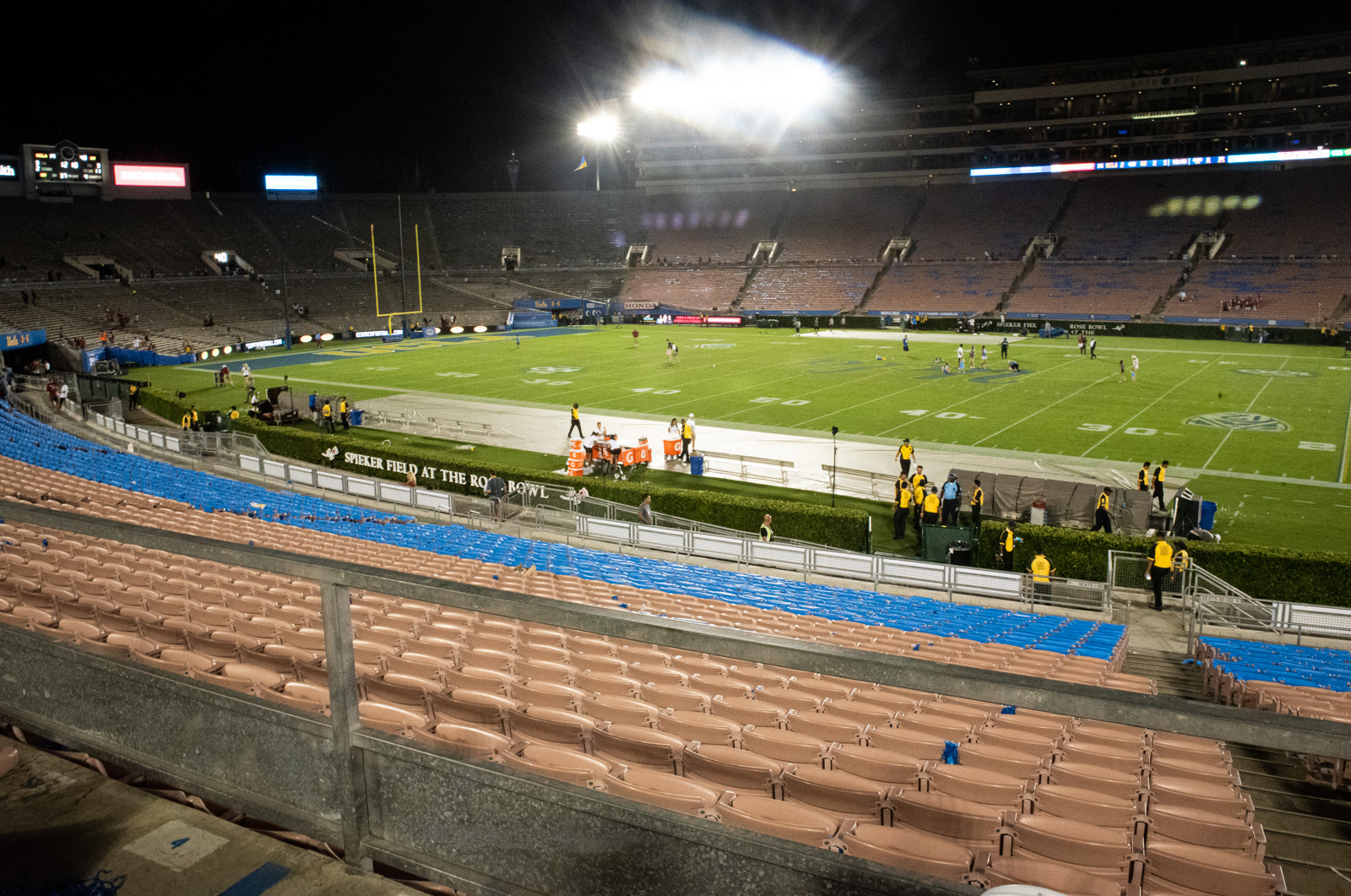 As the coronavirus pandemic continues to ramp up, UCLA Athletics is moving forward with its Return to Training plan. (Liz Ketcham/Daily Bruin senior staff)
As the days were getting longer in early June, it seemed that our wait for UCLA football and other sports was only getting shorter.
However, with COVID-19's resurgence in several areas of the country, UCLA must act quickly to reverse course and hit the brakes on its sports restart.
The voluntary return to campus for the Bruins football program and regionally located fall Olympic sports athletes began June 22 following a trend in the United States of returning to business as usual.
Crowds in major California cities soaked up the sun during Memorial Day like it was just another long weekend, and President Trump held the first large-scale political rally since nationwide shelter-in-place orders went into effect.
The sports world has also carried on this desired return to normal, with the NBA and MLB's announcements of July returns, with the former playing in a social bubble at the ESPN Wide World of Sports Complex in Orlando, Florida.
If the data agreed with this reopening, showing the amount of cases plummeting, then the restart of athletics would be worth the sizable financial investment respective universities have in their sports.
But that is simply not the case.
In Los Angeles County – with new confirmed COVID-19 cases in the state of California steadily rising since March – there have been more than 3,000 deaths and 97,000 confirmed cases, as of Monday. Additionally, on Wednesday, more than 90 days after Los Angeles closed its nonessential retail businesses, California saw its largest recorded single-day spike in cases.
Recognizing the danger of returning to Westwood, 30 UCLA football players signed a letter demanding more clear-cut standards and protections from the coronavirus.
The football players' concerns are more than fair – their demands could be the difference between player safety and a lack thereof.
Players returning to campus in phase one of four in the university's Return to Training plan will quarantine depending on their mode of transportation – as those arriving by car will not have to quarantine, but those arriving by plane will – before all undergoing COVID-19 and antibody tests prior to workouts in the later phases.
Independent from phase two through phase four of UCLA's plan, many of the first phase's assumptions about testing for antibodies to gauge immunity are simply not reliable, as there have been questions about the accuracy of antibody tests and the ability of antibodies of recovered patients to even provide said immunity months after infection.
Inevitable interactions with vulnerable staff and players – which will become much more frequent when campus reopens for limited hybrid learning in the fall – should simply not proceed at this juncture with these questions still up in the air.
Furthermore, the optics of returning unpaid college athletes to campus and potentially furthering the spread of the virus to students and civilians in Westwood and the UCLA community generally are unfavorable, and would make little sense in the context of California Gov. Gavin Newsom's recent mandate requiring that face coverings be worn in all public settings where physical distancing cannot be observed.
In an NCAA where it is commonplace for recruiting violations and eligibility questions to put an asterisk next to championships and cause major scandals, it is also a real possibility that schools across the country will try to cut corners on safety procedures to get an edge in a hypothetical season while endangering players.
Additionally, if seasons on the gridiron and elsewhere were to occur, programs in states like California – which have reopened much more gradually than others – will be at a distinct competitive disadvantage, assuming other schools that can run more typical training camps get lucky avoiding the sickness.
So far, however, that luck has eluded sports at-large. NBA players domestically and internationally have picked up positive tests, NFL players were advised to not work out with each other after contamination and more than 30 Clemson and LSU football players tested positive for COVID-19 in the past week.
More alarming are the multiple confirmed cases in the Philadelphia Phillies' organization, where an outbreak occurred despite deep-cleaning of spring training facilities in Clearwater, Florida, and adherence to health and safety protocols, according to NBC Sports Philadelphia.
Discouraging reports from BBC have also emerged about the long-term effects of the respiratory illness even after recovery, with symptoms lingering and causing more health problems for months after, which is not a good indication for high-intensity athletes across the country who test positive.
Competitive imbalances, documented outbreaks across sports, uncertainty about factors much of the reopening are contingent upon and a surge of cases in the U.S. should be enough to halt the return of sports until real improvements in new cases, antibody testing and general understanding of the impact of COVID-19 are observed.
However, with a recent USA Today analysis indicating that Power Five schools can lose at least $4 billion in total football revenues if there's no 2020 season, the larger goal of protecting the bottom line could override health concerns, which would be an upsetting, but not surprising mistake.
Waldman is currently an assistant Sports editor on the men's soccer, men's volleyball, women's volleyball, beach volleyball and track and field beats. He was previously a reporter on the women's basketball and beach volleyball beats.
Waldman is currently an assistant Sports editor on the men's soccer, men's volleyball, women's volleyball, beach volleyball and track and field beats. He was previously a reporter on the women's basketball and beach volleyball beats.