Editorial: UCLA funding a Black Resource Center shows student activism works, must go further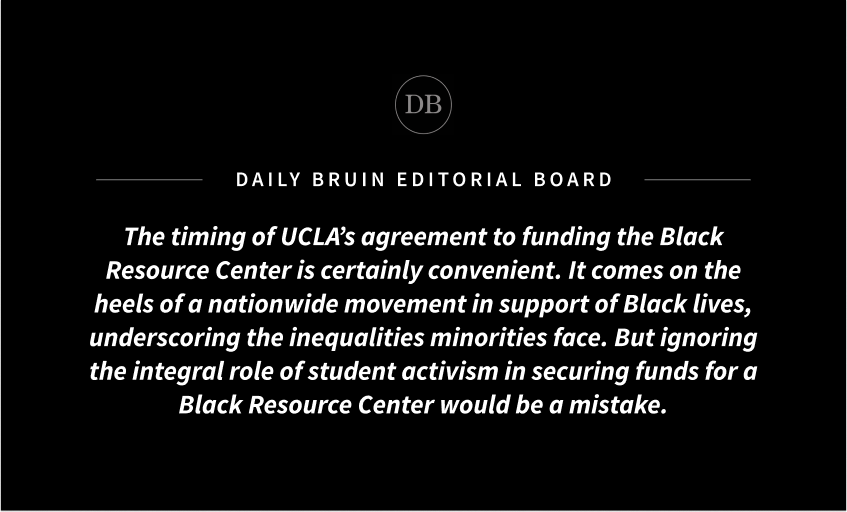 UCLA's campus was virtually devoid of activity for the first nine weeks of spring quarter.
Then, during week 10, hundreds of students gathered in front of Royce Hall to protest police brutality. One of their main demands: The university must fund a long-awaited Black Resource Center on campus.
It took UCLA administration more than five years, but a spokesperson confirmed Thursday that the university had finally agreed to create the center.
Such a decision is, quite frankly, monumental – the university often ignores student demands, either out of a lack of understanding or sheer ignorance, making it easy for students to feel powerless. But recent events demonstrate the impact of student-organized protests: meetings and lobbying have their uses, but true strength comes in numbers.
If the creation of a Black Resource Center has shown the community anything, it's that continued pressure from students does work. The resource center is welcomed progress, but the Black Graduate Student Association and Afrikan Student Union at UCLA have said themselves the work is not over. Administrators finally seem to be listening, and it is now more important than ever that Bruins continue advocating for better resources, more support and increased funding for Black students and other marginalized groups on campus.
After all, it usually is the collective voices of students that turn the slow wheels of change on campus.
The university had declined to provide funds for a Black Resource Center for more than five years, forcing organizers to look to the student body for funding with the Cultivating Unity for Bruins referendum in the middle of a pandemic – a move that ultimately failed by a single percentage point.
The timing of UCLA's agreement to funding the Black Resource Center is certainly convenient. It comes on the heels of a nationwide movement in support of Black lives, underscoring the inequalities minorities face. But ignoring the integral role of student activism in securing funds for a Black Resource Center would be a mistake.
And history has proven the utility of protests in effecting change – the American Federation of State, County and Municipal Employees Local 3299 union negotiated a multiyear deal after holding six strikes in two years. Student-run petitions and email inquiries led to a lecturer's suspension for his insensitive comments.
Granted, in-person protests may not be the answer to every problem, especially during a pandemic. Progress will also require collaboration and compromise with university administrators. It's optimistic to expect UCLA to address every student need considering the UC system is now facing an incoming massive budget crisis, not to mention a $372 million potential cut in state funding for the upcoming fiscal year.
There are still myriad student issues that desperately need funding. Support for Black students cannot end after one concession from the university. Graduate students are still fighting for a cost-of-living adjustment. The UCLA Transfer Student Center needs to summon more than $135,000 simply to pay for rent, let alone programming.
But the funding of the Black Resource Center shows that student-driven protest does have a measurable impact on the UCLA community.
Protests give voice to underserved communities. The noise may deter those without a stake, but disruption is necessary to even start the conversation.
Especially when it comes from students.