Album review: John Legend continues to impress with signature love ballads in 'Bigger Love'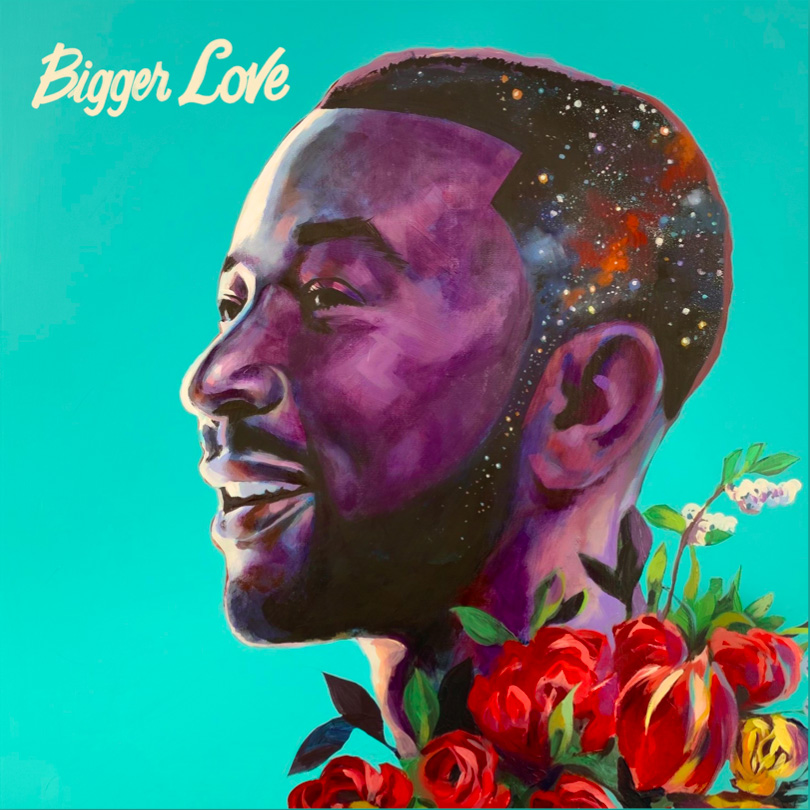 (Courtesy of Columbia Records)
"Bigger Love"
John Legend
Columbia Records
Released Friday
John Legend is living up to his last name in his newest release, "Bigger Love."
In his seventh studio album, the artist maintains his trademark piano-driven pop and soul instrumentals while evolving lyrically to reflect his growing relationships. Following his 2016 hip-hop-based album "Darkness and Light," Legend's return to love ballads and dreamy vocals yields an uplifting summer soundtrack sprinkled with reggaeton and bumping beats. Despite a few tracks getting caught up in repetitive melodies, the 16-song album highlights his undyingly honest love for those around him and his optimistic view of life.
Opening with "Ooh Laa," Legend welcomes listeners by showing off his impressive vocal range with high-pitched falsettos and swaying melodies. The old-time jazz piano roots his instrumentals and is reminiscent of what he does best, while the added layer of hip-hop beats and doo-wop vocals make it clear that he is experimenting with his sound as an artist.
Despite Legend's tremendous success as a singer-songwriter, he is still capable of reflecting upon and criticizing his own work as he moves into "Actions." The track's repetitive chorus teasingly mocks his discography as he sings "Actions speak louder than, speak louder than, speak louder than love songs/ I've been doing it all wrong." The lyrics hint at Legend's infamous love song "All of Me," the quintessential first dance song with over 1 billion Spotify streams.
[Related: Album review: The Weeknd authentically portrays heartache over past heartbreak in After Hours]
But even after a promising beginning, the album unfortunately falls flat with the slightly forgettable lyrics and repetitive melodies of "I Do." Thankfully, he redeems the track's slip-up in the subsequent songs that celebrate the adventures of love and life to a dance pop beat. "One Life" features luscious background harmonization and flowing guitar instrumentals that gradually intensify to match the building levels of vocals as he chants "one life" throughout the chorus.
Reaching the title track of the album, "Bigger Love," with its catchy chorus, is sure to become a radio hit. The bright, reggaeton song feels as though it's made for the current moment of civil unrest as Legend belts, "The world feels like it's crumbling/ Everyday, another new something." In fact, the album itself is fittingly released on Juneteenth – a day commemorating the end of slavery in the United States – as Legend only features Black guest artists.
Jhené Aiko's precise vocal dexterity in "U Move, I Move" relaxes the album into an R&B style, setting the track as the most sonically advanced as the two artists navigate through melodies that match their harmonious lyrics. Legend and Aiko's voices beautifully melt together as they raise and lower, singing "I'll follow you up and over" as well as change their paces with "You control me, fast and slow." Such masterful vocal control and purposeful lyricism prove why Legend deserves his 11 Grammy Awards that sit among his Emmy, Oscar and Tony.
But the album takes a turn with three lyrically forgettable tracks that are also the most sensual of the album, featuring horn, piano and guitar instrumentals that support Legend's suggestive vocals. Luckily, "Conversations in the Dark" redeems the dull second half of the album with nostalgic melodies from his 2013 release "You & I (Nobody in the World)." Legend successfully raises the bar of his iconic love songs with this realistic and mature ballad as simplistic instrumentals mesh together to spotlight his earnest promise: "That I won't break your heart."
[Related: Album review: Niall Horan departs from typical acoustic ballads in emotional narrative record]
As the album progresses with "Remember Us," violins guide Legend's lovely lyrics of remembering and cherishing sweet moments of a romantic relationship. The lush vocals interweave into a rap by Rapsody, anchored with a bouncy piano and giving a refreshing feature to the already standout track. Rapsody even references both Kobe Bryant and Nipsey Hussle – two icons who recently passed away – as she creates positive memories from tragic losses with her old-school R&B style.
At last, Legend comes full circle with his closing tracks by returning to his roots that epitomize all that he is adored for: his bumping beats, belting vocals and tender lyrics. Bare instrumentals in "Always" amplify his vocal range as he opens and closes the song by addressing his wife, singing "Hey, love/ My first love/ My last love." Concluding with "Never Break," the groovy track leaves one thing clear – Legend loves being in love and he conveys it masterfully.
In its entirety, the love ballads within "Bigger Love" provide the comfort longtime Legend fans crave while simultaneously illuminating his melodic songwriting genius. After a four-year hiatus, the album succeeds at what Legend does best but also expands his comfort zone beyond his classic piano beats.