Student T-shirt business promotes positivity, donates profits amid COVID-19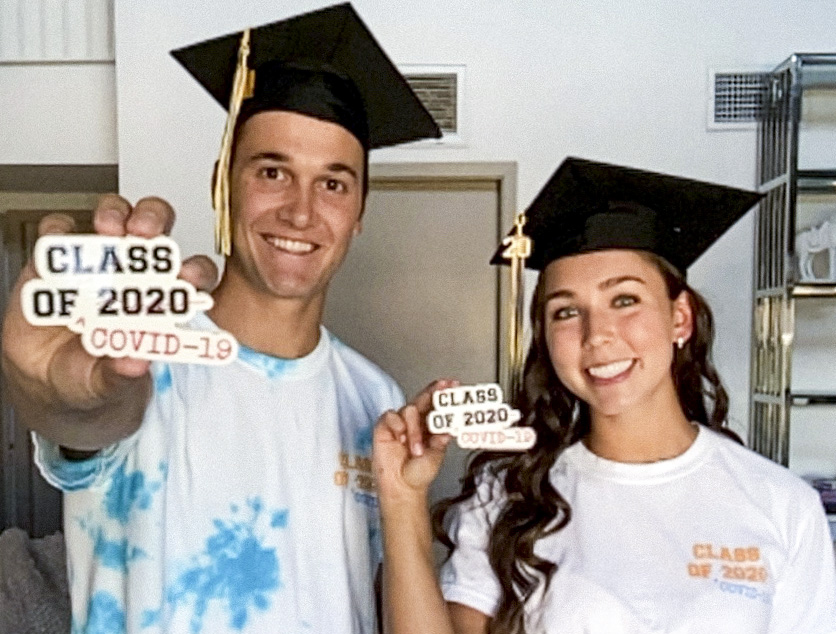 Fourth-year students Payton Rockwood and Jordyn Grusd founded a small business, Class of COVID-19, to sells stickers and T-shirts in light of canceled graduations to spread positivity and give back to communities affected by COVID-19. (Sakshi Joglekar/Daily Bruin)
Despite graduation cancellations nationwide, Payton Rockwood and Jordyn Grusd sought to flip the pessimistic narrative for the class of 2020.
Rockwood, a fourth-year economics student, and Grusd, a fourth-year communication student, said they wanted to find a way to spread positivity and give back to communities affected by COVID-19, especially after seeing an overwhelming number of negative posts on social media in response to a virtual spring quarter and graduation ceremony. In response, they founded Class of COVID-19, a small business that sells T-shirts and stickers with "Class of 2020" on them, only "2020" has been crossed out and replaced by "COVID-19." For each purchase, the pair said they were planning on donating 20.20% of the proceeds to Feeding America to further their impact, but have since decided to donate much more.
"Yes, we're missing out on a lot, but our entire class … is experiencing something that no other class has," Grusd said. "So rather than being bummed about what we're not getting, why not be proud members of this Class of COVID-19?"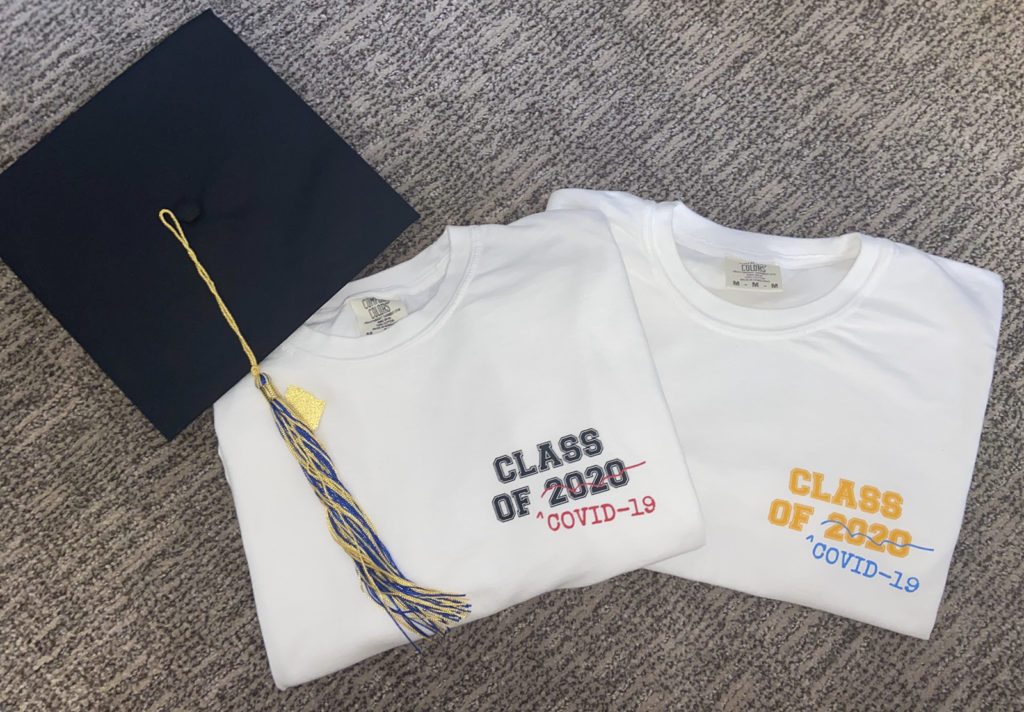 Rockwood said he and Grusd first came up with the idea for Class of COVID-19 during a creative exercise of brainstorming different start-ups. The pair settled on Class of COVID-19 T-shirts because they said shirts were the most symbolic – because of how shirts communicate affiliations in college – and feasible. The two hoped the simple and comedic design would represent the class' situation, while simultaneously providing a bit of levity to the graduating seniors.
"We hope these shirts make people reminded of how unique our situation is and act like a beacon to also be productive in this time and make the most of it," Grusd said.
Rockwood said they were excited to reinvest in the economy through their business and make a difference in the process. Rockwood said they print their shirt products at a local store in Grusd's home state of New Jersey as a way of pledging support of small businesses. Rockwood had founded a business before, but Grusd said that she had no entrepreneurial background, so she had to learn how to adjust their marketing, products and even website design to maximize sales.
[Related: Student's fundraising efforts can be chalked up to passion for sidewalk art]
Rockwood said constantly adjusting the business' different products and strategies for selling was essential for their business' growth. These various adjustments included shifting advertisements from Instagram to Facebook groups, where their product has been well-received and adding new products like stickers and tie-dye versions of shirts that allow for greater customization.
"It's all just been a learning experience, changing different levers to see what people will buy," Rockwood said.
Their series of tweaks has allowed the business to expand as the pair has fulfilled more than 100 orders since their business started. Class of COVID-19 shirts are now purchased overseas as well – especially in Australia – which the pair attributes to the universality of the shirts, which have multicolored and tie-dyed variations.
This growth was encouraging to Rockwood and Grusd, giving them the opportunity to increase their donations to Feeding America. Initially, the pair had planned to donate 20.20% of profits but said they were now aiming for a minimum $1,000 donation to the charity. Rockwood said that the growth of their business would only lead to the growth of their mission as well.
[Related: Alumna brightens up pandemic with affordable, colorful masks]
These greater sales and product diversification also demonstrate the co-owners' love for business, said fourth-year theater student Jessie Guthrie. She said Class of COVID-19 is a very mindful business in the current atmosphere, especially because the business connects school seniors in a way that negative social media posts haven't.
"It's a cool way to unify everyone who's going through the same thing … and obviously the money also goes to a good cause," Guthrie said. "It's also poking humor at the situation."
Class of COVID-19 shirts' optimism and humor demonstrate the upbeat personalities of the business' founders, Guthrie said. She said her peers have appreciated the unifying nature of the product, which is what Rockwood and Grusd had set out to do. Grusd said they hope their business will inspire more positive actions across the class of 2020.
"We're quarantined, but that doesn't mean we don't have to do anything," Grusd said. "We can give back to others even if we're feeling a little bit low based on our own situation."