Graduation photoshoots remain a constant despite changes to other traditions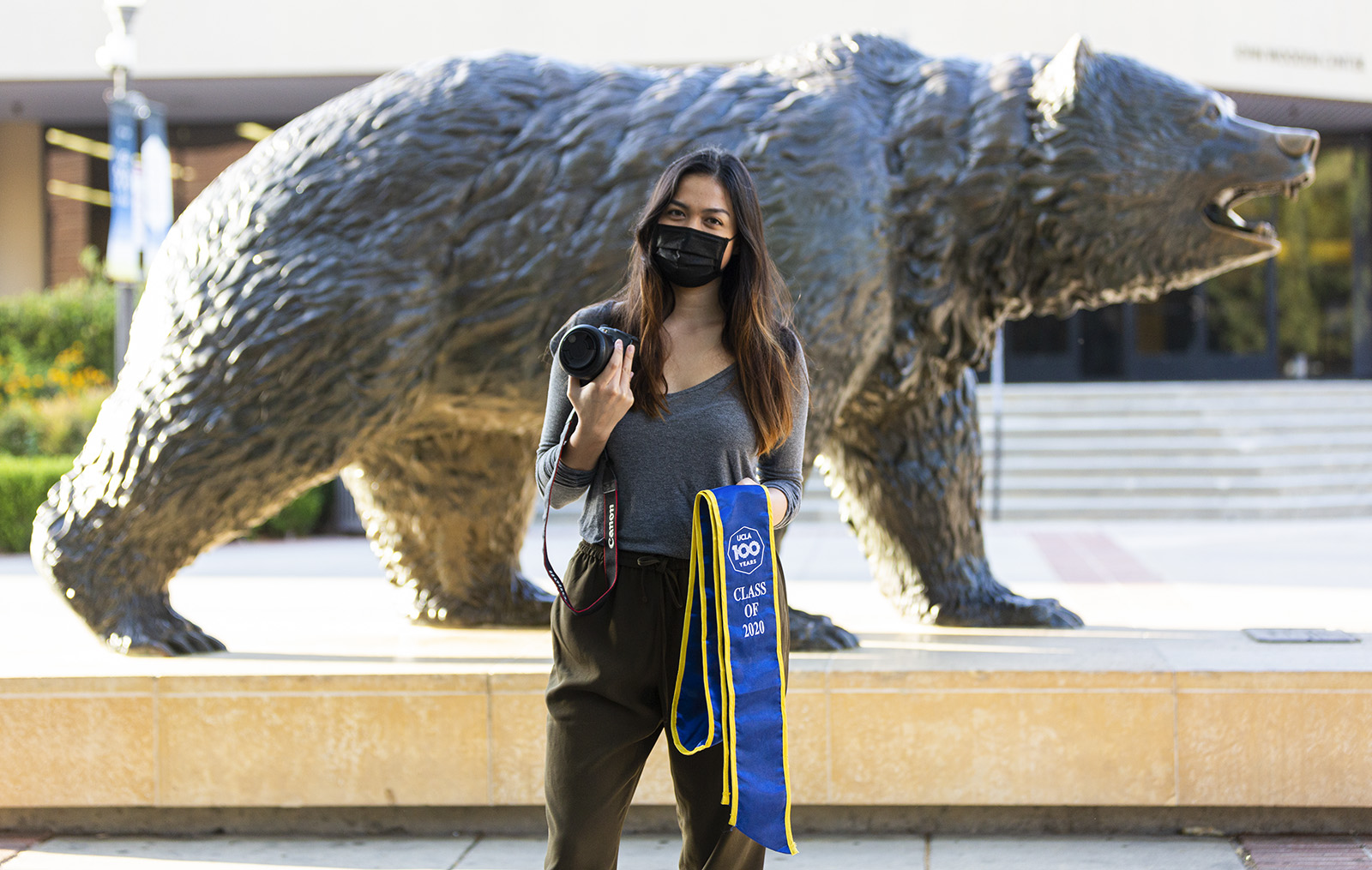 Alumna Rachel Forrest said she is conducting socially distant graduation photoshoots for graduating students during the COVID-19 pandemic. Although the closures of campus buildings prevents her from taking photos in select locations, Forrest said she is still able to captures her client's memories outside of buildings instead. (Amy Dixon/Daily Bruin senior staff)
A postponed commencement ceremony hasn't stopped graduating UCLA students from capturing senior year memories.
Alumna Rachel Forrest is conducting socially distant graduation photoshoots for students during the COVID-19 pandemic, she said. Since she wore a face mask during her shoots, Forrest said she was initially worried that covering her face would make her subjects feel intimidated and shy. Instead, Forrest said she makes an even greater effort to verbally communicate with clients during photoshoots to pose them and help them feel more comfortable in front of the camera.
"Sometimes I get the urge (to) fix someone's sash or do something, but I need to just tell them what to do so I don't have to engage in contact with them," Forrest said.
A common pose for graduation photoshoots is having subjects throw their sash toward her camera, Forrest said, since the movement gives life to the picture. While learning better communication techniques through her socially distanced photoshoot experiences, Forrest said she also discovered how to better manage her own time and personal limits when it comes to her craft and scheduling shoots.
"Over time, (I) had to deal with a lot of issues like budgeting, figuring out how much am I going to charge for photos and how much is my time worth," Forrest said. "Being able to learn how to advocate for myself over the years has also been really important."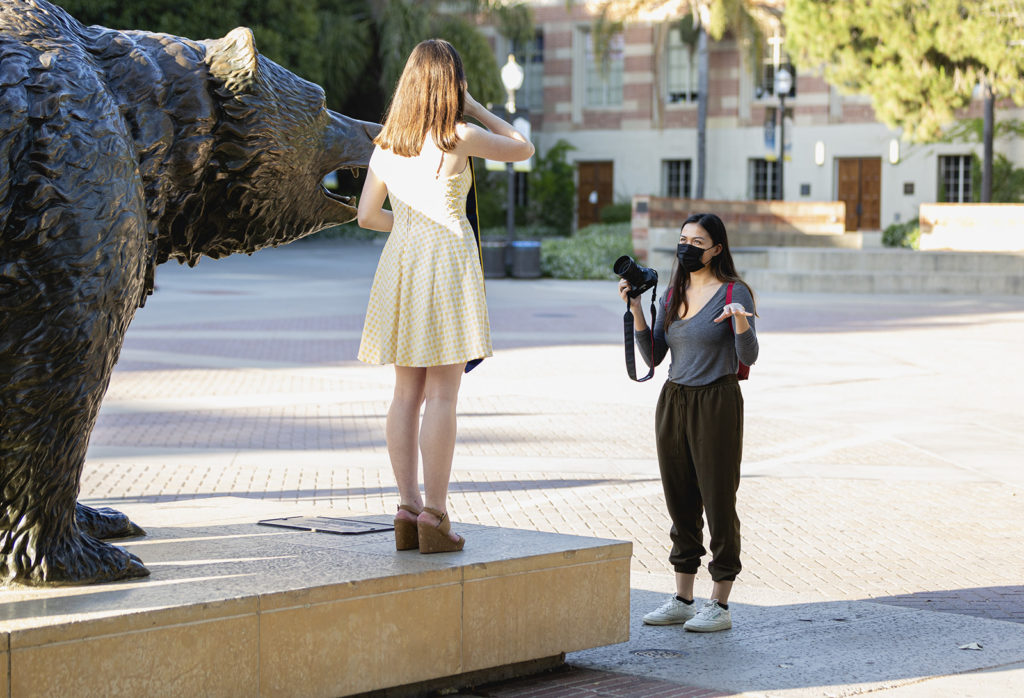 In order to keep a safe distance from her clients, Forrest said she takes fewer close-up portrait photos and more three-fourths body shots. Forrest said she was originally worried how this would affect the quality of how the photos turn out. The challenge instead comes from the closures of campus buildings, she said, presenting problems to those who wanted photos in select locations. Forrest said she can no longer perform sessions with clients in study spots, like inside Powell Library, that capture their memories of spending countless hours working toward their degrees in a single photo.
[Related: Illustrations provide medium for graduating students to commemorate college]
In need of a photographer for a graduation photoshoot, Ryan Chung was recommended to Forrest by a friend, he said. The fourth-year environmental science student said Forrest took photos from varying angles and distances, such as wide-angle and close-up shots, helping him capture his graduation memories. Although Chung said he didn't need much help with posing for photos, Forrest edited shots from the session well, helping him fix the lighting and removing blemishes. Although Chung wanted his photos taken in his major's department office, he said Forrest instead took his pictures outside of the facility, abiding by new campus closure policies.
"I needed (the photos) to commemorate (my major) by doing a really weird pose outside the office," Chung said. "It was just for laughs and jokes, and it turned out to be pretty good (and) fun."
After finding Forrest through a Facebook Marketplace posting, fourth-year international development studies student Asha Kadakia has returned several times for shoots with the photographer. Kadakia said Forrest was both supportive and helpful when it came to directing her form.
"I think some people get nervous taking graduation photos because they're supposed to a big deal," Kadakia said. "But (Forrest) was really sweet and her photos turned out incredible."
[Related: UCLA moves spring graduation ceremonies online to curb spread of COVID-19]
Although sometimes needing to perform sessions for clients at 6 a.m. is difficult, Forrest said she values how her shoots allow her to interact with others during the pandemic. Forrest said she enjoys meeting new people through her back-to-back graduation shoot sessions and learned how to edit photos quickly for a fast turnaround time for her clients. Though Forrest adores when clients post her photos on social media, she also appreciates when her work is used to celebrate success with loved ones.
"It's super sweet to see my clients post on social media," Forrest said. "But for a lot of people, (these photos are) just a way to just remember the time for their family and for themselves."