Alum uses animation to depict relationship of black father, daughter in short film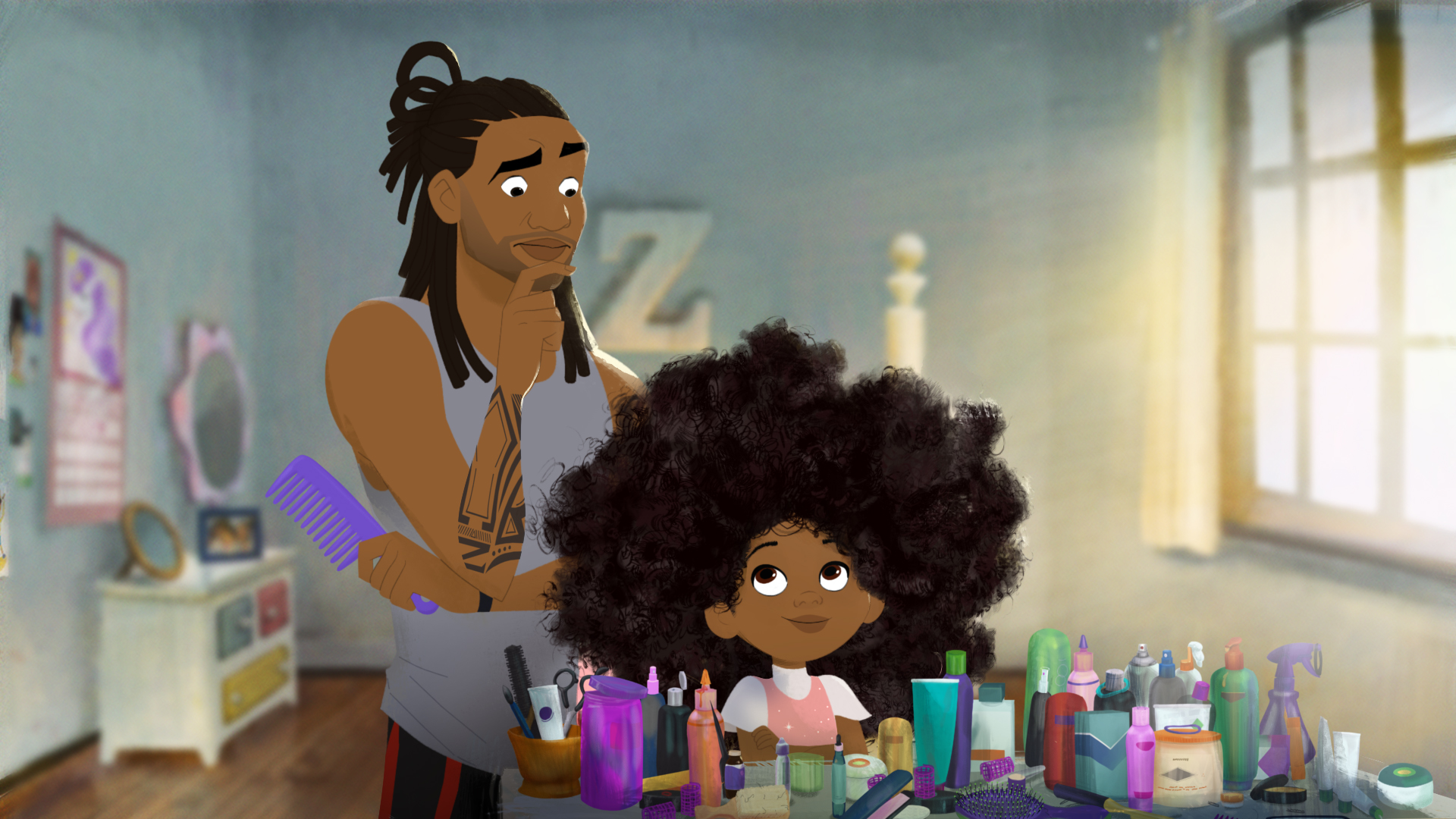 (Courtesy of Sony Pictures Animation)
"Hair Love"
Directed by Matthew A. Cherry
Sony Pictures Animation
August 14
This post was updated August 18 at 9:39 p.m.
An online animated image of an Afro-Latino character stuck with UCLA Extension alumnus Matthew A. Cherry – he had never seen a character who looked like that before.
A few years later, Cherry said he was watching viral videos of black fathers doing their daughters' hair when the idea for an animated short film clicked with that initial image he had seen.
Cherry's animated short film "Hair Love" opened in theaters August 14, debuting before "The Angry Birds Movie 2." The short film tells the story of a young girl named Zuri and her father as he faces the challenge of styling her hair into puff buns for the first time. While the story is thematically about love and family, Cherry said the film also serves as an opportunity to expand representations of both family and fatherhood. "Hair Love" is part of a changing animation landscape that is expanding to tell more diverse and varied stories with emotional power.
"Two years ago, before 'Coco' and 'Spider-Man: Into the Spider-Verse,' there really wasn't a lot of representation in animated films," Cherry said. "I saw this as my opportunity to showcase the average American family with a very specific and unique problem and show how they're able to overcome the stuff that they're dealing with."
[RELATED: Alumni will rewrite traditional LGBTQ narratives in Outfest short films]
When Cherry first began developing the idea for the film, he was particularly interested in why people responded to the hair videos that went viral. The videos were cute, but Cherry found that their popularity was a double-edged sword.
"(The videos' popularity) was more so because people thought it was an anomaly," Cherry said. "It was something that they weren't used to seeing, specifically black dads interacting with their daughters in this way. I just had the idea that it'd be cool to take a similar premise of what's found in these videos but then give it that extra animated component of the hair having a mind of its own."
After brainstorming the idea for "Hair Love," Cherry launched a Kickstarter campaign in 2017. The campaign went viral, quickly breaking fundraising records and attracting the attention of celebrities ranging from Yara Shahidi to Jordan Peele, who are a few of the numerous executive and associate producers lending their support to the film financially, Cherry said.
The next two years were spent putting together a team of talented people, said "Hair Love" producer, Cherry's manager and UCLA alumna Monica A. Young. Cherry and Young had never worked in animation before, so Young focused on putting together a team that knew the medium well, including animator Darlie Brewster, who was specifically tasked with sequences involving Zuri's mother. Brewster crafted subtle facial movements to help convey the emotion of the story and love between characters while also exploring hair animation techniques.
The hair posed a distinct challenge because animated films historically haven't included black characters with natural hair, Brewster said. Though a separate studio handled the final animation of the hair, Brewster worked to help provide a guide for the animation, drawing from her experience animating Esmeralda's free-flowing hair in "The Hunchback of Notre Dame" to help her find the right technique. Brewster said Esmeralda's hair had volume and an underlying structure to it but was largely uncontrolled, similar to the way in which the hair in the film moved.
"We needed to give (the production company) guides of how that mass was going to be able to move, and it took a little while to be able to get that. It was a lot of fun because there was substructure to the hair," Brewster said. "It's just getting an understanding of how to handle large amounts of hair."
[RELATED: UCLA Extension student's short film emphasizes optimistic outlook on Alzheimer's]
Almost two years after the production of "Hair Love" had begun, Cherry announced both a book version of "Hair Love" and a partnership with Sony Pictures Animation, which helped facilitate a theatrical release for the film. Cherry had dreamed of being able to show the film in theaters but, a couple of years ago, it was a goal that had felt unattainable as an independent filmmaker. By premiering "Hair Love" in front of "The Angry Birds Movie 2," Cherry hopes the film will be able to reach a wider audience that might not have seen it otherwise.
"It's a very specific story, it deals with black hair and a black father and daughter dynamic, but it's a universal story," Cherry said. "If somebody that we love asks us to do something that we didn't know how to do, we're not going to just tell them no, we're going to try to figure it out and learn and become better in the process."
The theatrical debut of "Hair Love" makes it the first animated short of the year released in U.S. theaters from a major studio, which also makes it one of the first films that may be eligible for an Academy Award in 2020, according to Entertainment Weekly. But while the prospect is exciting and something the production team had aimed toward, Young says she's more interested in the film's ability to inspire those who haven't seen themselves on screen and to move people.
"When we were at the premiere, a little black girl came with a hairstyle like Zuri, our character, and that's the stuff that excites me. Seeing black girls with their fathers on screen is probably the most meaningful part to me," Young said. "And if we get to the Oscars, great. That'd be the icing on what has already begun."