Art to Heart: Galleries offer opportunity for students to experience art outside comfort zone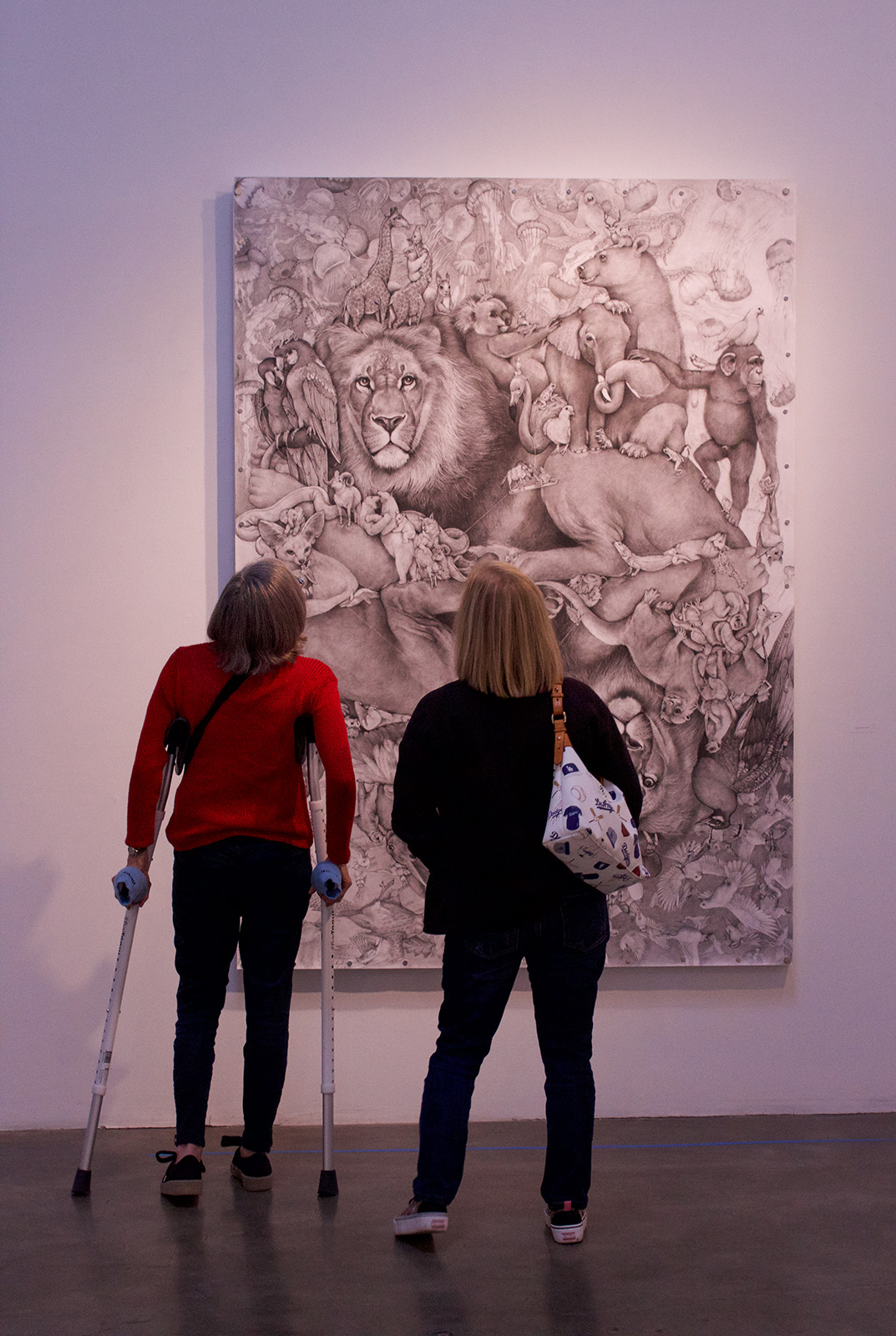 Susan Given and Lee Herschler visited the Lora Schlesinger Gallery's "rEVOLVEd" exhibition. They said they enjoyed viewing Adonna Khare's paintings of wild animals because of their love for both animals and art. (Lisa Aubry/Daily Bruin senior staff)
Art, the universal language, can transcend space and time to reach a diverse audience. We hear this all the time, but do we truly feel the weight of these words? A cloud of elitism envelops the "art world," alienating the perspectives of some while glorifying those of others. In efforts to challenge ideas that reinforce the intrinsic validity of one individual's take on art over another's, columnist Lisa Aubry will explore different creative spaces and outlooks on art and reconcile the fields of arts and sciences through discussions.
I left the wind and the traffic outside, slipping through sleek glass doors into a spotlit interior.
As an art history student trying to break into the Los Angeles art scene this year, I've wandered into many a gallery – clumsily, sheepishly and without the slightest intention of purchasing a single thousand-dollar sculpture. Visiting a fine art gallery can be jarring and intimidating, but as with most challenges, the rewards are priceless.
Galleries and museum spaces display pieces in similar formats, yet their divergent agendas affect perception of the art, said Alisun Woolery, director at Marc Selwyn Fine Art. While museums aim to educate, galleries are primarily concerned with selling artworks, Woolery said. Additionally, museums provide thorough textual explanations and helpful museum docents. But the limited intervention in the visitor's gallery experience could actually make for a more raw and direct perception of the artwork.
Besides, visiting galleries is a cost-free experience. The same free entry is not necessarily a standard for museums. Woolery suggested attending openings as a helpful way to dip one's toes in the network of galleries while also avoiding the more intimidating aspects. Public openings allow artists to provide gallerygoers with big reveals, Woolery said. Such events are prime opportunities to visit with friends and explore new artworks alongside other attendees in a stress-free way, since it is the gallery that's trying to make an impression rather than the viewer.
[RELATED: Art to Heart: Students reinterpret Big Bertha to subvert art world's miasma of elitism]
Come to think of it, visiting galleries on regular days can provide entertaining experiences as well. I was doing precisely that when I met Susan Given and Lee Herschler, two visitors at the Lora Schlesinger Gallery – one of around 30 galleries clustered in a complex called Bergamot Station. The duo explained that, as animal and art lovers, they were enthralled by artist Adonna Khare's whimsical stagings of intricately rendered wild animals. While they said they were at ease at the "rEVOLVEd" exhibition, both women admitted not all their gallery experiences have been so carefree. Even though she visits galleries a few times per year, Herschler said she still sometimes feels intimidated when observing artworks.
"Sometimes I worry that if I don't know what good art is I'm going to be judged, instead of thinking, 'Hey, I like what I like,'" Given said. "Whatever speaks to me speaks to me, and it doesn't matter what somebody else thinks because there's no right or wrong in these cases."
Given said she enjoyed the artworks so much that she purchased one of the pencil-on-paper works titled, "Chimp and Rocking Horse," for their home. She said she enjoyed the drawing because the animals stir up both cherished and challenging memories. She went traveling last summer and recalls the surreal experience of encountering wild chimpanzees, yet solemnly confessed that she recently broke her tibia in a horseback riding accident. Galleries, in particular, allow people to bring captured memories home with them.
Despite her many expeditions in LA, Herschler mentioned she is still more likely to wander into art galleries when on vacation abroad, because she's already removed from her comfort zone and in the mindset to discover. The truth is, a 12-hour flight to another country and a short trek to a nearby gallery boil down to the same effect when it comes to removing oneself from one's comfort zone. One need not go far to seek and overcome a challenge that blossoms into a newfound experience.
Santa Monica Cultural Affairs and its arts commission, which are divisions of the city that aim to serve the community through arts and culture, have played key roles in the development and policymaking concerning Bergamot Station. Shannon Daut, the cultural affairs manager, said the cultural campus is currently in a state of transition as longtime galleries leave the space and create vacancies full of possibilities.
Daut proposed a number of ways to tap into the space's fullest potential for lively activity, such as encouraging on-site artmaking through artist residencies and fostering short-term pop-up displays. Both of these methods leverage the power of cyclical change to continuously refresh a static site like Bergamot Station with new exhibits, people and ideas.
"Art can inspire us, challenge us and surprise us," Daut said. " Walking through (a gallery) and seeing all kinds of different art can really be an enriching experience for everyone, whether they be a collector or just the average Joe that's not trying to buy anything."
[RELATED: Art to Heart: Close encounters with contentious art challenge long-held conceptions, definitions]
While my ultimate quest remains the endorsement of avenues for inclusivity in the world of art, it's only natural that places like galleries attract an affluent clientele. Yet, as I explored the galleries near Westwood, I realized there's nothing discouraging college students from benefiting from the artworks. Rather, organizations like SMCA actively strive to engage with the community via arts. Unlike familiar museum-offered guidance, gallerygoing demands that you meet the artwork halfway and shape your own experience.
If there's anything art has taught us, it's that nothing is impossible. The seemingly haughty disposition and inaccessibility of spaces like galleries melt away with the first step into a well-ventilated space. The glass swivel door shuts slowly behind you, and the gallery is perhaps a refuge from the outside, yet still an invitation to ditch the comfort zone. Galleries present unfamiliar, enticing terrain for guests to navigate and grapple with atmosphere and art alike.