Dan Navarro discusses growth in music career starting with his time at UCLA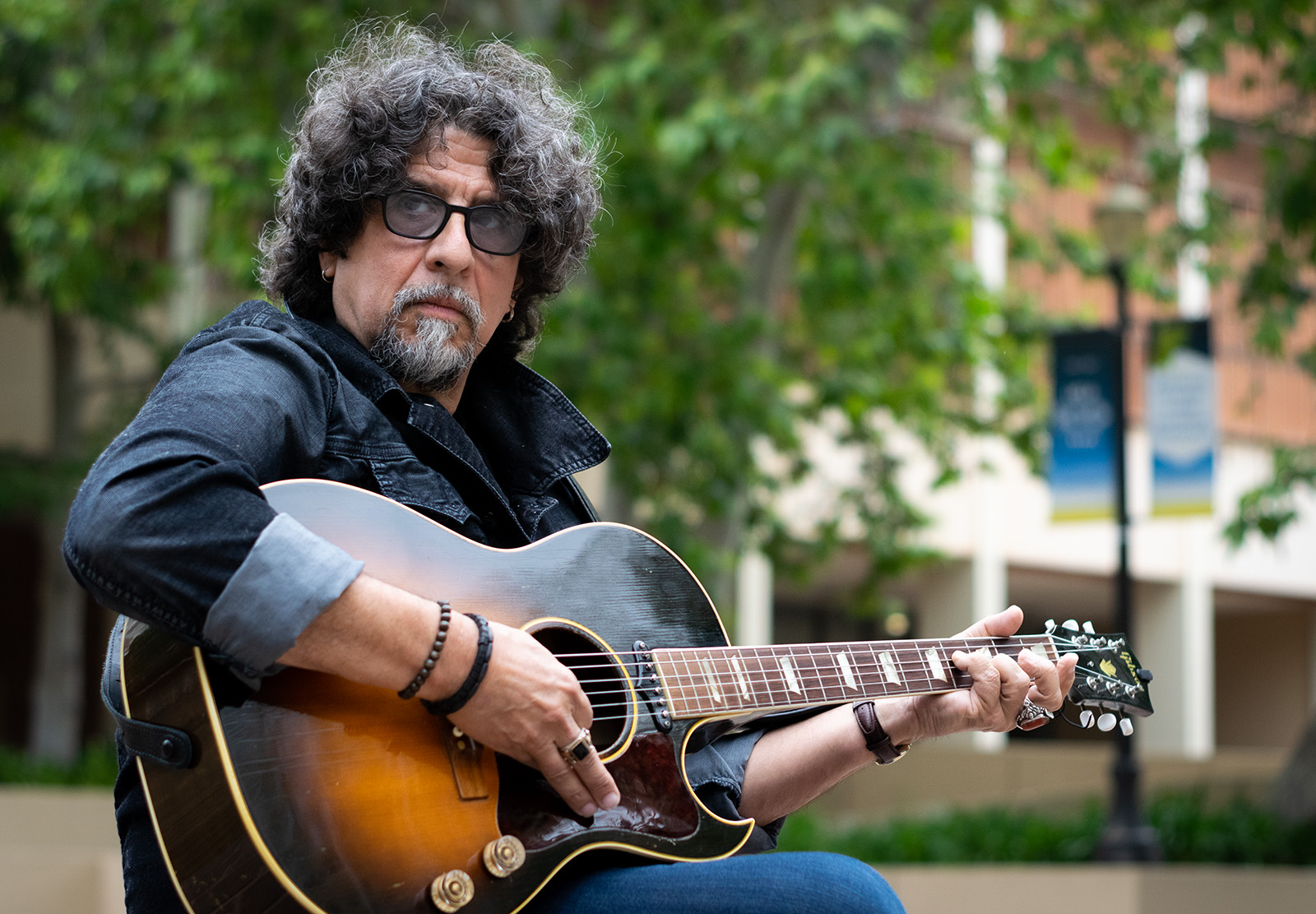 Alumnus Dan Navarro has written songs for Pat Benatar, The Bangles, TKA, Jackson Browne and The Temptations. Outside the music industry, he also voiced various animated characters on television shows including "American Dad!" and "Family Guy." Navarro performed Saturday at the Fiddlers Crossing in Tehachapi, California. (Emily Ng/Daily Bruin)
Dan Navarro, a UCLA alumnus, returned to campus in 2005 for a guest appearance after kicking off his music career.
At the end of the class, students formed a line that stretched to the back door of the lecture hall waiting to talk to him, said Peter Rutenberg, Navarro's longtime friend.
Over the course of his career, Navarro and his late music partner, Eric Lowen, have written songs for Pat Benatar, The Bangles, TKA, Jackson Browne and The Temptations. In addition to singing and songwriting, Navarro has also been the voice of various characters in television shows and movies, including "American Dad!" and "Family Guy." He started his music career as a student at UCLA, ultimately pursuing music full time. Navarro held a concert at Fiddlers Crossing and performed Saturday at the venue in Tehachapi, California.
"I didn't go to law school, get a master's – I decided to pursue artistry for a couple of years, and that couple of years turned into 10. I cracked it at the 10-year mark," Navarro said. "And then all of a sudden I was in this career."
[RELATED: Alumnus composes original score for Emmy-nominated 'Marvelous Mrs. Maisel']
Navarro first came to UCLA in 1969 and wanted to pursue a degree in the theater arts program. It was not until Navarro's second year on campus when he joined the Men's Glee Club, when an upperclassman realized his musical potential, he said. Navarro trusted him and changed his major to music, he said, and after five years at UCLA, he left campus in 1974 to pursue the art.
"When I came to UCLA, my first attempt was to be a theater arts major. I thought I wanted to act and sing," Navarro said. "I didn't know how to play the piano. I didn't know how to play the guitar. I didn't know how to play a harmony instrument."
His next few jobs were all related to music. In December 1977, he worked as a singing waiter at the Great American Food & Beverage Co., where he met Lowen, his lifelong singing and songwriting partner.
Ten years after he started his musical career, he and Lowen accidentally wrote the hit song, "We Belong." At the time, Navarro was angry at Lowen and stopped talking to him for six weeks. Out of the blue, Lowen called Navarro and they wrote "We Belong" in 90 minutes, which changed the course of their musical career, Navarro said. The pair took the track to publishers, and music producer Tom Sturges suggested pitching the song to Benatar.
Navarro said Benatar received the box of tapes from her record company and selected the duo's song. It was the first song released on Benatar's sixth album, which was released in October of 1984, Navarro said. Almost 13 months after they wrote "We Belong," it reached the top five on the charts all over the world, Navarro said.
Navarro recently came out with his very first album titled "Shed My Skin" in March. Steve Postell, who produced the album, met Navarro 30 years ago when Navarro was working with Lowen. After Lowen's death in 2012, Postell said he watched Navarro grow and evolve as a solo artist.
"I feel like he's really come into his own and how he reinvented himself after being a part of this collaboration for 20 years," Postell said.
Lowen died from Lou Gehrig's disease, officially known as amyotrophic lateral sclerosis, in 2012, bringing Lowen and Navarro's musical collaboration to an end after 20 years of working together in the industry.
[RELATED: Students channel their own stories to refresh well-known songs for cabaret shows]
Rutenberg, who is also an alumnus and Grammy-award winning artist, said he sang with Navarro during his time at UCLA. Some of his earliest memories of Navarro are from their Glee Club days, he said. He said he noticed Navarro was always a fine songwriter because he has an ability to tell a story in song.
"Anyone listening to the song can find something to relate to and I think that's probably at the heart of what made him a popular and long-lasting songwriter," Rutenberg said.
Today, Navarro mentors many young artists and the one piece of advice he always tells his students is to always follow their heart, be genuine to themselves and be genuine to their art, he said. The music which he wrote from his soul were the songs that made him the most successful, Navarro said.
"Don't keep trying to chase style. Don't keep trying to create something you think will sell," Navarro said. "Create something that moves you inside."