Budding Los Angeles: Cannabis testing facilities expand, ensure high-quality products for consumers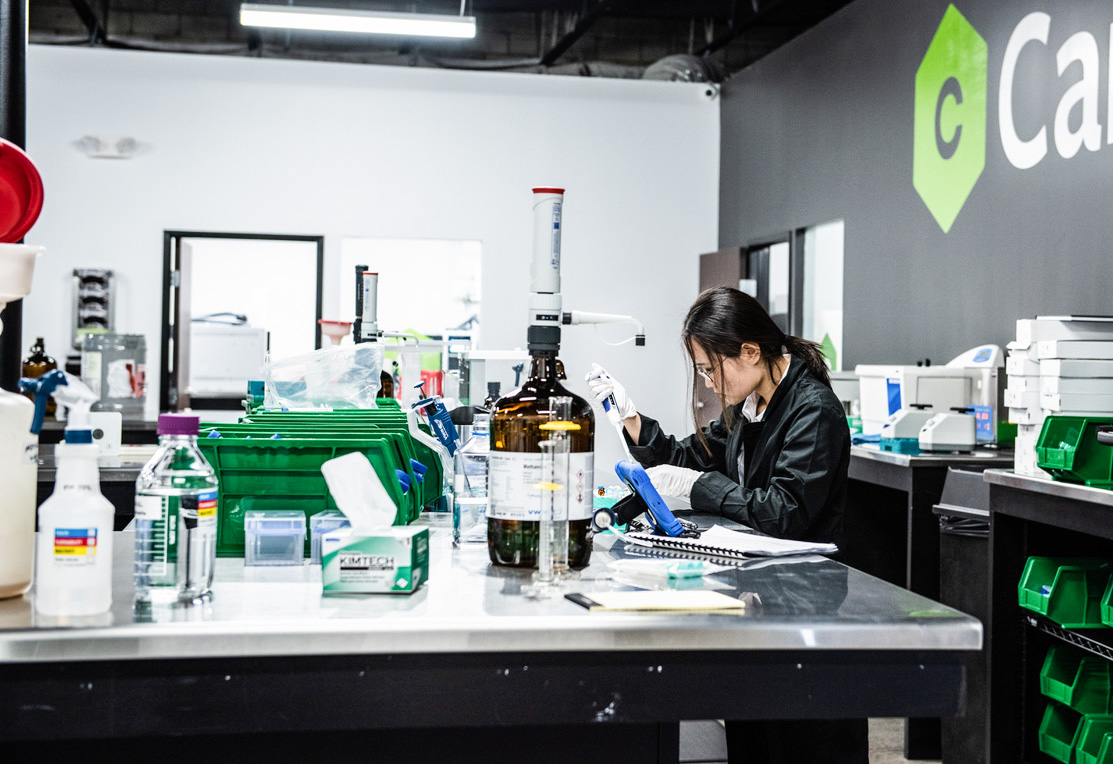 CannaSafe is one of 33 cannabis testing labs operating in California. The company's lab tests 20 percent of the state's legal cannabis products for microbes, pesticides and heavy metals to ensure safe consumption. (Courtesy of CannaSafe Analytics)
February 11, 2019 11:15 pm
Thirty years ago, buying cannabis was difficult, expensive and illegal. Buying cannabis in 2019 is somewhere between picking up a prescription from a pharmacy and buying beer from a liquor store. Join columnist John Tudhope each week as he visits cannabis companies in Los Angeles and discusses the budding industry.
Gone are the days when your friend's older brother was the source of objective truth about cannabis.
Today, cannabis testing laboratories are able to precisely measure what compounds are in cannabis, which cannabis strains are safe to consume and which products can have the strongest effects.
The quantification of what compounds can be found in the cannabis plant is one of the most innovative and exciting aspects of the new legal cannabis industry. This drug is no longer a mystery plant brought illegally across borders but is instead a subject of scientific interest for its medicinal and therapeutic values.
The main differences between products from black-market dealers and those acquired from legal services are the quality of the cannabis and the fact that it has been tested in a state-licensed laboratory.
There are currently 33 cannabis testing labs operating in California. To learn more about testing laboratories, I visited CannaSafe Analytics, a leading laboratory in Van Nuys that tests 20 percent of California's legal cannabis and cannabis products.
When I first entered their lab alongside UCLA's Cannaclub, I was given eyewear and an ill-fitting black lab coat. Danielle Van Lerberg, a support specialist with CannaSafe, warmly greeted our small group in the lobby and proceeded to take us on the journey that a cannabis sample takes when entering the lab for compliance testing.
The lab was clean, organized and clearly making an effort to be cutting edge in the world of cannabis science. As we entered the intake room – the lab's most bustling space – technicians were unwrapping finished cannabis products and preparing them for the series of tests. It was only slightly saddening to see people ripping apart joints, breaking open vaporizer cartridges and essentially destroying weed in the name of safety and science.
CannaSafe tests dried cannabis flowers, concentrates and infused products, and must verify 0.35 percent of any batch produced. This means that if a grower produces 50 pounds of dried cannabis, they must send 2.8 ounces of dried cannabis to a laboratory for compliance testing.
After the sample is unpackaged, mixed in a solution and placed in test tubes, it begins its journey through the lab's maze of rooms. The lab looks exactly like you'd imagine: Each room had a variety of large white or gray machines with lab technicians sitting at adjacent computers.
The first specialized testing space looked for microbes such as mold, salmonella and E. coli. Van Lerberg said this step is necessary for ensuring a safe product, as the lab has detected salmonella in test samples for legal products before.
After a product moves through microbial testing, it is tested for pesticides. CannaSafe tests for 66 pesticides in total – over two rounds of analysis – to ensure that growers are only using state-approved chemicals on their plants.
The sample batch moves onward to another round of testing for a variety of heavy metals and solvents. Van Lerberg said CannaSafe has seen an increase in heavy metals in cannabis vaporizer cartridges and mentioned the only way to ensure consumers avoid lead or other harmful materials in their products is by purchasing state-compliant products from state-licensed retail or delivery services.
From my experience seeing the manufacturing process that concentrates go through, I'd guess that as the industry expands rather rapidly and competition is fierce, manufacturers are taking less due diligence in cleaning and refining products to rid them of the harsh chemicals used in extraction. Compliant products will include a seal of approval if it has been tested and approved for sale.
In the final phase of testing, samples go through cannabinoid detection in the space that Van Lerberg called the "three-million-dollar room" because of the cost of equipment. This room provides perhaps one of the most intriguing measurements in the laboratory: the potency.
The strength of cannabis is mainly measured through two compounds, tetrahydrocannabinol and cannabidiol, more commonly known as THC and CBD, respectively.
The technicians testing for potency said there are many more obscure compounds in the plant, such as cannabigerol and tetrahydrocannabivarin, known respectively as CBG and THCV, that cannabis scientists are still learning about.
Van Lerberg said labs like CannaSafe are able to research and discover new and unknown compounds because of the sheer volume of products that they test. Private companies are in a unique position because they are able to collect data on the products that are being consumed in legal states, whereas universities and publicly funded research organizations are greatly limited in their ability to work with cannabis.
UCLA's own research is legally restricted to human studies or testing federally approved plant material, which does not represent products that consumers are purchasing in legal states, according to UCLA Cannabis Research Initiative executive director Jeff Chen.
After all of these steps are completed, at a cost of about $800 per batch, the product is either given approval to be sold or is denied for failing one of the series of testing procedures. If rejected, it is then quarantined for 45 days in the lab's safe room and sent away to be destroyed – no "sampling" for the employees here.
This experience gave me faith that the legal cannabis products people consume are safe, regulated and thoroughly tested. Labs like CannaSafe are leading the way in forging a new legal market with quantifiable products and reliable information. This industry may be a long shot from the days when weed was grown wild in the backcountry, but at least I know people aren't consuming salmonella with a touch of lead when they light up their evening doobie.