After Dark: 'Scott Pilgrim vs. the World' screening 1-Ups other cult classic experiences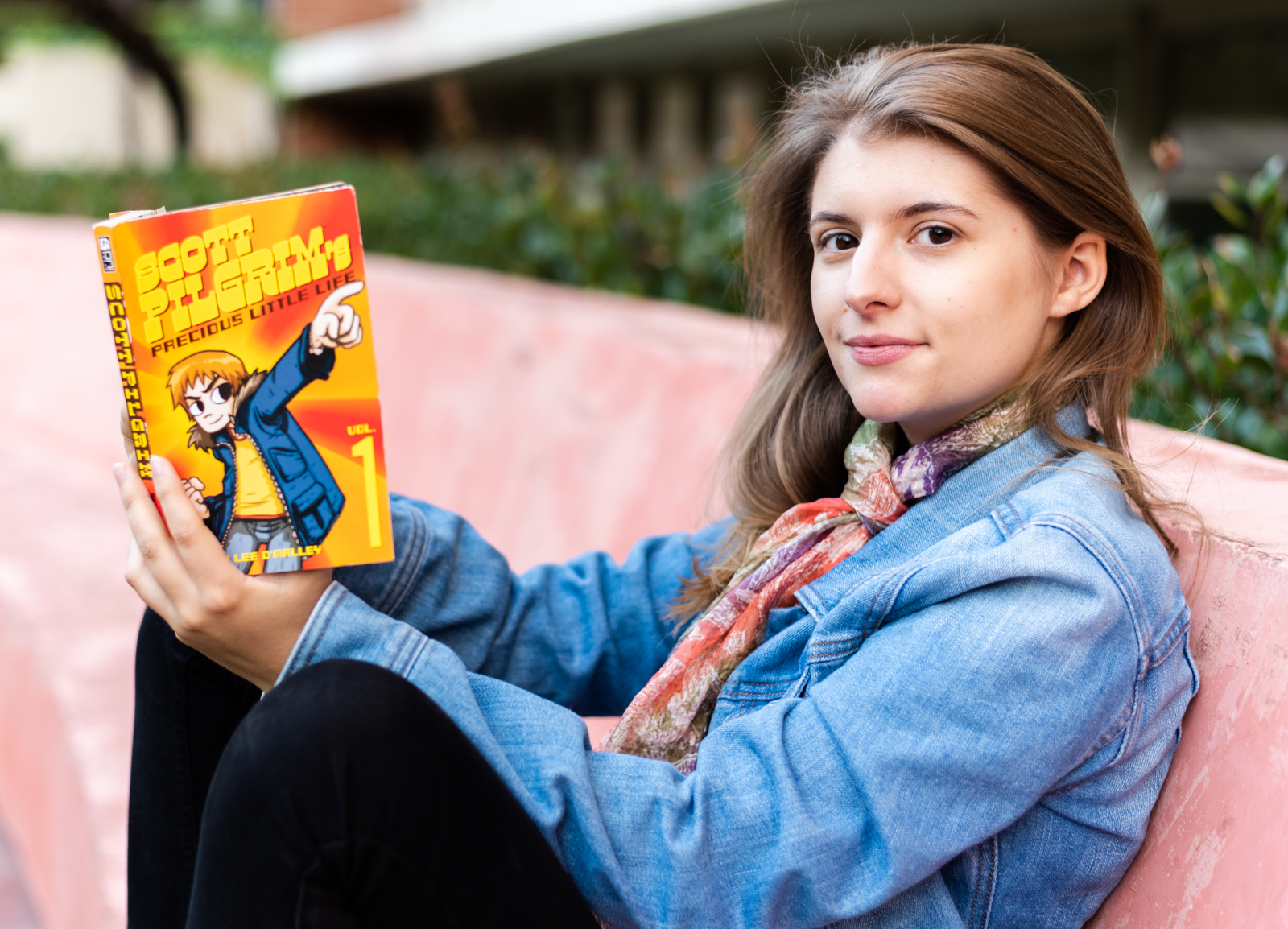 Columnist Nina Young first viewed "Scott Pilgrim vs. the World" with her father eight years ago. Since then, the film has become a comforting background track while she cooks, showers or studies. While attending a screening of the film, Young danced in her seat to the film's garage-rock-band score. (Joe Akira/Daily Bruin staff)
December 5, 2018 11:38 pm
Los Angeles' blend of midnight movies, cult screenings and historic theaters offers late-night scares and childhood nostalgia back in the theater. Join columnist Nina Young as she attends different cult screenings each week to find out why audiences stay out so late after dark.
An 8-bit version of the Universal Pictures logo starts off "Scott Pilgrim vs. the World" with a bang, alerting viewers they're about to enter a very different world.
As part of their Throwback Thursday film revivals, the Laemmle NoHo 7 theater in North Hollywood screened the film to complete its "My Life as a Video Game" series. Earlier this month, the theater featured a 1980s retro theme with films like "Tron" and "WarGames," but the 2010 cult favorite, directed by Edgar Wright, is perhaps the truest union of the video game and film mediums.
Based off Bryan Lee O'Malley's graphic novel series and in tangent with the subsequent video game, "Scott Pilgrim vs. the World" follows Scott (Michael Cera) as he fights the evil exes of his romantic interest, Ramona Flowers (Mary Elizabeth Winstead), all the while playing in his terrible – or great, opinions vary – garage band, Sex Bob-Omb. Throughout the film, graphic novel panels indicate flashbacks, and blocks of text appear on-screen to introduce characters. Icons even pop up within the world of the film, including a "1-Up Life" symbol. Most significantly, characters fight one another as if they are avatars in a computer game, using outrageous weapons like giant hammers to battle until KO'd, or knocked out.
Now is the time to come out and say it: I am absolutely a part of the "Scott Pilgrim vs. the World" cult following.
Since watching it for the first time in 2010 – when my father and I wandered, bored, into the cinema one afternoon – I've likely seen the movie around 30 times. I own posters and figurines from the film and even dressed up as Ramona last Halloween by cutting socks into fingerless gloves and donning a green wig. While I'm not an avid video game fan, "Scott Pilgrim vs. the World" introduced me to a different form of moviemaking, in which a director could drastically play with the filmic form.
How can you watch Cera cartoonishly spring into the air – kicking an opponent so hard they burst into coins – and not fall in love with the film?
My heart raced when April Moses, Noho 7's assistant manager, introduced the film with "Scott Pilgrim vs. the World"-specific questions, as I hadn't yet attended a screening of a film I was very familiar with. But the trivia portion was humbling, as the crowd beat me to every answer. As a consolation prize, I learned new fun facts, such as how Wright encouraged his actors not to blink, mimicking the appearance of anime characters and further suggesting a video-game world.
Moses said she attempts to challenge fans with obscure actor facts, and she had no shortage of trivia to pull from. The box office bomb "Scott Pilgrim vs. the World" features a surprisingly star-studded cast – in addition to Cera and Winstead, Brie Larson and Chris Evans both have supporting roles. For "Scott Pilgrim vs. the World" in particular, Moses said she believes the film's cult following is due to the film not taking itself very seriously, creating a laid-back atmosphere.
"I think it's the fun of thinking, 'I wish I could do that … I wish my life could be a video game,'" Moses said. "It's always fun to sit with a crowd."
In the words of the film's hipster slang, it indeed was "so totally" fun to sit with a crowd, rather than watch it at home. "Scott Pilgrim vs. the World" has personally become a film applicable to everyday life, one I might enjoy while cooking, taking a shower or studying. By transforming the cult film into a background track, I'd forgotten how mesmerizing its pixelated graphics could be, which brings me to:
Unofficial cult movie screening rule No. 14: For a cult film with an unusual style, try to follow the audience's lead.
Previous cult screenings I've attended featured audiences preemptively reacting to lines or moments. The Noho 7's screening surprisingly demonstrated an opposite reaction, as even devoted fans took a few moments to register the film's hidden visual humor. The audience sometimes laughed a few seconds after a comedic beat, slowly noticing obscure details in the background, such as funny posters or easter eggs in the film's production.
As I danced to the film's garage rock band score, I definitely noticed others in my row drumming along to musical sequences. And while I didn't see anyone wearing Sex Bob-Omb T-shirts, I know at least one person brought "Scott Pilgrim vs. the World" memorabilia.
Unofficial cult movie screening rule No. 15: If you're part of the cult community, bring along memorabilia!
My final screening rule encourages anyone who adores a film to eschew any outside judgments or embarrassment and embrace your inner cult fan. I brought along my "Scott Pilgrim" graphic novel to the screening, remembering the first time my father and I bonded over the film's funniest moments and the quotes we still recite eight years later. Leaving the theater, despite the pouring rain, my heart seemed to grow a few sizes, as attending a screening of my favorite film while surrounded by fellow fans added a nostalgic and emotional character to the end of my Daily Bruin cult-film experience.
But, as one evil ex says in the film, "Every pilgrim reaches the end of their journey."