Exhibit explores optimism, beauty amid political climate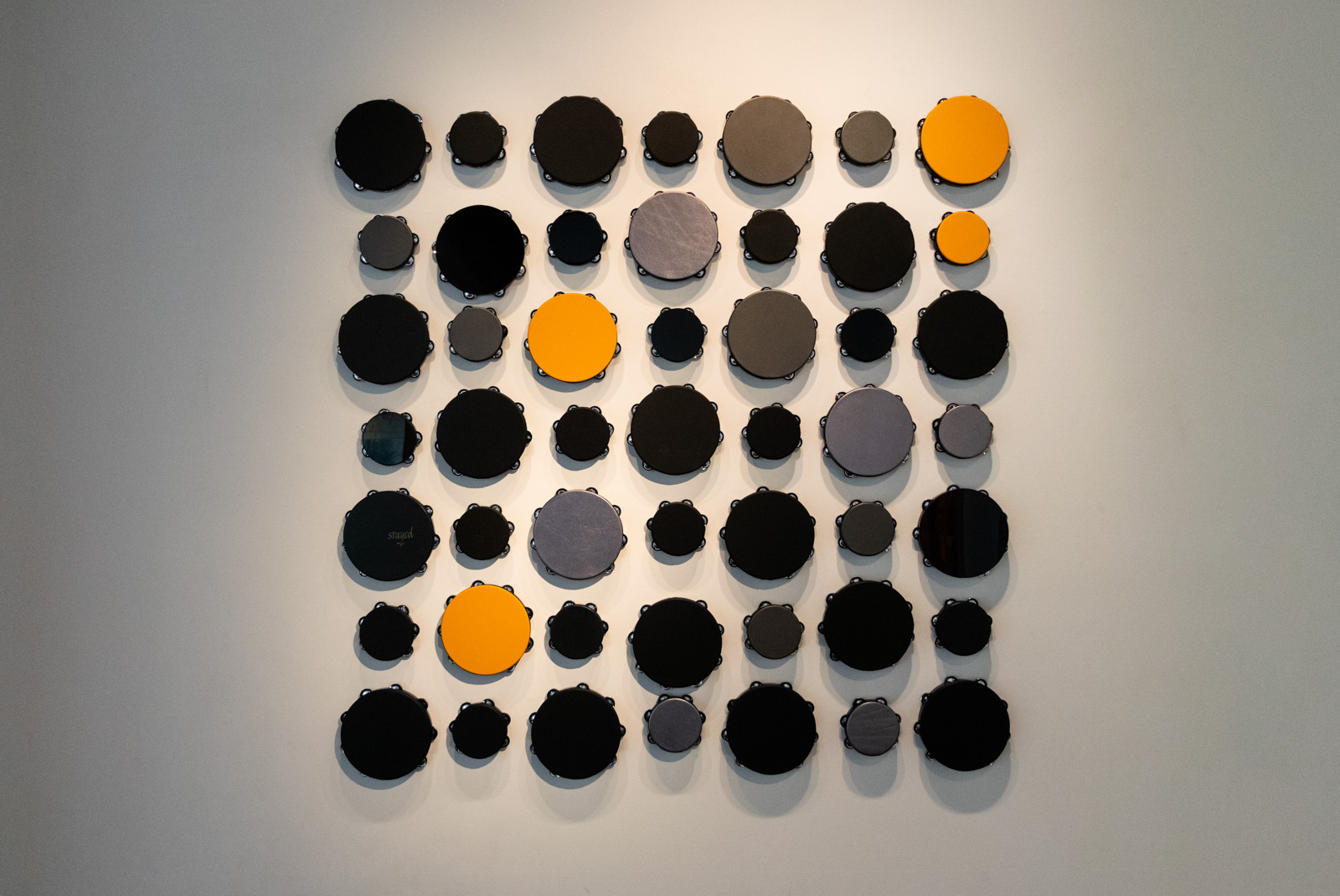 Alumna Lava Thomas' art piece, "Freedom Song No. 1," is featured in the "Pretty Big Things" exhibition. It is made up of tambourines of different sizes covered with colored suede. (Emily Ng/Daily Bruin)
Pretty Big Things
Walter Maciel Gallery
Until Dec. 22
Free
Brenda Williams canceled her art exhibition emphasizing optimism when she realized Donald Trump was on his way to winning the 2016 election.
Williams, the assistant to the chair of UCLA's design media arts department, said the show's cancellation allowed the Walter Maciel Gallery to instead show pieces more pertinent to the election, like portraits of immigrants. But two years later, Williams' vision of an optimism-driven exhibition materialized into "Pretty Big Things," which features artwork created by six different California-based artists and runs through Dec. 22 at the Walter Maciel Gallery. Williams said although many of the featured pieces radiate positivity and beauty, others have more political undertones and are intended to remind viewers of the social justice issues at play amid the current political climate.
"I'm an optimist and I believed that the electoral results were going to be a lot different than they turned out to be," Williams said. "As much as we want hope and brightness for the future, we also have to deal with the reality of the situation as it is."
Williams said she asked participating artists for pieces that were beautiful in a delicate way, yet large and grandiose – hence the exhibit's title. She said she wanted the exhibition to transport people out of their current preoccupied headspaces, and for the positive tone of most of the artwork to make them smile.
For example, "Atmospheric" by UCLA alumnus Martin Durazo, is an abstract painting made up of neon yellow, blue, purple, green and pink. Durazo said he wanted the painting to convey the idea of floating in space and hoped to capture the aesthetic of a rave or party environment with its bright colors merging into one another.
In contrast to Durazo's featured artwork, a quilted piece by Lavialle Campbell deals with more political themes, such as police brutality, Williams said. The piece features the words of Philando Castile's girlfriend's 4-year-old daughter, who said "I don't want you to get shooted" to her mother after witnessing Castile's death at the hands of a police officer. Rather than focusing on optimism, the more political pieces in the show encourage a realization of the country's current affairs, Durazo said.
"It's a complex exhibition and that's what makes it strong. It's not just one easy little sound bite," Durazo said. "I think that strong, mature work should give people something to think about, not just entertain or please them visually."
Lava Thomas, a UCLA alumna and featured artist, contributed two politically charged pieces: "Freedom Song No. 1" and "Freedom Song No. 2." The pieces are comprised of tambourines, the heads of which were replaced with colored suede and metallic-painted leather. The tambourines are arranged in a large square and a large rectangle, respectively, on the wall.
Thomas often uses tambourines in her work because they are rooted in traditional music from cultures all around the world. She said the tambourine is an egalitarian instrument because anyone can play it, and that it was commonly deployed during civil rights protests to amplify calls for justice and equality. Some of the tambourines are inscribed with lyrics from songs sung during the civil rights movement, which she said signify hope, resilience and determination.
"I'm really not interested in amplifying anger or negative emotions. There's so much news that just makes you feel upset and almost helpless in a way, but this show offers a place of respite and solace," Thomas said. "I want people to come away after spending some time with my work realizing that they have agency."
As Thomas exemplifies, Williams said there are ways to make political statements in art without explicitly saying "I hate Donald Trump." Williams said she likes art that is subtle in its political commentary, and she believes that some of the pieces in the show address social justice issues without compromising the overall theme of hope and optimism.
Politics aside, Williams said she ultimately hopes the show encourages people to add a splash of color to their houses, thereby infusing positivity into their daily routines. She said art that emits hope, like the pieces featured in "Pretty Big Things," reminds people to appreciate the beautiful aspects of life, despite the divisive political climate.
"I visit a lot of people who live in beige houses with beige furniture and gray walls, and their art is that way too," Williams said. "I wanted to show art that people would want to look at every day, be inspired by and think, 'Yes, there's a place out there for me and my family that is super positive amongst all of the negativity.'"