Album review: Jaden Smith's 'Sunset Tapes' shows unnecessary eccentricity but growing potential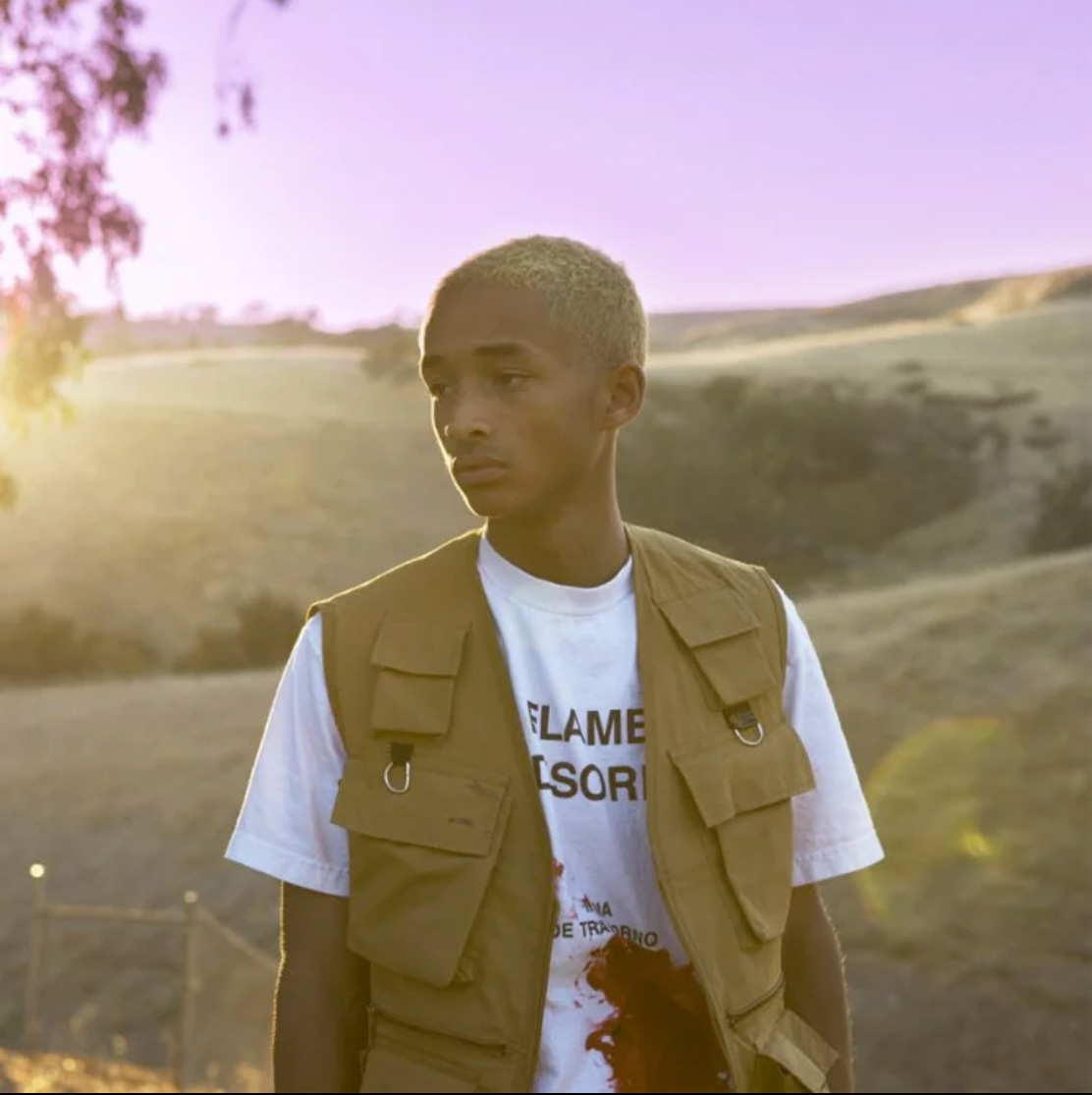 (Courtesy of MSFTSMusic/Roc Nations Records)
The Sunset Tapes: A Cool Tape Story
Jaden Smith
MSFTSMusic/Roc Nation Records
Released Saturday
Jaden is at his most Smith in his new release, delivering an erratic mix of artistry and incoherence.
Exactly a year after Smith released "SYRE," the rapper/actor/fashion designer/twitter guru has returned his focus to music with the release of "The Sunset Tapes: A Cool Tape Story." Gone are "SYRE" collaborators, like A$AP Rocky and kid sister Willow, as the new album is completely a solo journey for young Smith. The mixtape has also been slimmed down to 11 tracks, compared to last year's 17. While these tactics result in a more focused and streamlined output, "The Sunset Tapes" lacks the ambitious highs set by last year's release. There are scattered moments of enjoyment throughout the mixtape – located mostly in its second half – but amidst an abundance of Auto-Tune and conceptually overstretched compositions, Smith's trademark manic energy comes off as more sedated than genius.
The tape begins with "SOHO," a laid-back trap-inspired outline of a failed relationship with "a supermodel bae." While the tale simmers slowly on a decidedly slick beat, Jaden's empty lyrics make as much sense as his younger self's philosophical twitter ramblings. The first verse, which is particularly frustrating, begins with Jaden flexing his ownership of his girl's nudes before he transitions into pure nonsense like, "This mic froze over 'cause he know I'm Frozone / Everything I wear on the air it's the wardrobe." Though Smith's lyrical overkill has its particular endearing moments, he is not striving for the meaning of life here. The shallow song crumbles under Smith's reckless control of words, failing to match otherwise relaxed attributes of the song.
On "A Calabasas Freestyle," Smith produces a manifesto on the lifestyle of a young genius, raised by movie stars who hangs around the Kardashians. The song showcases the young auteur at his most ridiculous, delivering trademark-worthy Smith idioms such as, "I write writtens to break the bars of your mental prison," and, "Rap is just one of my fetishes, like a dragon that's pregnant." The track's perspective is frustratingly warped, but its ridiculousness showcases what fans love most about the out-of-touch heir to the Smith family throne. However, Smith's fired-up attitude never truly lands amidst his laughable lyrics. His attempts to explore social issues in the latter half of the song seem especially out of place amid references to "motherfucking truffle fries with no cheese."
"Play This On A Mountain At Sunset" concludes a trio of low points on the earlier portion of the mixtape – a slow burn that never comes to fruition. Smith's auto-tuned croons painfully drag on for the entire duration of the 5-minute and 41-second song, tagged with a sparse and yet production-heavy piano accompaniment. The song fails to deliver on its attempts to simulate a picturesque and romantic scene. The end result is a song which is much more confused than compelling.
Amid the chaos of the mixtape's opening songs, "Plastic" seems like both a revelation and the album's first true banger. The ad-lib-heavy track's bouncing beat gives an appropriate outlet for Smith's bubbling enthusiasm, which sounds fresh for once, rather than forced. The song's Auto-Tune aids instead of distracts, enhancing Smith's grit while providing him with some actual swagger and an attitude in line with track's pounding beat. Smith's senseless lyrics even transfer smoothly in the context of the song's format, made up of quick powerful boasts. A similarly successful energy is applied to "Better Things," a short quip at an ungrateful ex that runs under 2 minutes.
Throughout most of the second half, save for the incomprehensible "SYRE In Abbey Road," the album provides higher quality content than does its painful beginning. Smith channels his inner Drake on "Yeah Yeah," the album's first successful departure from strict hip-hop by trading in the prior tracks' "hard" quality for some simple sweetness. The rapper turns romantic, serenading his love interest with a flowing upbeat love song. The track escapes the mixtape's previous chaotic noises with a welcomed lightness, provided by a catchy chorus, "Tonight, tonight you're my everything / And I will put that on everything / Your eyes, your hips, your everything / Could probably get me to do anything."
"FALLEN Part 2" and "Rollin Around" follow suit, providing the work with some much-needed vulnerability by examining Smith at an intimate level, rather than the surface-level farce of the beginning. The songs find Smith struggling through his own heartbreak, mulling through his own insecurities instead of deflecting blame to his past lover.
The trajectory of the album reveals that Smith's trademark abstracts are able to hit harder when he's doing more than just flaunting his clout and possessions. "The Sunset Tapes: A Cool Tape Story" reveals an artist attempting to pursue a more strategic and mature sound, but confused on how to actually achieve that feat. Smith said it best in a line from "FALLEN Part 2": "When I said I was the hardest, girl, those times were the darkest."