Movie review: 'Fantastic Beasts: The Crimes of Grindelwald' a rich feast for Potterhead eyes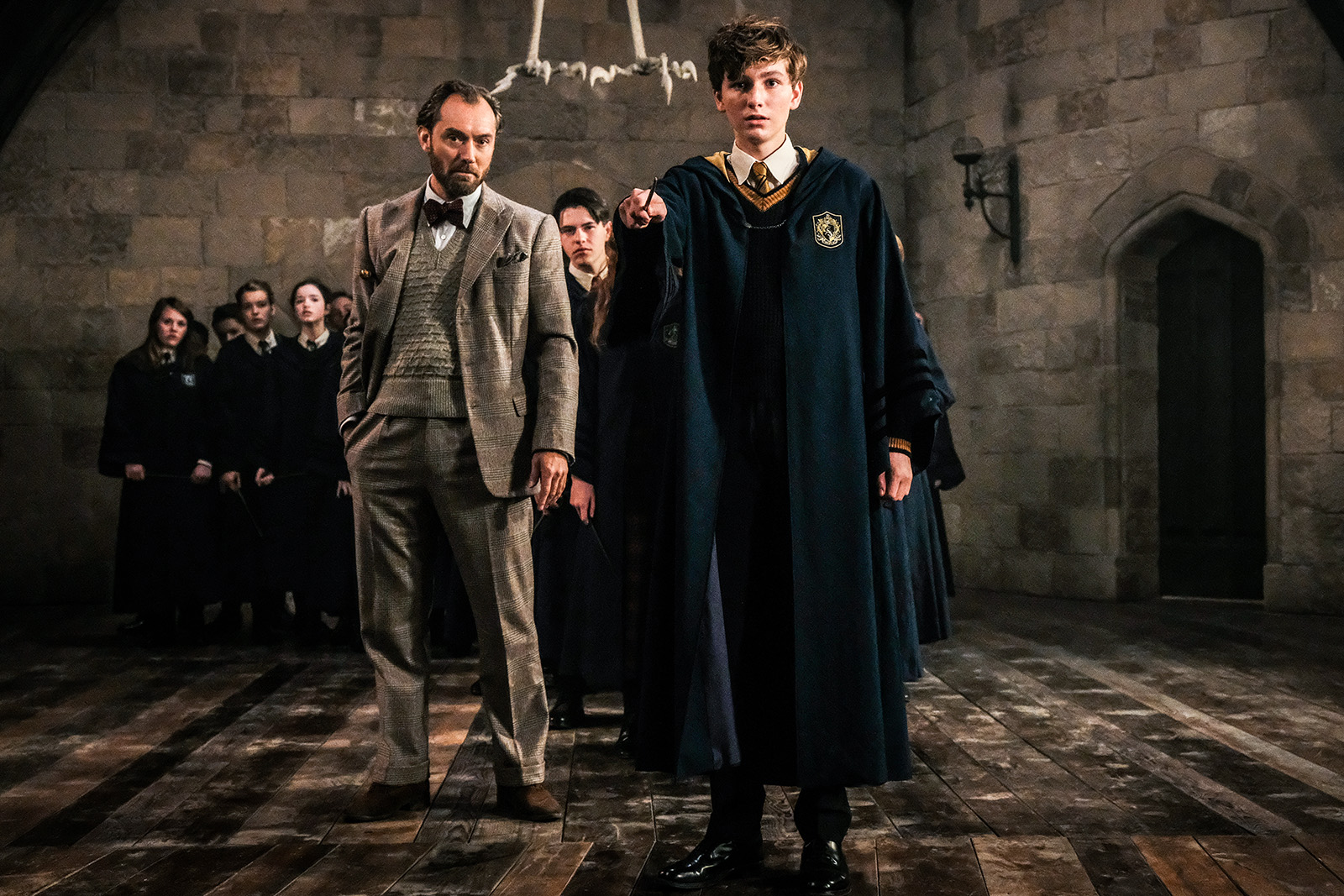 (Courtesy of Jaap Buitendijk)
" Fantastic Beasts: The Crimes of Grindelwald"
Directed by David Yates
Warner Bros.
Friday
Gellert Grindelwald's quest for a pure-blood wizardry regime makes it clear that "Fantastic Beasts: The Crimes of Grindelwald" is not for Muggles or No-Majes.
Only diehard "Harry Potter" fans will delight in Hogwarts School of Witchcraft and Wizardry's nostalgic resurgence, the charming wit of young Albus Dumbledore and the immortal presence of infamous alchemist Nicolas Flamel. But for others, the film's dazzling special effects, quirky characters and plethora of CGI critters detract attention from the scattered and only mildly satisfying plot development.
The sequel to "Fantastic Beasts and Where to Find Them" opens where the previous film left off – in the New York City of 1927 after the powerful dark wizard Grindelwald (Johnny Depp) has been imprisoned by the Magical Congress of the United States of America. Grindelwald makes a stealthy escape on a flying carriage and embarks on his ploy for raising pure-blood-wizard rule over all nonmagical beings. Despite being placed on a travel ban, quirky Newt Scamander (Eddie Redmayne) is recruited by Dumbledore (Jude Law) to stop orphan Credence Barebone (Ezra Miller) from landing in Grindelwald's trap. A good portion of Newt's time is also spent searching for dark-wizard catcher and love interest from the first film, Tina Goldstein (Katherine Waterston). While they are busy tracking Credence down, the troubled Obscurial – a person whose body hosts a powerful and parasitic force manifested from suppressed magical powers – sets off on an awfully generic quest to search for his unknown identity.
As the central villain, Depp's take on Grindelwald bears a striking resemblance to a Jack Frost gone Mad Hatter, with his ghastly pale skin tone, platinum blond hair and absurdly mismatched eye colors. Depp's hypnotic gaze and leisurely persona can be difficult to take him seriously as a villain. While certainly an interesting image for the dark wizard, it's safe to say the casting choice does not cater to everyone's tastes.
As the evil wizard is absorbed with the hunt for power, the film shifts focus to a lighter, whimsical scene of the lovable Newt playing with Pickett the Bowtruckle, a small twiglike creature. Redmayne captured the audiences' hearts in the first film, and his sparkling eyes and nervously dodging gaze only add to his peculiar charm in this one. Newt's delightfully shy but awkward personality shines through subtle details, such as when he casually slips out that Tina's eyes are as lovely as a salamander's.
Aside from Newt's jolly muggle sidekick Jacob Kowalski (Dan Fogler), who serves little purpose other than offering a refreshing and relatable human perspective, the four characters who bonded in the first film spend most of the time separated from one another, as the plot branches off in twisting directions. As a result, the film feels disconnected and unable to provide the strong friendship of the golden trio of "Harry Potter," which serves as the emotional center point in the original series.
The ongoing tie to "Fantastic Beasts" also seems rather unnecessary in the grand scheme of things. As the plot shifts toward Grindelwald's rising power, the bizarre creatures seem to be placed in random scenes for the sake of filling up space that could be better occupied with content driving the plot forward.
Amid the critters, Law does a remarkably good job portraying a younger version of the witty, twinkle-eyed Dumbledore that "Harry Potter" fans know and love. The touching relationship between Dumbledore and Newt evolves from a flashback featuring teenage Newt as a student in Dumbledore's Defense Against the Dark Arts class where he faces his unconventional fear of a boring office job. When Dumbledore selects Newt to battle Grindelwald, their relationship comes dangerously close to mirroring the relationship between Harry and Dumbledore in the original series. However, Newt is far less dependent on Dumbledore's guidance than Harry was, and the older wizard admires Newt's oddball personality.
Although it is sometimes difficult to distinguish the plot underneath the mounds of background information, the film's magic lies in its stunning visual effects. The world comes to life with flying tea kettles, floating chairs and scurrying Nifflers, creatures that closely resemble platypuses. Fireworks burst, golden glowing leaves disperse and detailed raindrops shatter like refined glass. In one scene, Nagini (Claudia Kim), controversially revealed as an Asian woman carrying a blood curse that turns her into a snake, is forced to perform in a circus freak show. The visual effects aid her transformation as she recoils backward like a contortionist taking the form of the green scaled snake that has now come to be known as Voldemort's obedient pet.
The film is a true visual spectacle, but the plot continues to tangle in knots as the viewer learns of backstories and unexpected relations between characters. The action-packed climax strives to resolve with the dramatic reveal in the end, but barely succeeds at rendering partial satisfaction. The action only picks up toward the end, making the film feel as though it cuts off much too abruptly.
But regardless of its storyline shortcomings, Potterheads will surely enjoy delving into the magical world once again. "Fantastic Beasts: The Crimes of Grindelwald" clearly does the best job in catering to its franchise nature, forcing magic lovers to wait another few years in order to receive at least a couple of answers to the multitude of questions raised.