After Dark: Tamales, live music set ambiance for '¡Three Amigos!' screening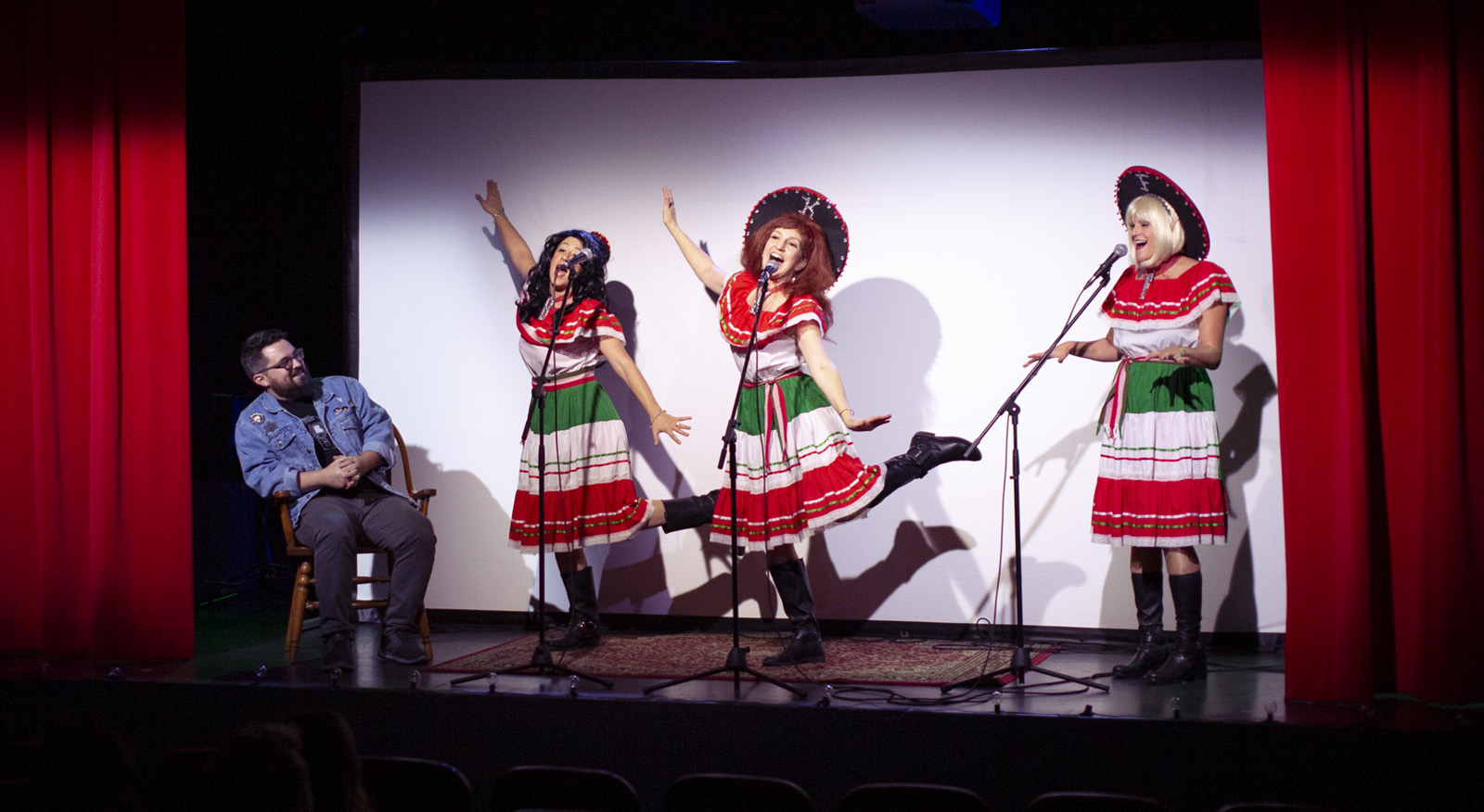 Hayworth Theater incorporated many local businesses for their screening of "¡Three Amigos!" such as mariachi performers from La Fonda, one of the oldest mariachi dinner-theater venues in the world. (Amy Dixon/Photo editor)
Los Angeles' blend of midnight movies, cult screenings and historic theaters offer late-night scares and childhood nostalgia back in the theater. Join columnist Nina Young as she attends different cult screenings each week to find out why audiences stay out so late after dark.
Dancing marionettes, traditional tamales and mariachi music introduced a late-night screening of the 1986 film "¡Three Amigos!."
Performing arts organizer Dynasty Typewriter presented the comedy western inside its Hayworth Theatre to an intimate-yet-excited crowd. The renovated venue – originally built in 1927 as a Westlake playhouse – now hosts comedy and variety shows, with "¡Three Amigos!" acting as one of their first film-screening events. The film follows the misadventures of Steve Martin, Chevy Chase and Martin Short, who play three bumbling silent film heroes who, after a grave misunderstanding, find themselves battling real bandits in Mexico.
Walking underneath The Hayworth's vintage marquee last Friday, I was struck by ambient Spanish music and the smell of tamales. Attendees milled about the lobby, played an antique piano, and worked on a community jigsaw puzzle before finishing their food and entering the screening room. My friends and I naively chose seats near the stage, completely unprepared for the musical extravaganza about to unfold mere feet away.
It all started with a mariachi band. Ten players built up the crowd's enthusiasm before three guitarists emerged to fill the space with more music and inside jokes about the film. They combined the two elements by singing "My Little Buttercup," a sweet ditty written by composer Randy Newman and performed by Short and Martin in the film.
Just when it appeared the film might start, marionettes in early 20th-century Mexican attire materialized. The puppets made their way into the crowd, flirtatiously dancing with attendees. When they finally disappeared, the venue's pop-up screen was brought forward and the three leads appeared on screen to a Western score.
Jamie Flam, owner and artistic director of Dynasty Typewriter, said the film's Western narrative led them to join forces with other businesses in their traditionally Hispanic neighborhood. The mariachi performers were from the nearby restaurant La Fonda, one of the oldest mariachi dinner-theater venues in the world, he said. Mama's International Tamales catered the event and the puppeteers came from the Bob Baker Marionette Theater, a Downtown Los Angeles Historic-Cultural Monument that opened in 1963.
In addition to successfully collaborating with the Westlake community, Flam said the screening partly served as his birthday celebration. He saw "¡Three Amigos!" as a child in 1986 and the nostalgic film is one of his all-time favorites, he said.
"(The film includes) three of my favorite comedy actors, in their prime, (and it's) just great comedy writing," Flam said. "Definitely an enchanting, magical visit to a different time."
Flam clearly wasn't the only attendee with a special connection to "¡Three Amigos!," as a majority of the audience sang along to the film's musical segments. Attendee Bryson Wallace was invited onstage during the pre-show sing-with-the-band segment and was given a sweater for his participation – referencing a scene where the villainous El Guapo (Alfonso Arau)giddily receives the same gift from his fellow bandits.
Wallace said he has seen "¡Three Amigos!" over 40 times, but was unaware of the film's wider cult following, as he only ever shared his love for the film with his family. Watching the movie in a theater was different than watching it at home, Wallace said, as the film's absurdist humor drew surprising giggles from the receptive audience. He cited, in particular, a scene where the three amigos share a drawn-out laugh about a "male plane" versus a "mail plane."
"That joke was probably the most extended laugh of the (screening) and it was so good because when you watch it at home, that (moment) does not land," Wallace said.
Wallace unintentionally outlined another rule of cult classics. Rule No. 9 is geared specifically toward cult comedies like "¡Three Amigos!," which receive mixed reviews upon release but are now lauded as classics.
Unofficial cult movie screening rule No. 9: If you're watching a cult comedy, don't expect all the jokes to immediately resonate with you.
Much of "¡Three Amigos!" is a hilarious romp, including pratfalls off high buildings and overwrought gunfights between the three stars and El Guapo's gang. That being said, there are also dumb jokes that inspire groans or awkward chuckles, which could be what elevates the film to its cult status. The goofy punchlines are easily repeatable and, if you've seen the film many times over, those silly sayings or songs tie the fandom together, creating a shared vernacular about the movie.
It's also worth mentioning that the film's 1980s context features broad characterizations of Mexican bandits that could be considered problematic today. That being said, because every character in the film is an over-the-top caricature, the film's comedy leans heavily on the buffoonery of the three amigos themselves for laughs, rather than on stereotypes. I was surprised by how much I laughed at the film and how sweetly it ended, with the main stars learning to do good despite their terrible incompetence.
The audience clapped and whooped as credits rolled over Martin, Chase and Short riding off into the sunset. For Vanessa Ragland, Dynasty Typewriter's other artistic director, the film's theme of friendship, combined with its infectious silliness, is what draws attendees back to a screening over 30 years later.
"('¡Three Amigos!' is) like smart slapstick," Ragland said. "It's a really clever script, but it's still physically silly. It's a contagious, happy movie. … You can't help but love it."