Professor unearths lost legacies of female pharaohs, parallels with women today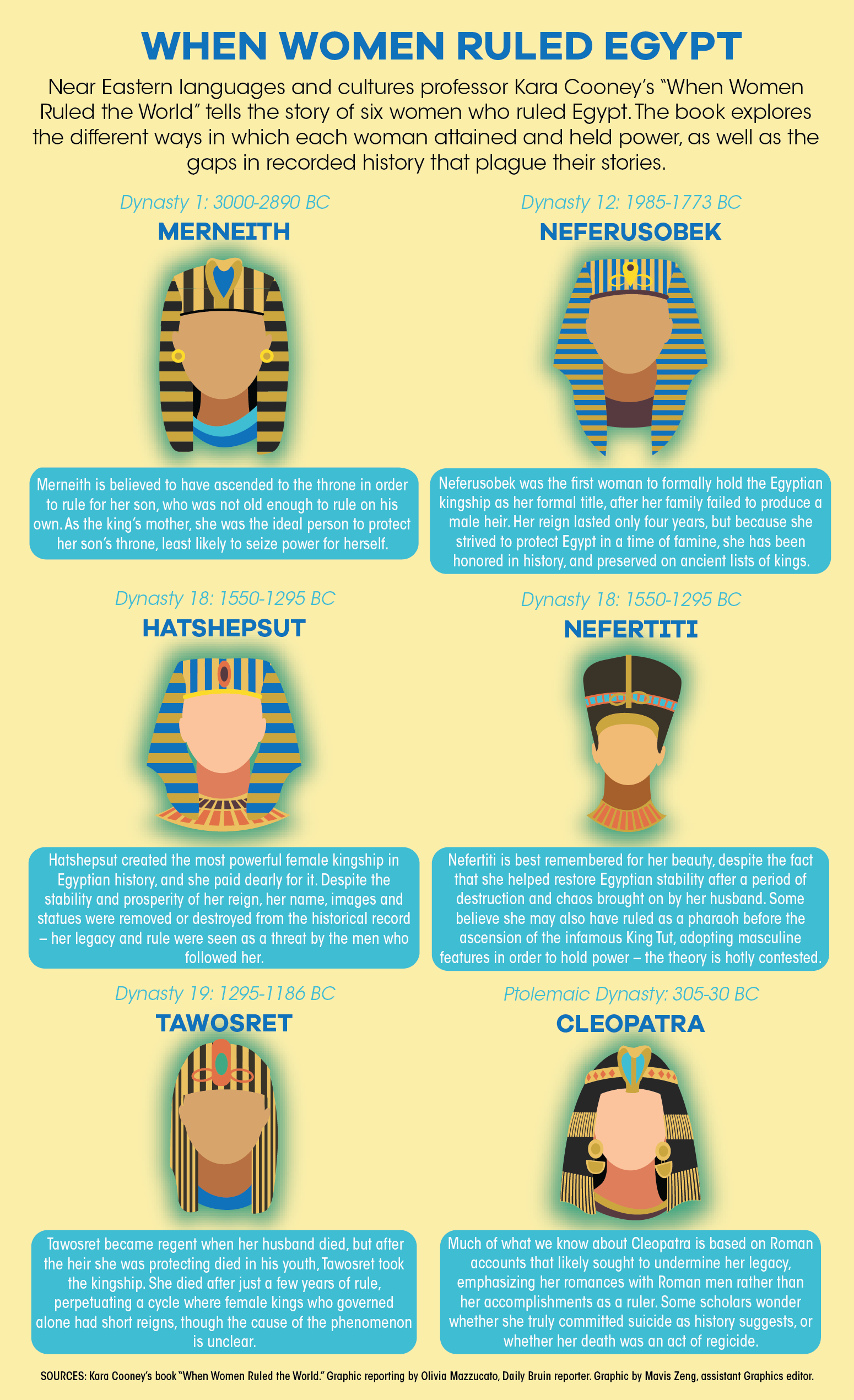 Cleopatra may have ruled more than two thousand years ago, but her reign is still teaching Kara Cooney about the relationship between women and power today.
By examining the role of female rulers in ancient Egypt, she is better able to understand gender and power dynamics in today's world, she said. In Cooney's new book "When Women Ruled the World," the UCLA Near Eastern languages and cultures professor explores the lives of six Egyptian female rulers who took on the title of pharaoh. The book, which came out Oct. 30, explores the past while applying it to the present, seeking to change the narrative around women in power both in the ancient world and in society today. Cooney is currently in the midst of a book tour hosted by National Geographic, with her next public talk taking place Friday in Colorado.
"The book is about female power … and why we are so very hostile to female power, why women's power scares us so much," Cooney said. "My purpose is not to write a revisionist history, but to rebalance the story and to try to understand why we are still so leery of females in power."
National Geographic first approached Cooney about writing a book comparing female rulers of Egypt, but Cooney had considered writing about the topic in years prior, drawing on ideas from a course she has taught at UCLA called Ancient Near East 15: "Women and Power in Ancient World." Alumna Marissa Stevens was a teaching assistant for the class, and she said she felt that Cooney was able to survey history in a broader way that allowed for more cross-cultural comparison. While many professors prefer to keep their classes more narrow in scope, Cooney wasn't afraid to tackle a broader period and vast array of women in order to examine female power.
"I think that by looking at the past and seeing the patterns and seeing the decisions and the social context in which those decisions were made, (it is) directly related to what we experience today," Stevens said.
Within the book, Cooney tells the stories of six female rulers – Merneith, Neferusobek, Hatshepsut, Nefertiti, Tawosret and Cleopatra. The women offer a range of different stories and perspectives, from Merneith's story as a mother holding the throne for her son, to Tawosret's tragically short reign.
When it came to researching, Cooney used original documents such as king lists or the designs of temples. However, in some cases, she used historical absence as its own form of evidence. Hatshepsut created one of the most powerful and successful kingships in ancient Egypt, Cooney said, but her accomplishments were erased by the men who followed her – mentions of her name were removed from temples and documents in an effort to erase her legacy. The fact that many today cannot pronounce Hatshepsut's name serves as evidence of how she never entered society's collective cultural memory, Cooney said.
Another example was that of Cleopatra, who is the most well-known of all the women documented in the book. Although there was more information available about Cleopatra, Cooney was cognizant of the fact that it was sourced from the Romans, and that information was colored by a distinct agenda to discredit her and rewrite her story. This led Cooney to throw out large pieces of Cleopatra's story as we know it, including her infamous suicide, because the story only came from the Roman account. By adjusting the way in which she studied Cleopatra, she focused less on the sensationalist Roman narrative and more on Cleopatra as a ruler focused on protecting her kingdom from foreign invasion.
"I had to question everything with Cleopatra and treat her like the other women, for whom there is not as much information," Cooney said. "I think I came up with a different Cleopatra than I've ever read."
Although Cooney was already familiar with the stories of the various female rulers from years of teaching about them, it wasn't until she began to write the book that a common thread emerged. These women, each in their own way, ultimately became tools of patriarchal rule both during their time as pharaohs, and within the cultural narrative about female power that became their individual legacies, Cooney said. The successful female rulers' legacies were erased after their death, while the unsuccessful ones had their stories preserved as cautionary tales against women in power, Cooney said.
Cooney sought to apply the context of the rulers' stories to a modern-day setting. During the editing process of the book, she asked editors to help her find places to include modern-day examples that further explored the book's themes. When discussing the phenomenon of men taking credit for women's work, Cooney brought up Rosalind Franklin, who helped discover the double-helix structure of the DNA strand, but her male colleagues were credited for it instead. In another passage, Cooney compares first daughter Ivanka Trump to Amenhotep III's daughter, an example of how a daughter can be instrumental in supporting the authoritarian patriarchy.
"It's not an orthodox way of going about writing a history about the ancient world, but I wanted these women to whisper to us from the past what the lessons should be," Cooney said. "Historians are always saying we need to learn from the past. … It's my attempt to actually do it."
Fourth-year Ancient Near East and Egyptology student Iman Nagy said Cooney has the ability to connect ancient Egypt to the present day. Nagy grew up watching Cooney's Discovery Channel documentaries, and was struck by the way in which Cooney made Egyptian gender issues relevant in today's world.
"She speaks to a newer generation, she speaks to more relevant issues," Nagy said. "We don't talk about female rulers, we don't talk about women being relevant as historical figures that are in charge, that are in power, that are making the decisions that affect history."
However, Cooney said she has seen a change in the reaction of people to female power. National Geographic helped set up a national book tour for Cooney, and as she spoke to audiences across the country, she said she recognized a growing desire among people to put women in power.
"There is a hunger in this world for a different kind of rule," Cooney said. "It's the understanding that most women rule differently, whether in their home or in government, (and) then there is a hunger among people to put those women into power."