After Dark: 'Beetlejuice' screening has garish gags, invites outlandish outfits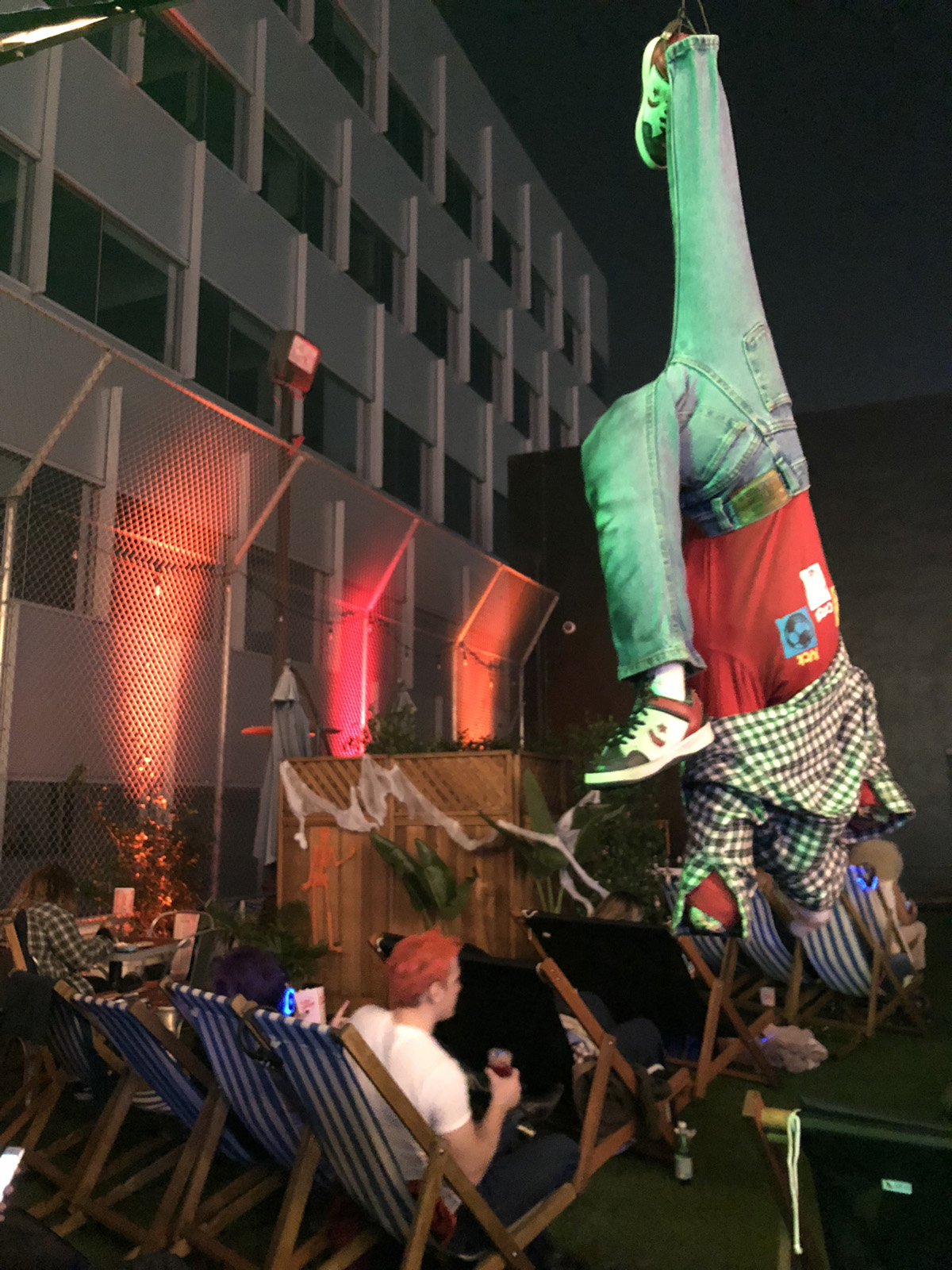 The Ricardo Montalbán Theatre in Hollywood decked out their rooftop screening of Tim Burton's 1988 cult classic "Beetlejuice" with spooky Halloween decor, such as spiderwebs, orange light and a fake dead body.
(Nina Young/Daily Bruin senior staff)
October 31, 2018 10:45 pm
Los Angeles' blend of midnight movies, cult screenings and historic theaters offers late-night scares and childhood nostalgia back in the theater. Join columnist Nina Young as she attends different cult screenings each week to find out why audiences stay out so late after dark.
A staircase inside the historic Ricardo Montálban Theatre glowed with eerie red light over the weekend.
The ascent to the theater's roof led attendees toward a high-rise screening of Tim Burton's fantasy-comedy, "Beetlejuice."
The Montalbán presents rooftop movies in the heart of Hollywood, with billboards gleaming just over the heads of attendees. The venue recently screened Burton's 1988 film to a packed crowd, with many audience members wearing costumes and other outlandish outfits to match the Halloween aura in "Beetlejuice." Starring Alec Baldwin, Winona Ryder and Michael Keaton, who plays the eponymous Betelgeuse (pronounced "Beetlejuice"), the film follows a deceased couple who struggles to adjust to the afterlife, running into annoying members of both the living and the dead.
Before the screening, I was forced to admit to friends I had never watched "Beetlejuice," and that confession was my first moment of true embarrassment during this column-writing experience. Although "Beetlejuice" came out 30 years ago, the film's visual gags and distinctive characters – ranging from creepy ghosts to yuppies in garish '80s fashion – remain a part of our shared Halloween imagery. Going into the screening, I hoped to finally understand why people swoop into costume parties wearing white and black pinstripe suits paired with wild green wigs, emulating Keaton's iconic outfit in the film.
I started to get a feel for "Beetlejuice's" particular blend of comedy and creepiness just by stepping onto The Montalbán's rooftop. On one hand, the venue's Halloween decor included spiderwebs, stuffed bodies hanging from wire fences and orange mood lighting. But instead of coming across as spooky, the rooftop felt more like a welcoming festival. The specialty drink menu included punny beverages like "witches brew" and "focus pocus," and audience members ate burgers and sat in lawn chairs placed on fake grass turf.
One of the event managers, Lionel Garcia, said "Beetlejuice's" ability to walk the fine line between slapstick and horror is part of its draw, as the film appeals to both children and adults. For example, the film demonstrates an unsettling exorcism onscreen, with beloved ghost characters decaying away. In the same scene, Burton shifts the tone to comedy as Betelgeuse plays a carnival game with two humans, his oversized mallets sending them flying through the roof. Garcia said the venue has screened "Beetlejuice" several times since its opening, and that watching the film at The Montalbán allows for an immersive Halloween experience.
"('Beetlejuice') is just a fun take on the idea of the afterlife," Garcia said. "To me, this is a cult classic because, especially during the season, if you were to say 'Beetlejuice,' right away everyone gets into that mood, that Halloween spirit."
The word itself – "Beetlejuice" – holds a lot of power in the world created by Burton. In the narrative, saying "Beetlejuice" three times in a row summons Keaton's unhinged character.
As a whimsical score – composed by Danny Elfman – introduced the title sequence, it appeared Garcia was right about the screening providing a communal space for fans. Even with headphones, I heard what sounded like two or three separate attendees yelling "Beetlejuice!" in anticipation.
The film was certainly Burton-esque in its off-the-wall, bizarre-yet-endearing plot. I could barely look away from Keaton's green face wounds, except when an attendee in a distracting costume would stroll by my lawn chair, likely seeking more popcorn. Which reminds me:
Unofficial cult movie screening rule No. 8: Join in the fun by dressing up like a character or wearing clothes that match the movie's overall look.
Of course this isn't a hard and fast rule; there was no need for me to attend the screening of "The Sandlot" dressed up as the ghost of Babe Ruth. But for films with iconic characters or a specific visual aesthetic, attending the screening in costume may help draw you closer to the fandom. The most obvious example of Rule No. 8 is found in midnight screenings of "The Rocky Horror Picture Show," where attendees are invited to dress up provocatively or dress in an homage to the film's wacky characters.
Several attendees honored Betelgeuse himself by wearing striped shirts or green attire; others embraced the film's supernatural atmosphere by attending in Halloween costumes. I noticed pirates, cowboys and Maleficent, as well as characters from the animated television show "Futurama." Audience member Ellen Karadedin came to the screening in a Mrs. Claus costume, due to the fact she was attending a Halloween party later in the evening. She said "Beetlejuice" reminded her of childhood, and her love for Burton's work drew her to The Montalbán's screening.
"('Beetlejuice') is not like movies, how they are now," Karadedin said. "Tim Burton, everything he does is so classic and different. That's what I like: you don't know what to expect."
While originally unsure of what to expect from "Beetlejuice," I found myself more amused than scared, dancing to the musical ending instead of contemplating my afterlife existence. One could argue, due to "Beetlejuice's" success upon release and its acclaimed status now, that the film is more "classic" than "cult." However, the film definitely appeals to a certain crowd – one that is happy to laugh at Baldwin's decapitated head or watch Keaton grotesquely turn himself into a snake.