Comedic parody 'Two Mile Hollow' a challenging commentary on race, privilege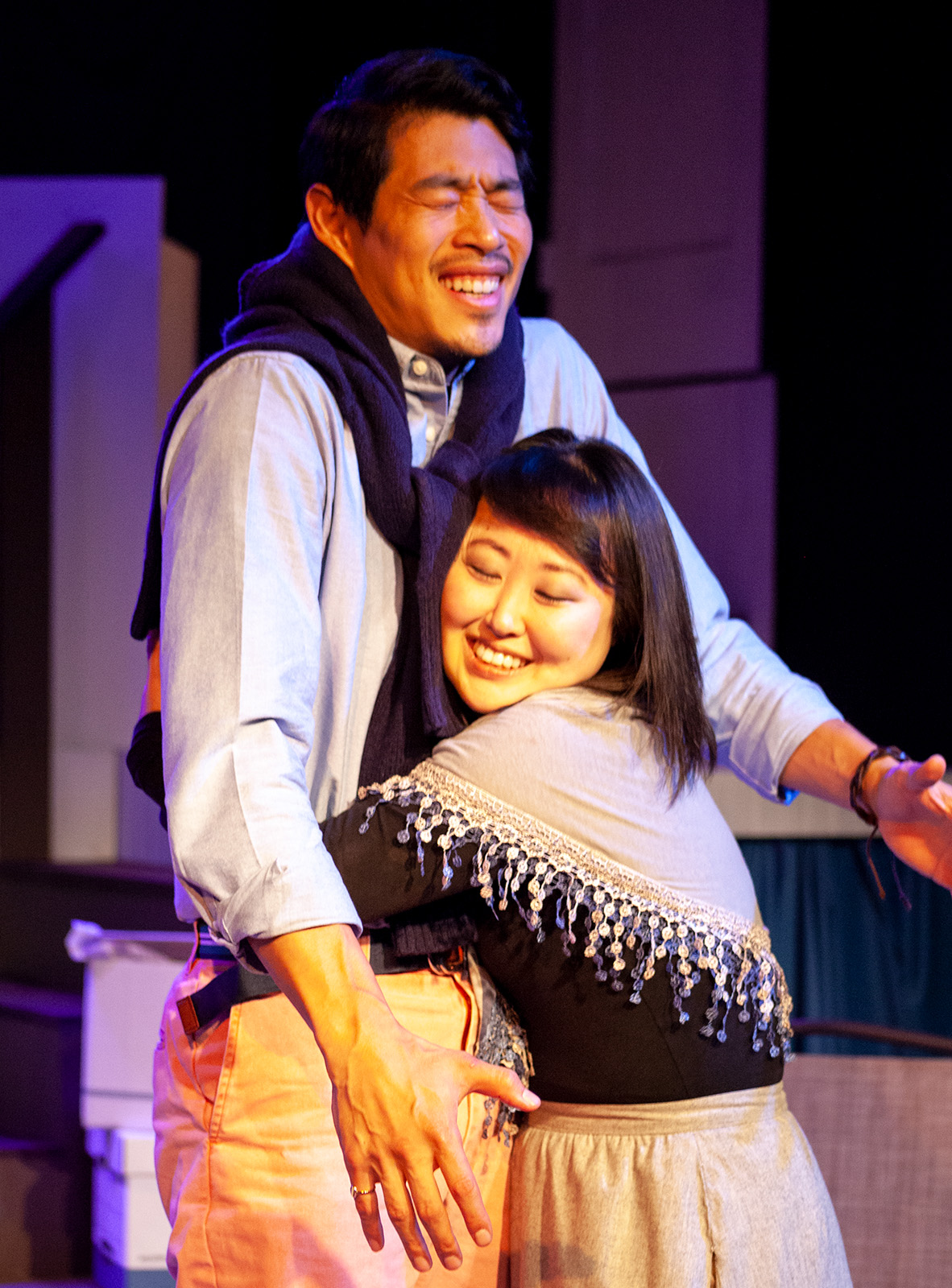 Tim Chiou and Julia Cho star in "Two Mile Hollow," a comedic parody meant to examine white privilege. Through casting Asian-American actors in stereotypically white roles, Chiou said they aim to debunk the preconceived notions of being a minority. (Mia Kayser/Daily Bruin)
Two Mile Hollow
The Lounge Theatre
Oct. 11 – Nov. 4
Prices vary
A rich, white family vacations in the Hamptons – but they're portrayed by Asian-American actors.
While "Two Mile Hollow" is a comedic parody, the play uses its casting to unpack and examine white privilege, while also creating roles for Asian actors. Produced by the theater collective Artists at Play and having premiered Thursday, the play follows the story of the Donnelly family spending a weekend in the country, as their Asian-American personal assistant watches the family drama unfold. The play parodies the "white people by the water" genre – stories where a tight-knit group of white people gather together in a house by a body of water and hash out their problems, as what happens in many Anton Chekhov plays.
The collective seeks not only to produce shows with Asian-Americans but also to tell stories beyond tropes of the immigrant narrative or struggles with Asian identity, said Stefanie Lau, Artists at Play founding member, producing artistic leader and UCLA alumna. By allowing the actors to take on the roles of upper-class white people, the production was able to broaden the specificity of the Asian-American experience.
"What we're hoping to do is show people that it's not just diversity that is important in the media that we consume, but it's also (that there) are the equal and diverse representations of storytelling that can be out there," Lau said.
Family dramas, often performed by white actors, comprise a large part of the American theater canon, said Jeff Liu, director and UCLA alumnus. "Two Mile Hollow" draws attention to the limits of such works – at one point, characters in the play directly comment on the state of diversity in entertainment – while also creating roles of size and depth to showcase Asian-American actors.
"It's funny in and of itself, but then it's also a comment on why these plays are seen as a kind of model of universality and how … that's really, really silly," Liu said. "I thought that was really relevant to this time where, even though in our kind of American mythology and idealism … we're seeing how fraught (our idealism) all really is – that if that's our idea, we're still far far away from it."
Liu said he aimed to help actors infuse their characters with a sense of privilege, while not passing judgement on the characters they were playing. Conversations surrounding privilege can be difficult, Liu said, because almost everyone views themself as an underdog. When approaching how to portray white characters, the cast deferred to playwright Leah Nanako Winkler's advice. Winkler instructed actors to not just pretend to be white people of privilege, but for actors to imagine themselves as white people of privilege, said actor and alumnus Tim Chiou.
"That's kind of a fascinating process because we like to think as artists that we have this imagination that can take us anywhere, but to a certain degree, we're conditioned to recognize the limits of our privilege as Asian-Americans," Chiou said.
The privileged perspective was difficult for Chiou to adopt as he portrayed Christopher, the favorite Donnelly son. Chiou found parallels between Christopher and Brett Kavanaugh, the Supreme Court justice who underwent confirmation hearings in September – both were rich, white men who attended Yale and felt a certain sense of entitlement, Chiou said. For example, Chiou said he was particularly struck by Kavanaugh's angry outbursts during the hearings, and sought to infuse the same self-righteous entitlement and fragility in his own performance.
"For me, obviously, if I were to do that as a person, I don't seem credible, … but this guy is doing it in front of all of America, and half of the country is totally buying it," Chiou said. "I had to say 'OK, I am of the same privilege, I should be able to (be as angry).'"
Casting Asian-American actors in the roles can also broaden the scope of how the community can be perceived. In modern entertainment, it's still a revelation that Asian-American stories can be commercially viable or funny, Liu said. Infusing the production with such elements was crucial to rehumanizing people of stereotyped and marginalized identities, simply because it presents them as people who weren't defined by their race, she said.
"Not only are these folks human, these folks are fun, you want to spend time with them – and they can be all of those things and fully, three-dimensionally human," Liu said.
For Chiou, being in the play was about debunking the preconceived notions of being a minority. By enabling Asian-Americans to portray characters for which they are not typically cast, "Two Mile Hollow" serves as a step toward creating a new image of opportunity and possibility.
"Looking at ourselves as minorities is silly and I think that's part of the exercise of this play," Chiou said. "When we flip the rules, when we assume the positions of power, … (power) is within the realm of possibility and it is not at all outlandish."