Album review: Twenty One Pilots' 'Trench' falls flat, fails to produce a variety of sounds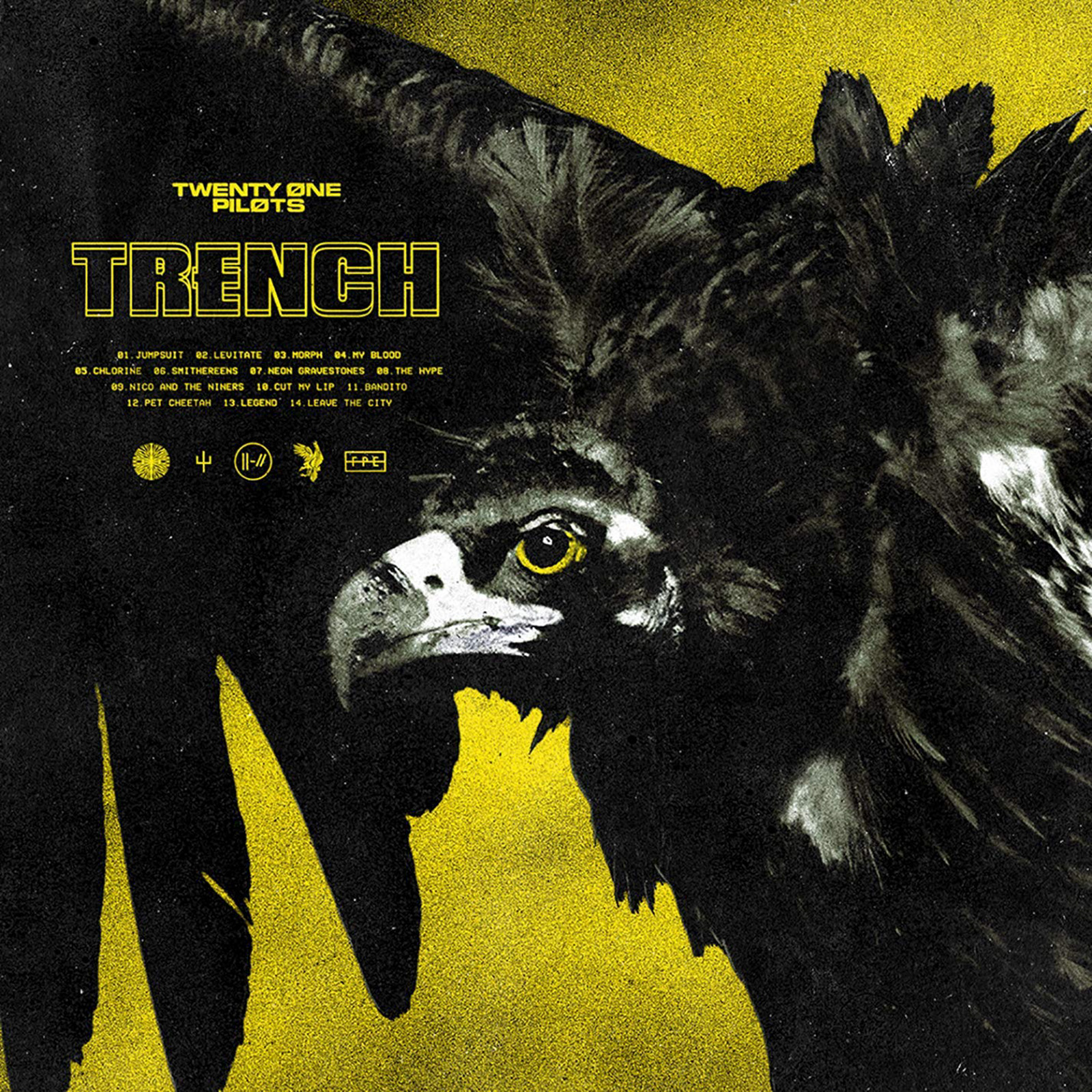 (Photo courtesy of Fueled by Ramen)
"Trench"
Twenty One Pilots
Fueled By Ramen
Released Friday
"Trench" is a cohesive album – but not in a good way.
Twenty One Pilots dropped its latest album Friday, and it featured 14 songs, of which only three stood out. The remaining numbers blended together in an unmemorable collection of all-too-similar sounds, with many sharing the same overall beat and lyrical rhythms. Many songs throughout the album offered bursts of potential in their intros or through short, innovative bridges, but the little flourishes of creativity ultimately fell flat in an album that sounds more like an unmistakable recreation of hits like "Stressed Out" than a new piece of art.
The duo began "Trench" with "Jumpsuit," a song released as a single in July and the album's opener. The mediocre song reaches for metaphor, but crumbles in the repetitive nature of its lyrics, with only a slight shining moment about three-and-a-half minutes in, as the song drifts into the genre of screamo.
From here, the album improves, but only slightly. The rough start is remotely redeemed through songs like "Levitate" and "Morph," which both feature clever verses that set them apart slightly from the predictability of their choruses. However, the spoken-word poetry gets old immediately, and Tyler Joseph's falsetto can only be described as unfortunate.
The album spends a significant amount of its runtime alternating between the falsetto – something Joseph must have suddenly decided he could execute well enough to feature multiple times – and spoken lyrics. The result is an overarching sameness throughout. Where other artists may have used the 14 songs to experiment with their sound, the duo instead decided on staying within their stylistically similar noise.
Even in songs with promising beginnings, time brings them back to familiar Twenty One Pilots territory. "Chlorine" begins with a voice speaking through what sounds like a distant radio, echoing into an ominous fluctuation. The music crackles in, creating a new grunge aesthetic. Except the lyrics come about 20 seconds into the song, flaunting the tired rhythm and flow typical of Twenty One Pilots' list of hits.
The persisting unoriginality even overshadows the lyrical depth in a few songs. The album's closing number, "Leave The City," boasts a few powerful lyrics like, "The burning is so low it's concerning / 'Cause they know that when it goes out / It's a glorious gone." Despite the lyrics' metaphorical depth about life's difficulties, the overused beat and predictable flow make the song forgettable.
Though most of "Trench" fell drastically short of anything classifiable as creative, there were a few bearable – and sometimes even good – outliers. "Bandito" does not use the same lyrical melodies as older songs like "Ride," making it something worth listening to, if only once. The song is also the only instance throughout the album in which spoken lyrics also feel necessary, conveying emotional vulnerability about connecting with fans and creating music in search of peace.
"Smithereens" is perhaps the only song on Twenty One Pilots' latest album that makes use of a falsetto in a decent manner. As one of the slower songs on the album, the lyrics and its delivery are what stand out. The lyrics are typically personal – Joseph reveals he weighs 153 pounds – yet they feel genuinely vulnerable because they work well with the music's simple notes, as opposed to the rest of the album.
In what may be the most sonically distinct song on "Trench," "The Hype" sounds like a number pulled straight from the 2000s. It is the only song done in such a style, and it features some of the most notable lyrics on the album: "Yeah, they might be talking behind your head / Your exterior world can step off instead / It might take some friends and a warmer shirt / But you don't get thick skin without getting burnt." The lines are deep but offer a glimpse of hope for fans who may be dealing with the pain suggested in the song.
While Twenty One Pilots is known for metaphorical lyrics, they rarely stand out on the band's latest collection. A mix of poor vocals, repeated flows and lack of sonic variety do not work well for "Trench." But one thing is certain – Joseph is a good spoken-word poet. He just shouldn't label it music.
Countryman served as a senior staff writer. He was previously the 2018-2019 Music | Arts editor and an A&E reporter.
Countryman served as a senior staff writer. He was previously the 2018-2019 Music | Arts editor and an A&E reporter.