Movie review: 'A Star Is Born' elevates a cliche story through sparkling performances, music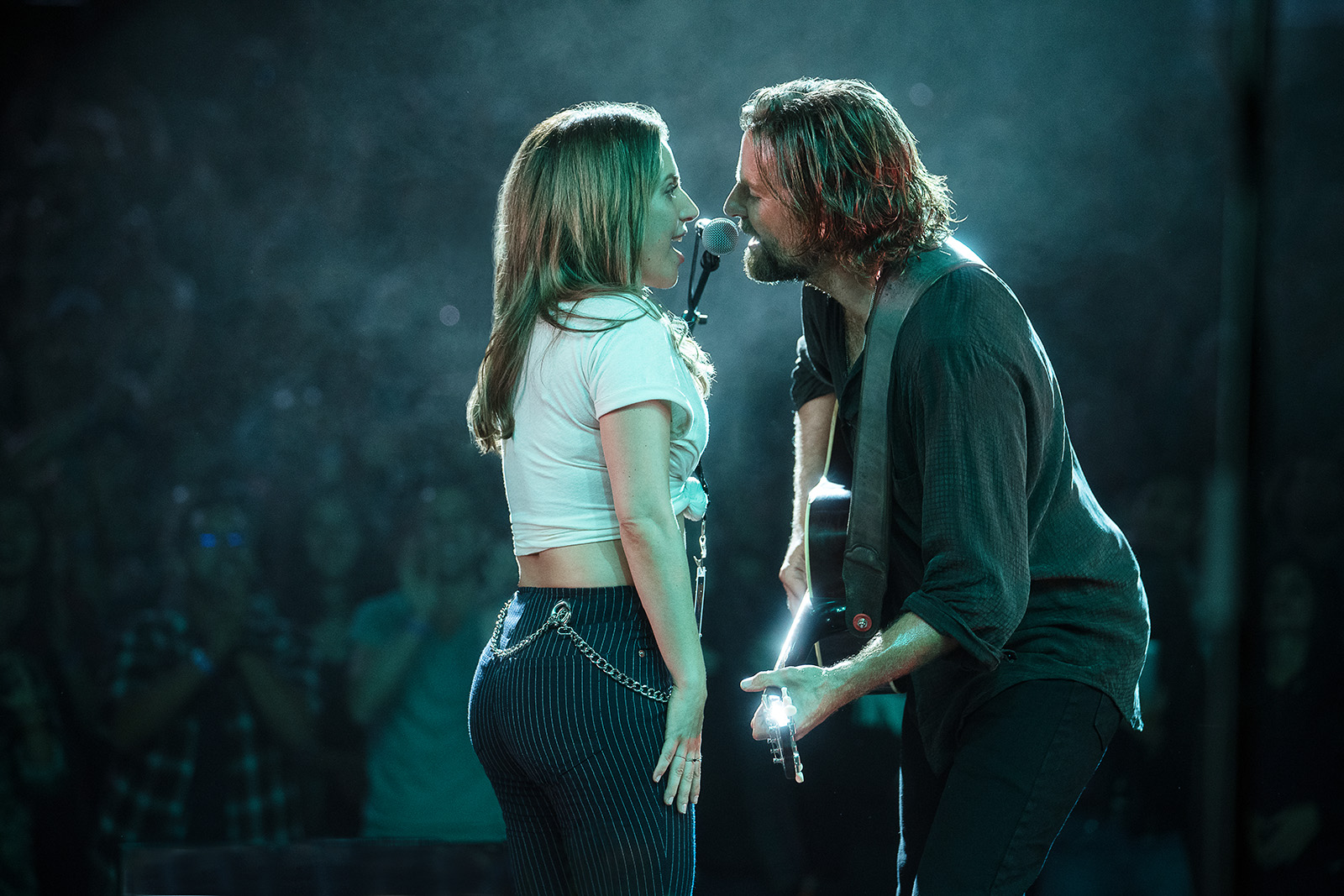 A Star Is Born
Friday
Directed by Bradley Cooper
Warner Bros.
The musician with alcoholism. The struggling waitress. The downsides of fame and victories of love.
All of Hollywood's washed-up tropes, and yet Bradley Cooper's directorial debut shines.
Starring Lady Gaga in her premiere film role, "A Star Is Born" follows two musicians and lovers as they contend with stardom and its side effects. Though both lead characters echo overdone creations, Cooper and Gaga deliver a touching tale, proving that cliches can, in fact, be charming.
Cooper's acting is captivating from the get-go. His character Jackson Maine, acting on his desperate need for liquor, winds up at a drag bar. It's his first time there, but he's open to the queens' ways of speech, performance and leisure. Drunkenly chuckling at their catchphrases, like "bring your own boobs," Cooper eloquently depicts Jack's infantile fascination with drag culture. The scene is dainty, handling inclusivity with humor and nuance rather than overt signposting.
After a brief period of interacting with the queens, Jack meets Ally (Lady Gaga), a struggling waitress and aspiring singer who performs regularly at the bar. Jack is in awe of her sensual display, but Ally's true self surfaces only after the show, once she sheds her elaborate makeup and costume. Jack remains equally mesmerized, Cooper's expressions keeping up as he examines her features – noses and eyebrows, the little things every girl is insecure about, yet almost every film seems to overlook.
In Jack and Ally's very first encounter, audiences see an almost confident woman held back by "well's" and "um's" – Gaga infuses the role with a type of candor that's commendable for any actor, let alone a first-timer. Ally is unsure of her talent and her looks, but that's what makes Cooper's arrival so fitting when he takes it upon himself to uplift her.
The premise of their bond is questionable, and may seem like too much of a love-at-first-sight scenario. They open up to each other perhaps too quickly, especially considering Gaga's character initially seems so reserved, but the drawback is drastically overshadowed by the sheer spark between the two. Each of them holds their own. But combined, they exude a riveting chemistry that manages to impress in moments both uplifting and somber.
Their dynamic is made further compelling by the film's soundtrack, which features romantic ballads and powerful duets. "Shallow," in particular, stands out lyrically as the film's headlining number. Addressing Jack, Ally aptly sings, "Ain't it hard keepin' it so hardcore?" Cooper makes a strong declaration of vocal talent with a deep rasp that is befitting of his country musician persona. Gaga, of course, remains the embodiment of musical soulfulness, making the concert scenes seem as exhilarating as watching her live in concert. With electrifying vocals, she justifies her character's steady rise to fame.
But with a celebrity status comes hurdles that threaten both halves of the duo. Jack's chronic alcoholism shows improvement with Ally's presence, but peaks at inconvenient times. Gracefully, the script sketches out a typical character in a markedly realistic way. Jack is troubled, but not broken – in need of rehabilitation, yet in touch with his sober self. Angry outbursts aside, it's hard to forget that he's a pure soul – a simple man who enjoys dogs and dinner dates, rather than Hollywood's stereotypical, volatile depiction of a drinker.
Gaga's character is equally genuine, despite being a cliche of her own. As she gradually builds her career, her creative choices change to please the public eye. But she never once leaves behind her loved ones or forgets her roots. If she had, the film might have garnered disfavor by recycling a well-trodden character arc. The complexity of Jack's and Ally's personalities makes it difficult to decide which of them is right and wrong as their relationship becomes turbulent.
At first glance, Jack's drinking habit seems to bring them to a point of contention in their relationship. But as Ally grapples with mass validation, Cooper's character, in fact, seems more balanced. While he refuses to compromise on his artistry, Ally appears malleable, succumbing to the whims of people who treat her like a project rather than a person. She exchanges her natural look for orange hair and acrylic nails, and then remarks into the mirror, "I don't even look like myself." The line is simple, but painful to the core. After all that effort – a nerve-wracking journey to accept and embrace herself – Ally trades in her beauty for an imposed and unoriginal caricature, seemingly undoing most of Jack's positive impact on her. It quickly becomes clear the creation of one star requires the crashing and burning of another.
Resplendent with heartfelt monosyllables and metaphors that become evident only later on, the script is marked by the subtle and brutal honesty that is typical of co-writer Eric Roth's style. Following early signs of destruction, the plot unsurprisingly speeds toward a catastrophic climax. Jack and Ally's personal struggles fuse to give birth to a whole beast of trouble, leaving their relationships, careers and lives at risk.
Gripping from start to finish, the film elevates a seemingly mundane plotline to levels extraordinaire. Cooper's contributions to the performance, dialogue and direction can't go unnoticed when even the smallest of interactions between characters raise literal goosebumps. Between the music and the muse, "A Star Is Born" establishes itself as nothing less than a stellar odyssey that tugs the right strings and hits the right notes.
Devjani is the top editor of the Arts and Entertainment section. She was previously the assistant editor for the Theater Film and Television beat.
Devjani is the top editor of the Arts and Entertainment section. She was previously the assistant editor for the Theater Film and Television beat.