Alumna's poetry, film pieces give voice to underrepresented communities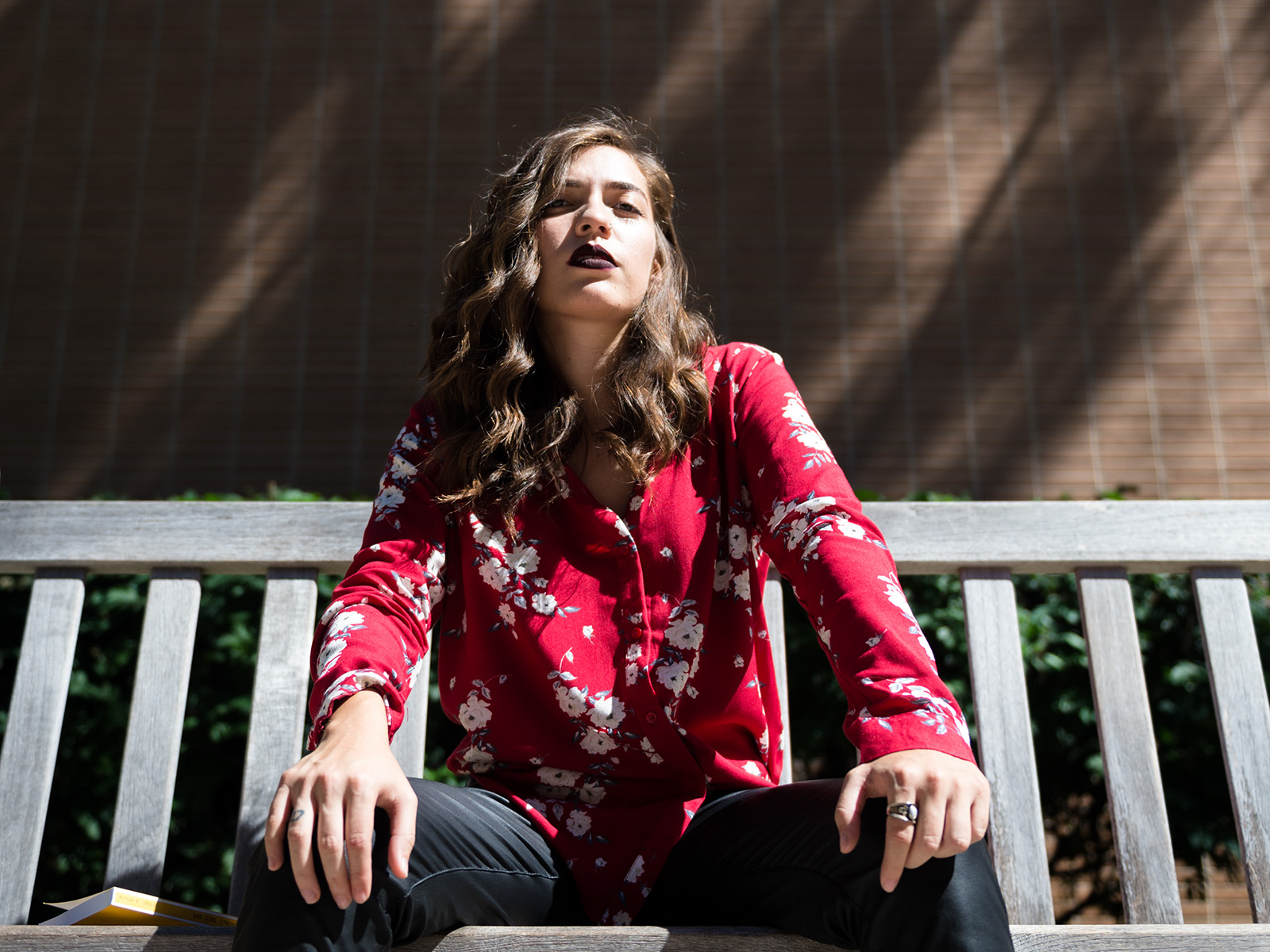 Alumna Alyssa Griego will be combining her original poetry with film in her upcoming self-directed video "Almost Forgotten." In merging the two mediums, Griego plans on exploring social commentary related to her identity as a queer Chicana woman.
(Liz Ketcham/Assistant Photo editor)
Correction: The original version of the photo caption misspelled Alyssa Griego's name.
This post was updated Oct. 2 at 2:42 p.m.
"Unbroken, / Almost forgotten— / Yet, stronger than ever."
Alyssa Griego's lyrics are a part of her newest project that combines poetry and film to comment on social issues associated with her identity as a queer Chicana woman. The alumna will release her latest self-directed video "Almost Forgotten" in early October, accompanying an original poem under the same title. The video makes use of symbolisms and colors that represent resilience to convey an ultimately hopeful message of strength in the face of adversity, she said.
"You can read (the poem) – it's good and it sounds pretty," Griego said. "But it's a whole different story to hear it being performed, spoken, felt, and that's what this video is going to convey."
Griego began writing poetry in high school as a self-prescribed form of therapy, but after graduating and earning a minor in film and Chicano studies, she applied for a film fellowship at Outset, an education and fellowship program sponsored by the Los Angeles LGBT Center and the film festival Outfest. Griego produced her first short film "Soul" during her fellowship, learning the fundamentals of directing.
"I never really wanted to write … but I was forced to write," Griego said. "I felt all these emotions and one day I just grabbed a pen and I just had to get it out and I didn't feel like at the time I could talk to other people."
Jessica Broutt, the program manager for Pathway at UCLA Extension, also met Griego during her film fellowship. Broutt said Griego's identity as a queer Chicana artist gives a voice to an underrepresented community. Most successful artists reflect on years of knowledge, but Griego as a 24 year old creates coming-of-age narratives as they occur, Broutt said. Nia Clark, who worked with Griego during her film fellowship, said Griego taught her not to underestimate someone's artistic ability because of their youth.
"It can be jarring in some moments because she's much younger and you don't expect someone who's much younger to always be able to articulate as well as (she) does, but she does," Clark said.
To represent glamour, Griego plans to incorporate luxurious fabrics like satin in her apparel, supplementing the notion of high-end fashion. The look will be accompanied by lines of poetry that invoke images of torment and anguish: "There's shattered crystals on the floor / Tell me, how close we will never be … " Griego said the audience will see and hear the two contrasting ideas of beauty and suffering. The poem itself communicates growth and transformation through adversity, she said, while the video provides an elegant backdrop that perpetuates the idea of grandeur through fabrics and lighting. The work is a response to Griego's fans who romanticized the suffering she expressed in a previous project, her book "Sad Girl Strong Woman."
Clark said she also encouraged Griego to continue to play with color thematically in her productions. The video of "Almost Forgotten" will use red lighting to complement the imagery in the poem itself: "Rising like a Phoenix / Dripping in ashes and kleenex / Dressed in Satin / Burgundy feathers / Scorning red eyes / Entangled in passion." Drawing from color theory, Griego said she uses the color red throughout the poem to resemble resilience, instead of sticking to its typical connotations of pain or anger. Combining red with the idea of a rising phoenix, Griego said the imagery represents her own transformation as she turned from a place of suffering to a passionate career in poetry.
"I've always been drawn to the color red, just because there's passion there," Griego said. "It also can mean emotional healing, trauma, and then of course it's resilience."
Griego drew her inspiration for "Almost Forgotten" from her fans' reactions after the release of her book, "Sad Girl Strong Woman." Griego said they were mesmerized with her work, but romanticized the pain she expressed in her book. Consequently, she wants "Almost Forgotten" to showcase the pain behind a beautiful image. The closing line of her poem, however, says her struggle with adversity leaves her "stronger than ever," which she hopes will inspire female artists to continue to produce work even if it means expressing vulnerability, Griego said.
"I think in order for you to really feel and have empathy for other people, you have to really go through things in life," Griego said. "(Poetry) let me internalize a lot of stuff and then heal."