Restaurant review: The Milk Bar LA's debut has unique offerings, but not enough to impress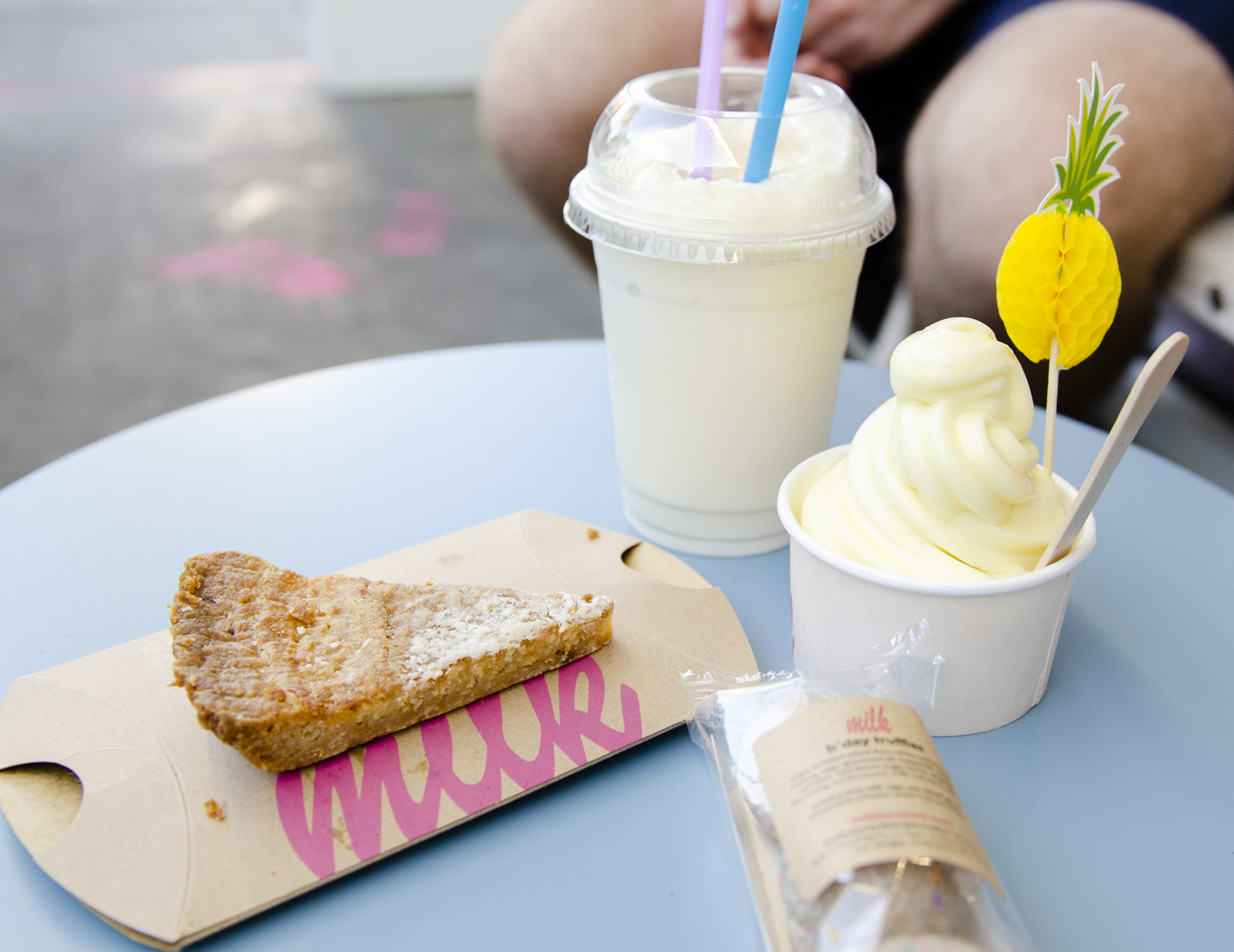 The New York-based Milk Bar opened its doors Saturday on Melrose Avenue, offering pastel pink decorations and a variety of desserts to customers. While the shop brings a taste of New York to Los Angeles, Milk Bar provides an overall mediocre experience, writes columnist Alexandra del Rosario. (Alexandra del Rosario/Daily Bruin)
The Milk Bar LA flagship garnered a line of curious customers that stretched far beyond its pastel pink storefront.
The creamy confectionery establishment, which hails from New York City, boasts saccharine specialties including soft serve, truffles and slices of its so-called Crack Pie. Now the chain's 15th nationwide installment, Milk Bar on Melrose Avenue opened Saturday and delivered Instagram-able treats for fairly high prices in its small strip mall spot.
Like other popular dessert shops in Los Angeles, such as those in Sawtelle and West Hollywood, Milk Bar made the most of its cramped location by sweetening it with pretty decorations. The store's exterior boasts a pastel pink wall that can easily rival the popular Paul Smith wall farther down on Melrose. The interior displays stand mixers, record players and sewing machines all painted the same shade of pink while shelved in front of an unsurprisingly baby pink wall.
As customers shuffle farther down the line, they see merchandise consisting of Milk Bar founder Christina Tosi's two cookbooks, Milk Bar enamel pins, pink lighters and cookie and pie mixes. On the right, the shop's patrons can start choosing their treats as a display refrigerator stocked with bottled water also showcases rows of the restaurant's staple foods all neatly packaged for the taking.
A clear case displaying Milk Bar's cakes also appears in front of customers as they near the checkout counter, where they can pay for all their preselected items and also add soft serve, milkshakes and lattes to their orders. Behind the white pay counter, which showcases a Lionel Richie-inspired tip jar that reads "Hello, is it me you're tipping for?," Milk Bar crew members maneuver around each other to create the various creamy treats.
The Cereal Milk shake, priced at $9 for a regular size, provided customers with a taste of the brand's trademarked Cereal Milk. Flavored after cereal-infused milk, the shake impressed with a specific kind of sweetness not to be found anywhere besides at the bottom of a bowl of sugary corn flakes. Though the oddly specific flavor does stand out from the regular vanilla, chocolate and strawberry choices, the shake's consistency was a little too thick to easily pass through a wide straw, making for a rather shaky experience.
In addition to selling its trademarked Cereal Milk as a soft serve, Milk Bar also sold its Pineapple Fo' Sho Whip soft serve. The dairy-free take on Disneyland's Dole Whip varied from the menu's other items not only in looks but also in taste. For $5.50, the pastel yellow soft serve was consistently creamy and had no trouble expressing its sweet pineapple flavor – a refreshing, tropical break from the restaurant's richer goods.
Packaged and sold in packs of three, Milk Bar's B'day cake truffles delivered an antidote for a sugar fix within two bites. What seemed to be scoops of cake batter rolled in the sprinkle-laden crumbs of the Bar's vanilla cake, the dessert made for an uneven mouthfeel and flavor. The balls of dough, too dense to be considered a truffle and not airy enough to be a cake pop, were grainy in texture and had an unexpected tangy aftertaste to them. Being one of the restaurant's more iconic offerings, the B'day truffles disappointed as they failed to deliver an enjoyable first taste.
A supposed fan favorite, the trademarked Crack Pie consisted of a brown sugar and butter filling over a toasted oat crust. The slice of pie, enclosed in a small brown and pink package, also struggled to impress with its thinness and lack of exciting flavors. Only a handheld portion of a nearly $50 pie, the slice of Crack Pie was one-noted and lacked discernible texture beyond the brown sugar filling.
The combination of a cramped dining space, consisting of around five outdoor benches, and tolerable treats equated to an overall mediocre experience at Milk Bar. Though the pineapple soft serve and the Cereal Milk shake were the best of the selection, they don't provide enough excitement to convince customers not to concoct their own cereal milk or to brave both the vehicular and pedestrian traffic of Melrose Avenue. Though the dessert shop brings a taste of New York to Los Angeles, Milk Bar is only worth the visit if one's already in the area.
Del Rosario is the 2018-2019 prime content editor. She was previously an A&E staff reporter.
Del Rosario is the 2018-2019 prime content editor. She was previously an A&E staff reporter.