Charli XCX, CupcakKe, Buddy embrace sexuality in their Bruin Bash performances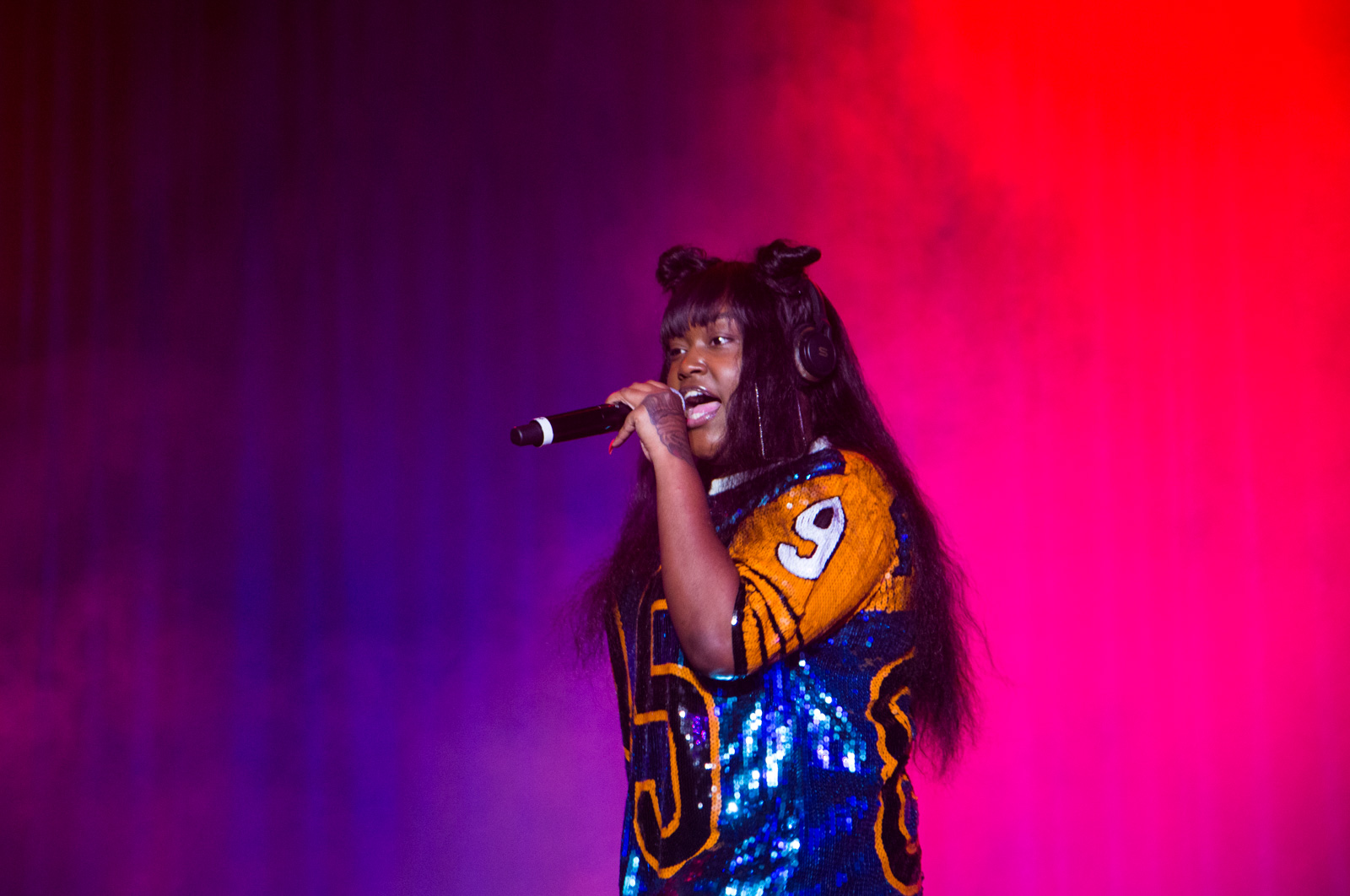 Opener CupcakKe is known for rapping about female sexuality and body positivity. She vocalizes support and acceptance in songs such as "Lgbt." (Alice Naland/Daily Bruin)
Bruin Bash 2018 opener CupcakKe apologized for being late to the stage – she had other matters to attend to first.
"I was in the back sucking some dick," the rapper said jokingly in between the first couple songs in her set Monday night.
Contrary to her confectionery namesake, CupcakKe's performance was anything but sweet. She made overt mentions of sexuality and pleasure in songs such as "Vagina" and "Deepthroat," and the pro-sex themes permeated through the night with songs from supporting act Buddy and headliner Charli XCX.
Before the concert kicked off, upbeat tunes blasted in Pauley Pavilion to warm up the crowd while screens flanking the stage played clips of Campus Events Commission members reading mean tweets. The irreverent segment poked fun at long ticket lines and the lineup itself.
CupcakKe appeared more than 30 minutes after the concert was slated to start but was welcomed by an anticipatory audience who cheered as she took to the stage.
First-year sociology student Adela Tran said she first discovered CupcakKe through the songs her friends showed her this past year – specifically "Deepthroat." She became a fan shortly after.
"CupcakKe is super iconic – she's an actual icon," Tran said. "I'm so shocked they even picked her and (I'm) super hyped up to see her live. I never thought it would happen."
Adorned in a sequined jersey and space buns, CupcakKe riled up the crowd with thumping beats and a staccato flow. Her set emphasized inclusivity with songs like "Lgbt" and "Crayons." The latter featured a chorus of "Boy on boy, girl on girl" on repeat.
Both songs fit squarely into CupcakKe's unapologetic persona. She didn't sugarcoat the more explicit parts of her performance: miming a fingering motion between tracks and instructing the audience to collectively moan during parts of one song.
When the CEC and the Cultural Affairs Commission initially announced the Bruin Bash lineup, some students and parents reportedly complained about CupcakKe's sexual lyrics. However, first-year neuroscience student Shivesh Shourya said he believes a double standard surrounds the relationship between rappers and sex – it's fine for male rappers to rap about sex but not female rappers.
"I'm glad that CEC chose someone who breaks this boundary and it's forcing Bruins to be kind of open-minded and accepting," he said.
Other attendees were unfamiliar with the rapper before she was announced as the opening act. Second-year computer science student Jack Van Boening said he hadn't previously heard of CupcakKe but looked her up once he saw the lineup and enjoyed her portion of the show.
After CupcakKe finished her performance, Compton rapper Buddy reignited the crowd's energy following a quick break between sets. He performed a medley of rhythmically charged songs such as "Black" and more mellow tracks such as "Shine." Many were marked by sexual overtones.
Lyrics in the fast-paced "Guillotine" included the excerpt, "She show them cheeks and I be like / Throw it, baby." During the closing songs, the excitement in the audience boiled over into mosh pits and dance circles.
A longer wait preceded Charli XCX's performance, but when the English pop star arrived, she immediately launched into Icona Pop's "I Love It." She engaged the audience throughout her performance – she consistently coaxed cheers from spectators and even ran down to greet the front of the crowd at one point.
Charli XCX sang along to another one of her famous cameos – her chorus in Iggy Azalea's "Fancy" – and closed out her performance with a lively rendition of "Boom Clap." Just before the two songs, she brought CupcakKe back to the stage for their track, "Lipgloss," which included the suggestive lyrics, "Yeah, you know I'm sugary sweet / Baby boy, going to rot your teeth like what."
Concertgoers immediately filed out of the venue after the singer ended "Boom Clap" with a final goodbye to the crowd. First-year molecular, cell and developmental biology student Sydney Tay said she had no expectations going in to her first Bruin Bash, but found herself being introduced to new, exciting artists.
"I took an hour and a half getting my tickets, but they're so worth it," she said.
Xu is a senior staff reporter for the Arts and Entertainment section. She was previously the assistant editor for the Lifestyle beat of Arts.
Xu is a senior staff reporter for the Arts and Entertainment section. She was previously the assistant editor for the Lifestyle beat of Arts.