Comic-Con panel discusses Afrofuturism in 'Black Panther,' Octavia Butler's works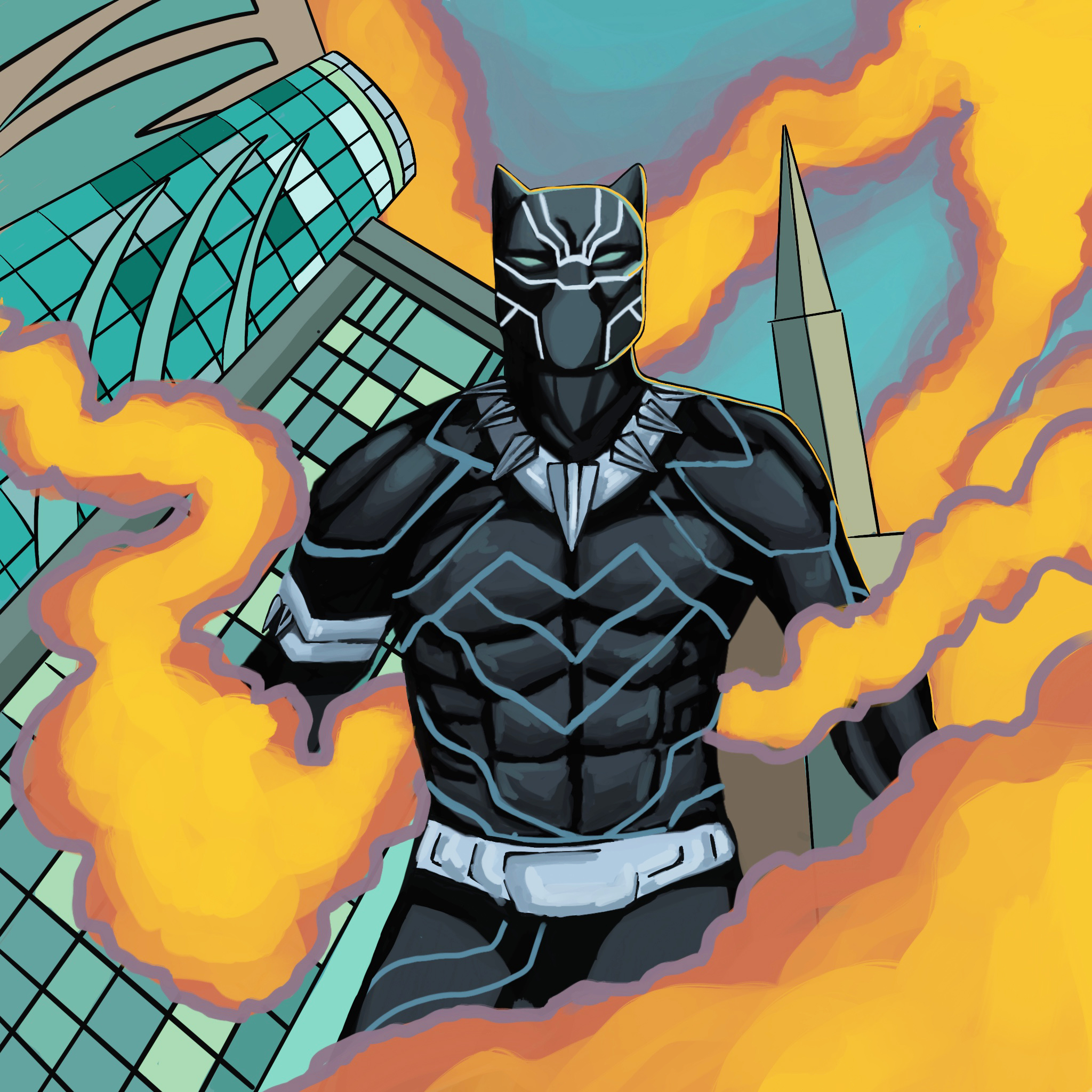 (Nicole Anisgard Parra/Daily Bruin)
"Black Panther" did much more than provide 8-year-olds with a sleek Halloween costume.
Five months after its release, scholars are still meticulously dissecting Ryan Coogler's film in the hopes of gaining a thorough understanding of its impact on the black community. The 2018 San Diego Comic Convention panel "Beyond Wakanda: Intersectional Afrofuturism" analyzed "Black Panther" as well as the literary works of Octavia Butler, a black feminist and science fiction author, through the lens of Afrofuturism while encouraging audience engagement. Afrofuturism is a black aesthetic, philosophical and artistic movement that dates back to the mid-20th century, said panelist Dalena Hunter, an archivist and librarian at the UCLA Ralph J. Bunche Center for African American Studies. Among other panelists discussing the movement were Shani Miller and Kelly Besser, UCLA Ethnomusicology Archive and Library Special Collections archivists, respectively, as well as UC Irvine assistant professor Roderic Crooks.
"(Afrofuturism) is about this system of African-American self-determination and seeing ourselves from a subjective position rather than an objective position," Hunter said. "Instead of seeing ourselves through the lens of mainstream white society, it's about seeing ourselves through our own lens and our own experiences."
Besser said the panelists asked each other questions about Afrofuturism and how "Black Panther" and Butler fit into the movement, and audience members were also given the opportunity to ask the panelists their own questions. She said the panel was accompanied by music, including tracks from Janelle Monáe's album "Dirty Computer," to match the theme of Afrofuturism.
Tananarive Due, an African-American Studies lecturer at UCLA, said Afrofuturism can be thought of as speculative fiction that encompasses black science fiction, fantasy and horror. She said in a general sense, an Afrofuturistic work like "Black Panther" explores the future through the lens of the past and embraces art through a black lens.
"From homages to the traditional costuming and rituals of ancient Africa to the flying ships and advanced weaponry, all of 'Black Panther' is Afrofuturism, which seeks to point in a direction to a better future while also embracing and honoring the past," Due said.
Hunter said Wakanda's autonomy as a society exemplifies the Wakandans' self-determination, the process by which individuals or communities control their own lives. For centuries, the citizens of Wakanda, a fictional African society, avoided colonization and slavery by uniting as a community and isolating themselves from the rest of the world, Hunter said. One specific way Wakandans exercise self-determination is by inventing their own technology and controlling the ways in which the same technology is used to mine vibranium, a fictional metal, and incorporate it into clothing and tools, Hunter said.
Due said much of the black narrative throughout history has been written and determined by people who are not black. In "Black Panther," the audience sees characters like Erik Killmonger and Nakia, who both wish to aid others by sharing vibranium, trying to dictate the future through their own versions of self-determination, she said. For years, Hunter said, black people have been subject to laws, cultures and practices put forth by white people. She said black self-determination states that people from within black communities should be the leaders and council members, should control the resources and should dictate how money is allocated within the community.
Despite the panel's "Black Panther"-based title, Besser said the idea for the panel stemmed from a desire to gain access to the Octavia E. Butler Papers, a collection of the author's books, diaries, correspondence and manuscripts, through the Huntington Library in San Marino, California. Besser said she shared highlights from the papers with the audience, including photos of Butler circa 1985, to give them an idea of who Butler was and what she wrote.
Hunter said Butler's novels incorporated the life experiences of black women into the story. In one novel, "Kindred," the protagonist Dana faces backlash from her family after she marries a white man. Dana also travels back in time to pre-Civil War-era Maryland where she meets her ancestor who was enslaved on a plantation. Besser said the panelists discussed Butler's decision to infuse her own perspective and lived experiences as a black feminist into the characters of her stories, as well as the effect her work has on readers.
"Butler was foundational to the literary arm of what we're referring to as Afrofuturism today," Besser said. "It's so meaningful to be able to identify with these characters that look and feel like women of color in Los Angeles who are fighting to create their own futures."
Besser said toward the end of the panel, preprinted zine templates were handed out to audience members, and she walked them through the folding steps so that each attendee left with their own miniature book. Besser said each page of the zine featured questions, such as one that asked the audience members what they can do to preserve their most cherished possession. Besser said she hopes the zines and the panel as a whole get audience members thinking about archiving and the preservation of stories that aren't necessarily a part of traditional academic archival collections, like the Octavia E. Butler Papers.
Hunter said the panel was intended to encourage audience members to visit archives and engage with the works of people like Butler. She added she hopes audiences left with an understanding that the world is nuanced, and people have to look for deeper meanings within conversations of race in order to grasp what aspects of society would benefit from change.
"I want people to take away that race is not just skin deep, it's structural and institutional, and sometimes the way that race is erased is structural and institutional," Hunter said. "If we want to create a better future, then we need to listen to the voices of those who are marginalized."