Wine About It: The quarter ends on a sweet note with moscato wine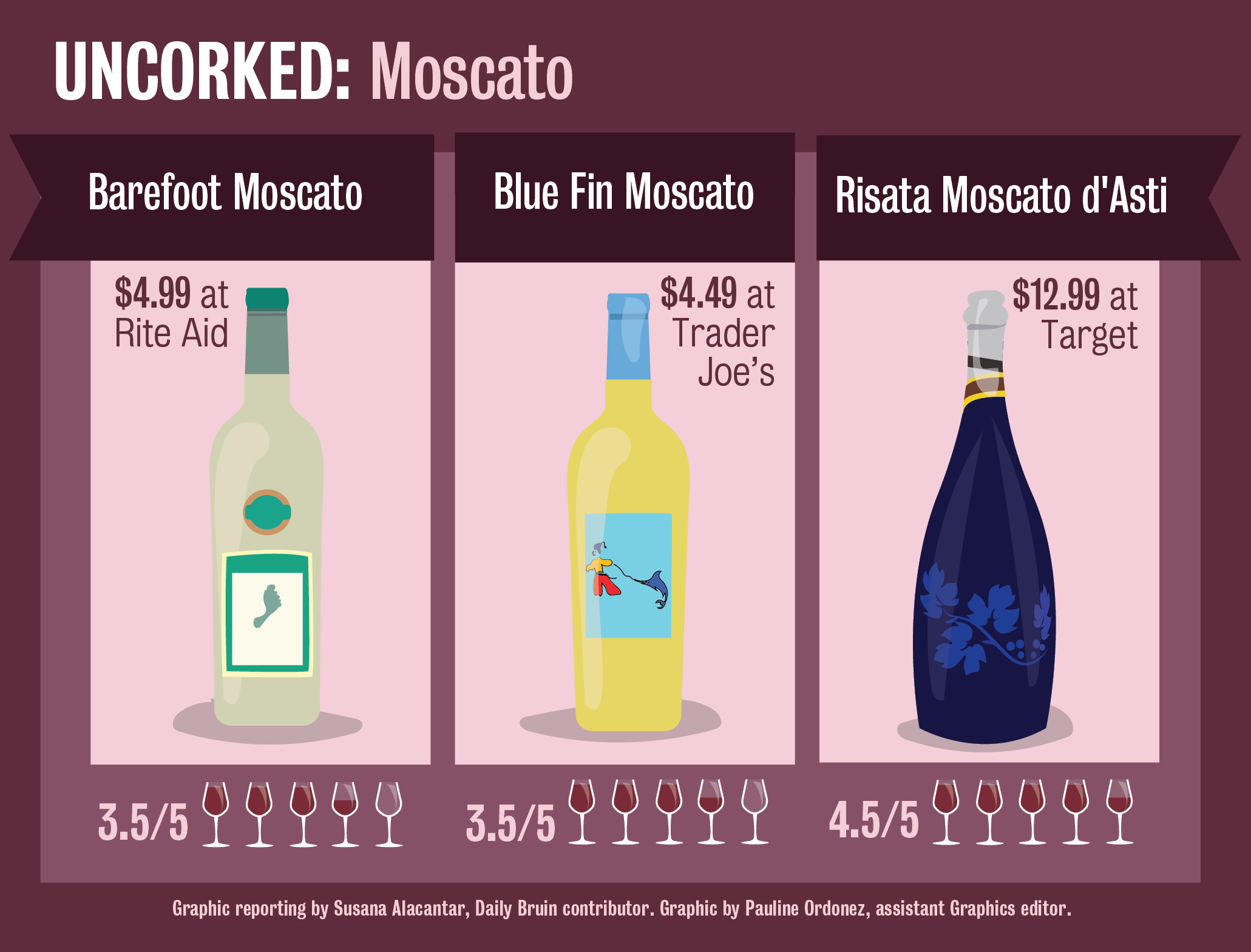 Life is filled with moments shared over a glass of wine, whether fueling a gossip session with friends, or destressing after a long day of school. But what are the best options for the average broke college student who can't afford a $50 bottle of wine? Each week, columnist Susana Alcantar will discuss different wine options for under $15, where to get them in Westwood and which are worth your money.
Rappers helped make moscato famous.
In recent years, moscato has become one of the best-selling wines in the United States, in large part thanks to rappers such as Lil' Kim and Drake name-dropping the white wine variety in their songs.
However, moscato's history began before the universalization of rap music. The wine originated in Italy from the muscat grape varietal which is multifunctional, as people can eat it and use it to make raisins.
As I was shopping for wine this week, I realized it is finally near the end of the quarter. However, I still have a lot to do before I head home to Northern California for the summer. There is nothing like a satisfying glass of wine to help me get through the last few days of the school year. Moscato seemed like a great option to help soothe away some pre-final stress.
The first wine I tried was Barefoot Moscato for $4.99 at Rite Aid. I definitely had some reservations about buying the wine, because Barefoot wines tend to be a hit-or-miss, but I decided to purchase it anyway.
I opened the bottle and immediately smelled peaches. I was excited to taste it prior to even pouring myself a glass. The color was a metallic yellow and reminded me of a gold iPhone.
Once I drank the wine, I tasted the peaches alongside citrusy flavors including that of lemon. The taste didn't match up to the aroma, though: It was a bit too sugary and I felt like I could not taste any of the alcohol.
I then moved on to my second wine – Blue Fin Moscato from Trader Joe's, which cost $4.49. Disappointingly, I smelled sugar and not much more. The color was also nothing special, as it was just a tinge darker than the Barefoot wine – a standard yellow reminiscent of a drab apple juice.
I picked up sugar, grape and pear flavors. I had mixed feelings: I enjoyed the wine's superior balance between dryness and sweetness when compared to the Barefoot Moscato, but yet, it remained too sweet. The beverage was unsatisfying – had it not been for the syrupy taste, the beverage would have been perfect.
To finish off my moscato-filled day, I tried Risata Moscato d'Asti. At $12.99 from Target, it was the most expensive out of the three wines. The packaging was also the fanciest, as it resembled a Champagne bottle more than a wine bottle.
I opened the bottle and smelled a combination of fruity and sweet hints, although I couldn't pinpoint any exact flavors. I poured myself a glass and noticed how bubbly it was, which I loved. The bubbles almost looked like small pearls. Overall, it had a dazzling physical appearance.
I took a sip of the wine and immediately noticed it was very sweet – maybe even sweeter than the Blue Fin. The description on the bottle indicated the wine is a combination of fruit, tart citrus and floral honey flavors. It turned out to be an accurate description as I tasted all three of those components. As I kept drinking the wine, I realized the excessive sugar did not bother me. I think it has to do with the fact the wine was still very refreshing, which I believe is more important than the alcohol–to-sweet flavor ratio.
Without a doubt, my favorite was the Risata wine. I think the Risata is an option anybody will like, even those who are not huge fans of overly sweet wine like myself. It's safe to say I'll be done with the bottle of Risata before I'm done with the quarter.