Makerspace's board game workshop encourages creativity, new skills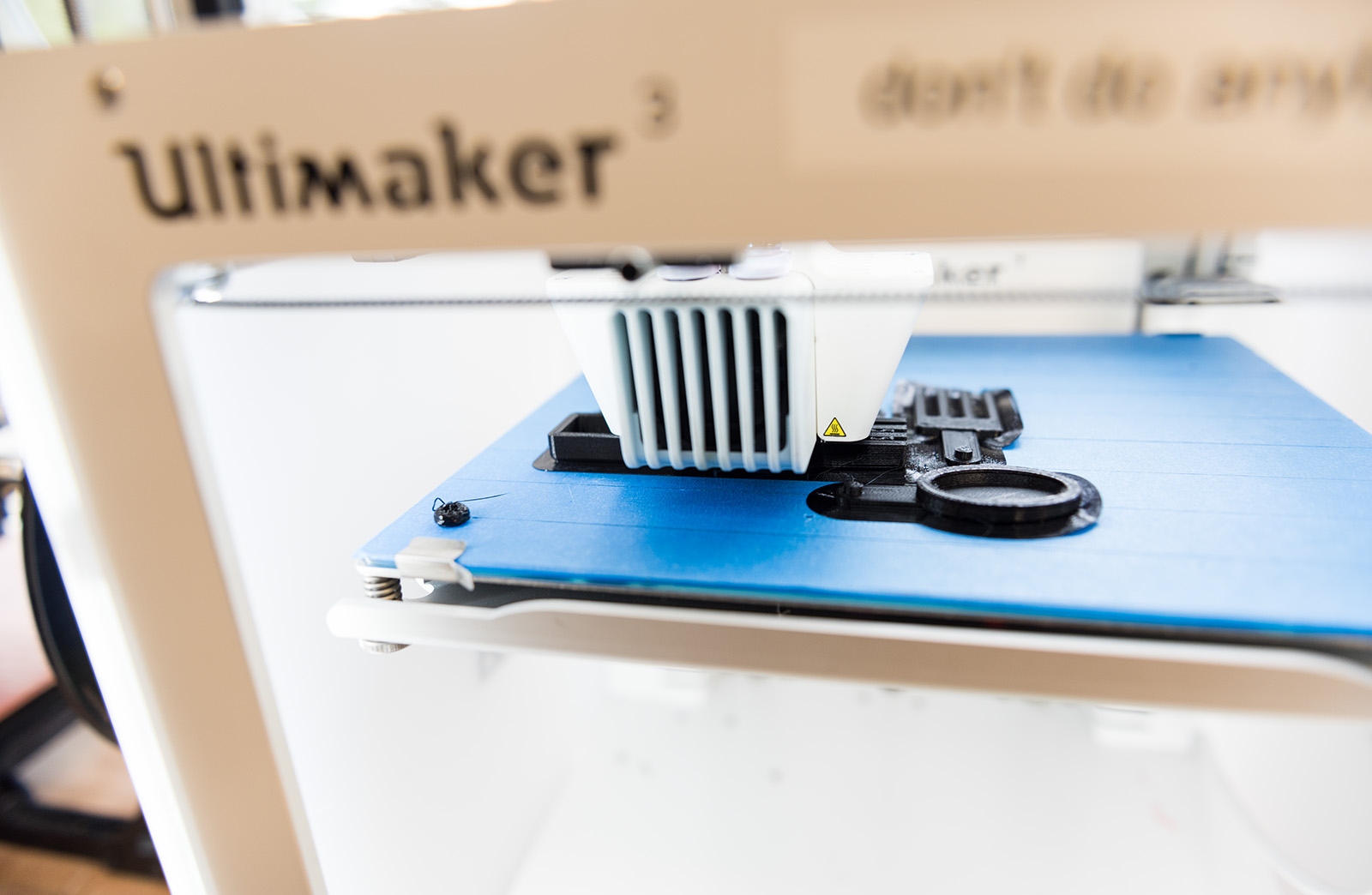 UCLA Makerspace, located in Rieber Hall, recently hosted the long-term Make Your Own Board Game workshop. The three-part program taught participants to use specific industrial machines, such as laser cutters and 3D printers. The program's director, Allison Shindell, a first-year computer science and linguistics student, said she hopes the space will cater to the general student body and help them feel comfortable using the machinery.
(Liz Ketcham/Daily Bruin)
Students used lasers to cut acrylic, shape wood and carve "Rick and Morty" faces into checkers pieces.
The UCLA Makerspace in Rieber Hall held a three-part workshop over the course of the last four weeks dedicated to teaching students how to manufacture board games. Though the space previously held small workshops for specific machinery like 3D printers or laser cutters, the Make Your Own Board Game program was its first directed long-term workshop.
Makerspace staff member Allison Shindell provided instructional lectures, directions and advice for students attending the meetings. The first-year computer science and linguistics student said she developed the program to draw attention to the accessibility of the makerspace to all students.
"People just assume it's for (mechanical engineering) students or specially authorized students," Shindell said. "But this place is open to anybody with a UCLA card."
The makerspace, which opened fall quarter, offers students a range of industrial machinery to utilize for organized or personal projects. The machinery in the room includes a laser cutter, multiple 3D printers and a computer numerical control router for carving.
The 3D printers provided background noise to Shindell's introductory speech when students attended the first meeting during week six in the workshop's three-part series. Assisted by PowerPoint slides, Shindell gave a basic rundown on many of the machines offered by the space and their applications to making board games. For instance, 3D printers can generate complex standing pieces while the laser cutter can carve designs into wooden boards. The second half of the workshop left attendees to their own devices as they sketched images and molded clay to plan their games.
A week later, the president of UCLA's 3D printing club, Ryan Poon, assisted Shindell in instructing attendees on how to utilize Fusion 360, a modeling software that can produce instructions for 3D printers. Participants then had two weeks to enter the makerspace on their own time and cut, print or otherwise produce their games.
The students who had managed to start designing their own games showcased their prototypes in the makerspace for the third and final meeting Wednesday. The games included a modified version of chess, "Rick and Morty" checkers and a gumdrop battlefield game of my creation.
Kimber King, a second-year electrical engineering student, customized his "Rick and Morty"-themed checkers board through the workshops. He developed images of characters from the show in Adobe Illustrator and used the laser cutter to emblazon the portraits onto each game piece. He said the help he received from makerspace staff made him comfortable with the machinery involved.
"I feel like I would be able to figure out how to etch with the laser cutter after today," he said at the last meeting.
Shindell thought of her board game theme when the makerspace staff brainstormed projects accessible to the general student body. She said that a board game workshop would work well because it would give students a memento to bring home with them and share with other people who might in turn become inspired to try out the makerspace.
Shindell said much of the student body still finds the space intimidating, and her program was an attempt to build confidence in students using new machinery for the first time. Though some might be hesitant about using a laser cutter or a 3D printer, she said most students are familiar with board games and would be more comfortable in a program dedicated to games than one featuring more complicated engineering projects.
"Though there is creativity involved with making the pieces and making them their own, (students) already have a starting point," Shindell said.
She said the guided format of the Make Your Own Board Game program also benefits students more than those of the smaller workshops that the makerspace previously offered.
"With this program, (participants) have some sort of structure to follow, so I feel like it's going to be more satisfying," Shindell said.
First-year physics student Yuanping Song also found the program helpful, even though he only attended two meetings and never got around to designing his own game.
"I think this workshop is a really good pointer for me regarding what kind of resources are available through the makerspace," Song said. "In the future, if I have a personal project of my own, I know which way to go."
The makerspace staff hopes to continue publicizing the availability of the space throughout next year with additional workshops. Shindell said tentative plans for future programs include working with the Arduino engine, CNC routing and more board gaming for students who missed it the first time around.
She said that she was happy with what students accomplished through the Make Your Own Board Game program.
"For being one of the first programs in the space, having a decent turnout is very exciting," she said.