Concert review: Taylor Swift at the Rose Bowl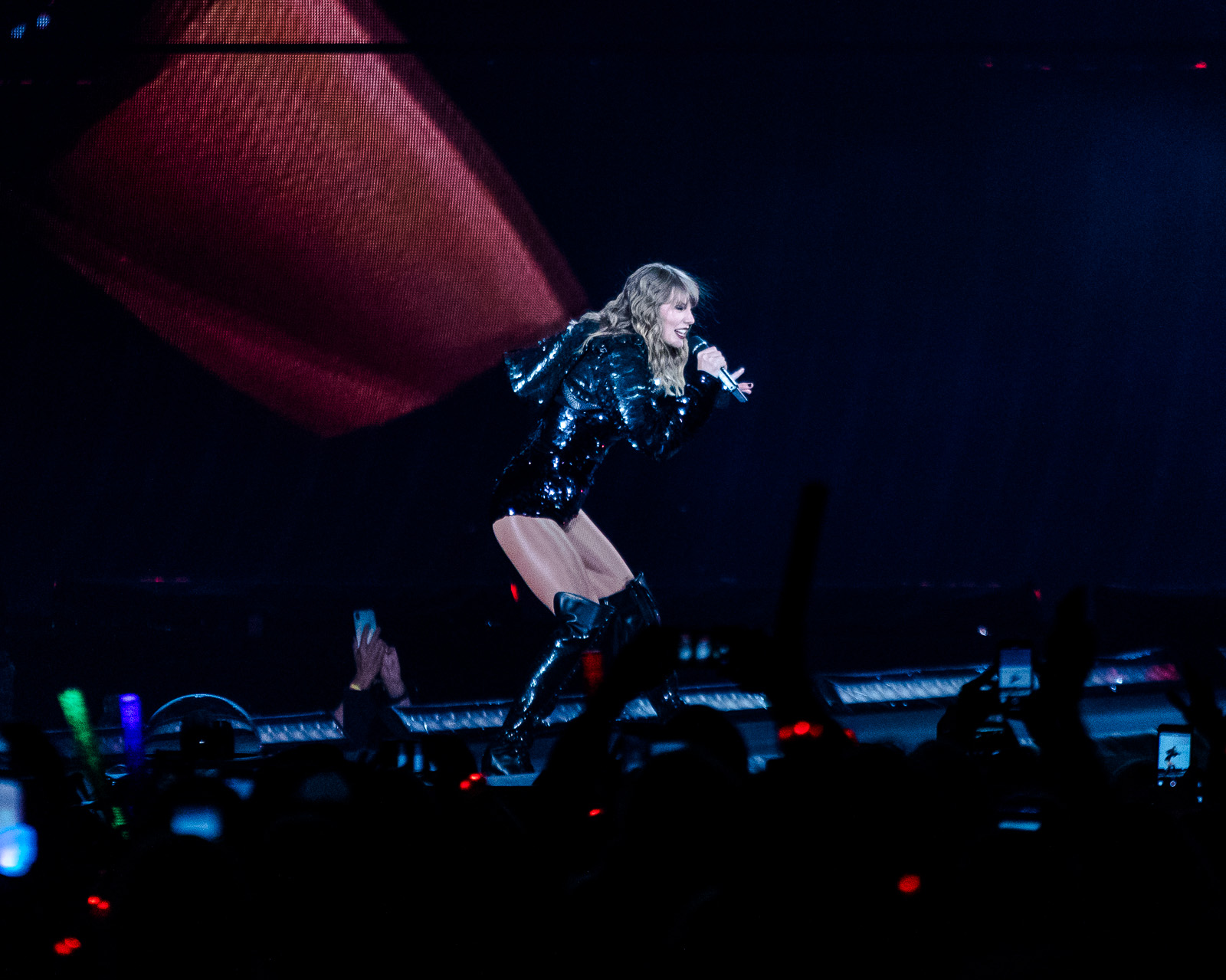 Taylor Swift exuded self-confidence and charisma at her performance at the Rose Bowl on Friday night. (Kristie-Valerie Hoang/Assistant Photo editor)
Taylor Swift
The Rose Bowl
Friday and Saturday
Taylor Swift's "reputation" tour crystallized her transformation from saccharine sweetheart to serpentine superstar.
But her performance suggested that the metamorphosis has been all on her own terms.
Swift radiated unapologetic self-confidence at the opening night performance of the Los Angeles leg of her "reputation" tour. The set list, which primarily featured the edgier songs of Swift's 2017 eponymous album, peppered in just enough fan favorites from previous albums and moments of sincere audience connection to remind listeners that the old Taylor is far from dead – she's just grown some fangs.
The show began with a video montage of old soundbites and clips of critics assailing Swift for building a reputation of holding grudges, acting inauthentically and playing the victim. As the chaos of the audiovisual compilation sped to a peak, Swift emerged onstage through a cloud of fog, immediately electrifying the packed Rose Bowl stadium.
The two numbers that comprised her opening act – "…Ready For It?" and "I Did Something Bad" – commanded the crowd as backup dancers in ominous black getups lifted the pop star and reverentially spun her in the center of the stage. The opening act, complete with pyrotechnics and a backdrop of blood-red lights, captured the devilish intensity of Swift's descent through a layer of inferno.
Swift pulled back from the performance's purgatorial direction by addressing her audience directly. Staring wide-eyed and amazed at the 60,000 faces and cell phones pointed at her, she noted that this was her first headlining performance at the Rose Bowl, but one of many in Southern California. Her first in the area, she said, had been more than a decade ago to a crowd that barely crossed 40 people.
Though this Rose Bowl performance was Swift's headlining debut at the venue, it could just as easily have been her 500th show at the massive stadium. Swift strutted across the stage seamlessly, exuding a magnetism that held the audience's unwavering attention amid the numerous backup dancers and intricate set designs.
But her show would have been incomplete without the tremendous set pieces that helped fill out the enormous stadium. Most featured a reptilian theme – a gargantuan king cobra sprung from center stage during "Look What You Made Me Do," and snakeskin motifs appeared in bodysuits, accessories and videos throughout the show.
Between the snake motifs and electronic beats of her latest music, much of the show was dominated by an aggressive vibe. But Swift's performance was far from one-dimensional: The singer sanded down the rougher persona of her opening acts by resuscitating some of the music from her less abrasive albums, making it clear that she hasn't completely shirked her softer side.
Cherubic pink hearts overtook the paneled onstage screens during "Love Story" from the 2008 album "Fearless," and images of fans embedded within projected polaroid frames filled the screens during "You Belong With Me." She performed 2014 single "Shake It Off," joined by fellow female pop stars Charli XCX and Camila Cabello, both of whom were openers for Swift's headlining performance. Later on in the show, Swift also brought out 19-year-old pop artist Shawn Mendes as a special guest to perform his single "There's Nothing Holdin' Me Back." Mendes' youthful energy recalled the teenage spirit Swift hasn't displayed so prominently since the music from her 2012 album "Red."
Swift set aside the electric guitar-heavy instrumentals that accompanied most of the concert's heart-pounding numbers in favor of a couple acoustic songs, including a version of "New Year's Day," which she performed on grand piano. She also played an acoustic rendition of "Dancing with Our Hands Tied" – which she performed on one of two small satellite mini-stages installed in the heart of the Rose Bowl.
"I want this show to feel as small and intimate as possible," she said, smiling toward each side of the valley of the Rose Bowl from her makeshift island.
Swift also added a dimension of intimacy to her performance with intermittent monologues, which she recounted with both ecclesiastical charisma and the self-affirming tone of slam poetry. They served both as transition devices – she ended her first by saying the audience looked "a level above beautiful" to smoothly flow into her song "Gorgeous" – as well as self-reflections that held her concert together with a recurring theme of overcoming fear of vulnerability.
Swift floated from the smaller satellite stage back to the main stage by way of a ski lift-like contraption shaped like a snake skeleton – a visual symbol indicating the show was about to transition away from warm-and-fuzzy throwbacks and toward her more hard-hitting music. She performed a vindictive medley of "Bad Blood" and "Should've Said No" as her stage reconfigured into an industrial jungle gym, with dancers darting throughout metal scaffolding.
In the last set change, the stage transformed into an enormous mansion, and a fully functional water fountain sprouted center stage. Swift performed in front of what could have been her own home as she sang the last lines to her final number, "This Is Why We Can't Have Nice Things," and confetti and fireworks erupted from the stage. Her celebratory finale was the exclamation point at the end of an extravagant and breathless show, serving as proof that her most powerful response to naysayers is – and will continue to be – an entertainment assault.
McCormick was the 2017-2018 Digital Managing Editor for the Daily Bruin. She was previously an assistant editor of the A&E section, overseeing the Music | Arts beat.
McCormick was the 2017-2018 Digital Managing Editor for the Daily Bruin. She was previously an assistant editor of the A&E section, overseeing the Music | Arts beat.