Student play layers fantasy, reality to subvert racial stereotypes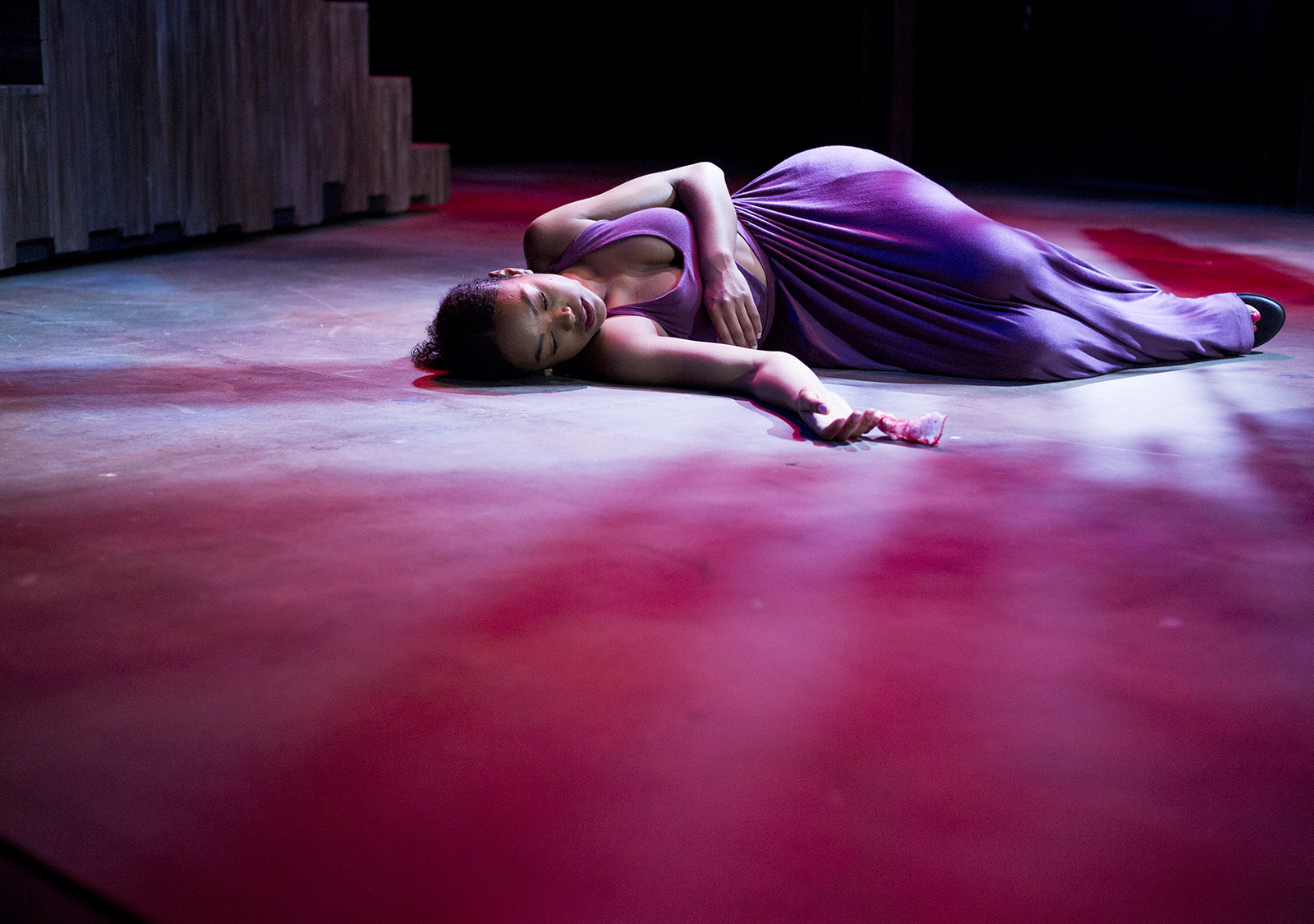 Second-year theater student Aliyah Turner portrays the main character Oya "In the Red and Brown Water." While rehearsing for the production, Turner said she tried to give more agency to her character by making her movements the driving force in choreographed scenes. (Isa Saalabi/Daily Bruin)
"In the Red and Brown Water" The Little Theater May 2 - May 5 $25
Characters inspired by Yoruban gods will layer with the gritty realism of an impoverished Louisiana town to create the mythical world of the upcoming play, "In the Red and Brown Water."
Jayongela Wilder, graduate student in directing and the play's director, said the duality of magic and realism was one of the many ways that the show works to subvert the limited and stereotypical representation of women and people of color in conventional theater. Conscious of the melancholy tone that often pervades work about impoverished communities, Wilder said the characters based on African deities juxtapose harsh realities with a mystical sense of wonder, and in turn, provide a more nuanced and optimistic representation of women and people of color in the show.
"It's showing in the midst of the grimness … this other America that is usually not in cinema, that's not normally in theater," Wilder said. "In the midst of all of the ugliness, as people would say, there is still beauty."
The story focuses on a young student named Oya, inspired by a goddess of the same name, who turns down a college track and field scholarship to care for her dying mother. When Wilder first pitched the idea of directing "In the Red and Brown Water" as her thesis project, she was drawn to Oya's strength and wanted her directorial choices to highlight Oya's agency. Despite her circumstances, Oya makes conscious choices and is an active participant in her own story – a deliberate contrast to the typical narrative of a person of color attempting to escape from poverty, Wilder said. For example, when Oya's track scholarship falls through, she autonomously decides to have a baby as her way of leaving her mark on the world.
"It's not about, 'Oh here's another black female, here's another person of color in an impoverished neighborhood who tries to make it out of the hood,'" Wilder said. "I want to show that there is agency in all decisions she makes and that she is definitely strong in her decision-making and she's not a character who's weak."
Second-year theater student Aliyah Turner focused on avoiding stereotypes as she prepared her portrayal of Oya. Turner said she initially felt that Oya was being objectified, the same way that black women are objectified by society, when she interacted with her male love interests Shango and Ogun. While rehearsing, Turner said she and the other actors focused on their body movement, and changed the way in which their characters were supposed to interact, shifting the choreography so that her body movements drove the action instead.
"We had a discussion about her having her own agency … how her body reacts to both of them instead of them coming to her and objectifying her," Turner said. "We had to figure out … what (the playwright) is trying to say with this, is it purposefully stereotypical or can we fight against that and tell the story in a different way?"
Graduate student in acting Ulato Sam plays one of Oya's love interests, Ogun. It was through his role as the show's choreographer that Sam worked to avoid reductive portrayals of African-Americans onstage in the dances that happen organically throughout the show, he said. He drew from a myriad of dance styles that originated from regions of West Africa, East Africa, the Caribbean and America rather than resorting to stereotypes of African-American culture, he said.
"The dances here in the States are way more dynamic and way more interesting than just twerking, but it seems as though (Africans and African-Americans have) been reduced to that," Sam said. "So for me as a choreographer, finding all these styles, … it's exposing (audiences) to aspects of the art that they may not have been aware of before."
Turner said the inclusivity of the show also helps deviates from conventional theater standards since it features a cast comprising predominantly actors of color. The onstage diversity is so integral to the production that it even extends to elements like the set design: The floor of the set is painted with the skin colors of every cast member, she said.
"I don't think we've ever seen this many brown bodies on the stage, … we complete the architecture," Turner said. "It's … a feeling of belonging on this stage like I've never ever really had before."
Although the show focuses on the inclusion of women and people of color, Wilder said it is important and accessible for anyone, particularly because of the focus on universal themes such as loss, love and betrayal. By telling a universal story that centers on women and people of color, Wilder hopes to pave the way for more representative stories.
"It's important for our generation and generations along the line to be able to connect to those stories as well because those stories are included in the human race, they're included in the world," Wilder said. "The world is a mixture of everybody – all races, denominations, religions, types of people, genders, age, classes, so it's like, why not have all of that in the theater?"