Wine About It: Go over the Velvet Moon for cabernet sauvignon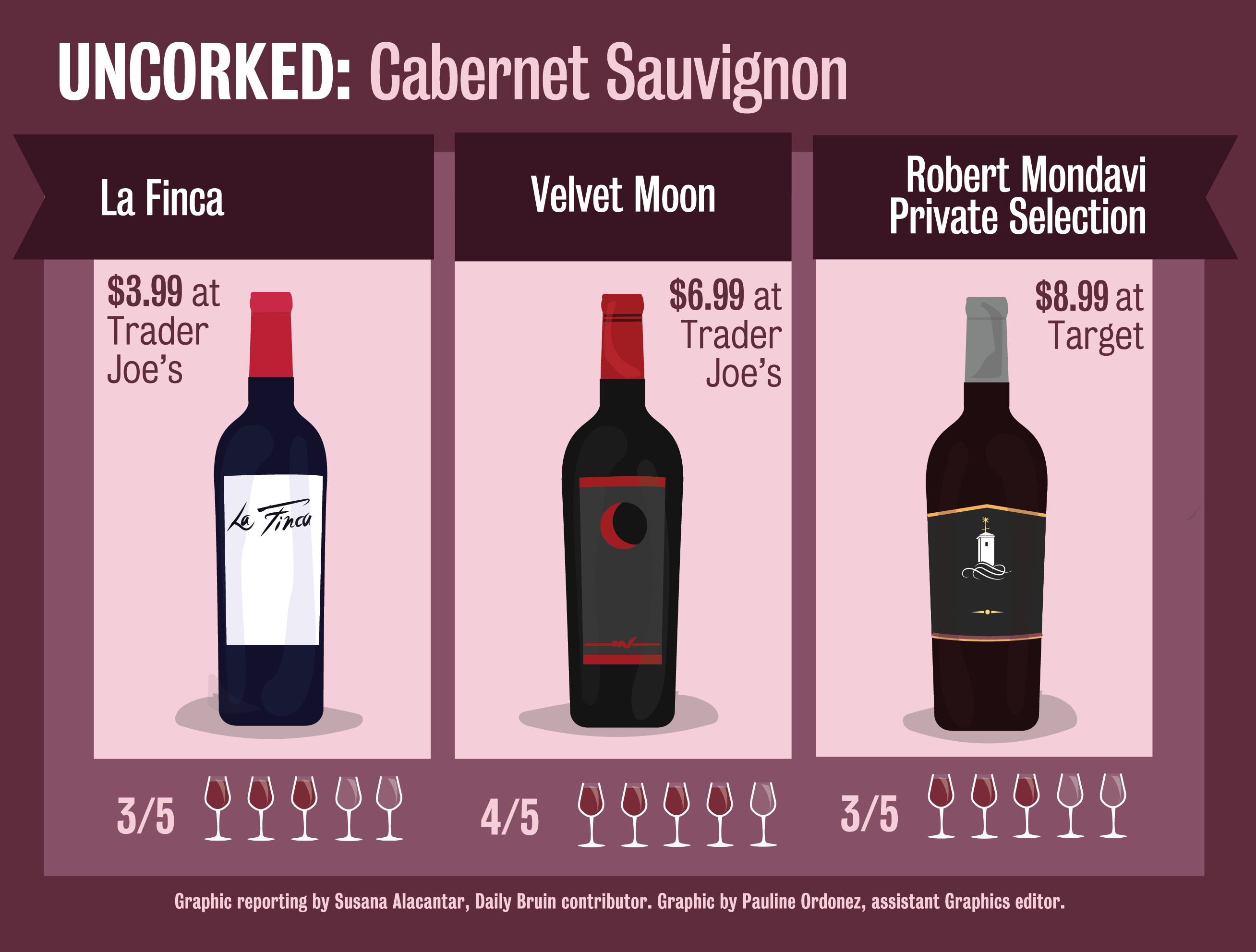 Life is filled with moments shared over a glass of wine, whether fueling a gossip session with friends, or destressing after a long day of school. But what are the best options for the average broke college student who can't afford a $50 bottle of wine? Each week, columnist Susana Alcantar will discuss different wine options for under $15, where to get them in Westwood and which are worth your money.
Cabernet sauvignon was never supposed to be a wine.
The French accidentally created the variety when they bred a sauvignon blanc grape plant and a cabernet franc plant. The resulting combination created one of the most popular red wines in America.
As I was shopping, I noticed Trader Joe's offered many cabernet options, and I immediately thought of Cersei Lannister from "Game of Thrones" – she is a red wine fanatic and I'm sure she'd love the endless selection. I didn't know where to start but a bottle of La Finca Oak Aged Cabernet Sauvignon caught my eye because of its cheap price – only $3.99. I was curious since I've had some good cheap wine in the past few weeks, but I've never bought a wine as inexpensive as this one.
I poured myself a glass and was impressed by the color. It was a deep red that almost looked like blood, so I couldn't help but stare. I was also impressed by the smell – a tantalizing combination of fruit flavors mixed with some spice aromas.
The wine tasted like a mixture of berries and minerals without any other flavors, which is when I understood why it was so cheap – it was definitely watered down. However, although the flavor was weak and not that memorable, it certainly wasn't offensive and didn't deter me from drinking more.
The second wine I purchased was the Velvet Moon from Trader Joe's for $6.99, which had more of a purple hue to its red coloring. The smell contained sweeter notes such as butterscotch and vanilla, which I didn't find as appealing as the La Finca.
The wine was also pretty heavy but it didn't taste the way it smelled, instead highlighting fruit flavors such as cherry and cranberry the more I drank. The drink began to grow on me, successfully blending the fruity flavors, all of which were well-defined.
The final cabernet option I tried was the Robert Mondavi Private Selection from Target. At $8.99, it was the most expensive out of the three options, but still a good bargain. The wine was a ruby red with some violet, overall very similar to the Velvet Moon.
I loved the smell and detected a pleasant combination of cherries, blackberries and nuanced oak aromas. But upon first taste, it was too strong in terms of the alcohol level. I personally prefer my wine to be more well-balanced between the alcohol and the flavoring.
Nevertheless, the flavors on their own were well-proportioned and savory – it was definitely not watered down. If anything, it should have been thinned out a bit due to the richness of the flavors combined with the strong alcohol content, which felt overbearing at times.
All in all, I had a hard time choosing which wine was the best option, but the Velvet Moon is a great pairing for anyone in search of a cheap dinner companion, while the Robert Mondavi is a solid choice for pregaming parties.