Designathon encourages collaboration of students with diverse experience, perspectives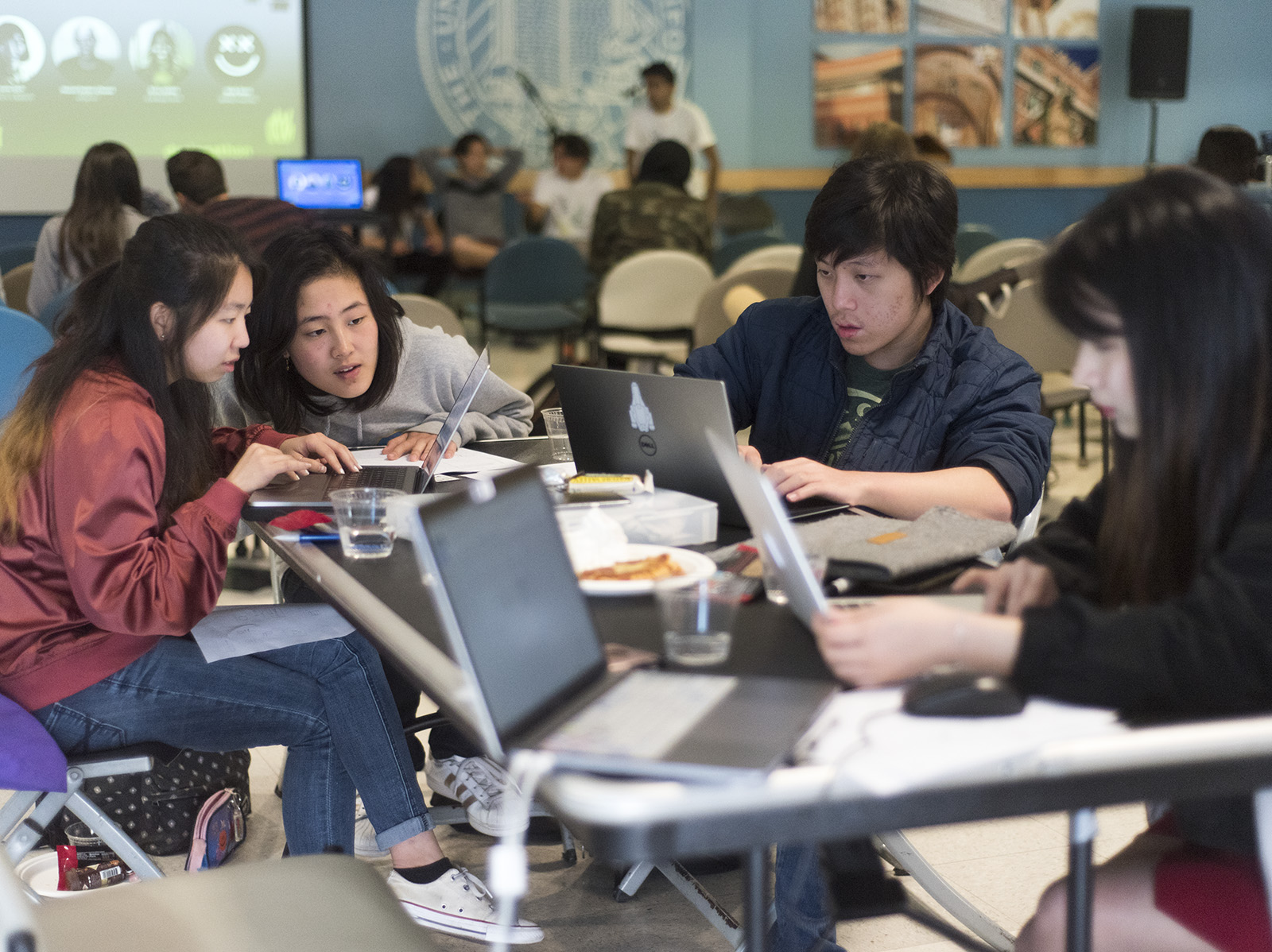 Participants in UCLA's first Designathon finalized their projects, which included apps and graphics, in the last portion of the competition segment of the event. One app focused on facilitating recycling on campus while one of the graphics featured the circle of life. (Amy Dixon/Assistant Photo editor)
April 29, 2018 10:50 p.m.
Students designed apps to facilitate recycling on campus and vibrant graphics depicting the circle of life at Designathon on Saturday.
Designathon, hosted by Bruin Entrepreneurs and UCLA's Creative Lab, was a daylong event that provided educational resources for students interested in design, such as interactive workshops, panels featuring design industry professionals and a growth-themed competition for student designers. Rohan Kumar, a second-year cognitive science student and co-director of Designathon, said he thinks design is an often-misunderstood field that ultimately focuses on communicating ideas and telling stories.
"A lot of people think that design is just making things look good, whereas in essence it comes down to problem-solving … and making things easier for everyone," Kumar said.
Designathon was the first design-oriented hack session put on by Bruin Entrepreneurs at UCLA. The event was modeled after last year's Adobe Creative Jam, where students had three hours to create their own graphic designs.
Gina Kim, a fourth-year cognitive science student and co-founder of Creative Labs, said while Adobe Creative Jam focused primarily on graphic design, Designathon combined both product and graphic design. For the competition portion of the event, participants chose to compete in one of two fields. The user experience and user interface track asked students with little prior experience to devise a solution to a problem, and the graphic design track allowed students with a background in design to create a fully realized graphic design.
Kumar said including two distinct tracks encouraged students who study a range of subjects with varying degrees of experience to collaboratively develop their creativity.
"One of our big goals was fostering this community of designers and developers, and making that intersection more well-rounded," Kumar said. "Usually it's the whole North Campus versus South Campus thing at UCLA, and there's not much place for collaboration."
Designers met in Ackerman 2140 at 10 a.m. to learn about product design and personal branding at the "Creative Strategy: Fire Mixtapes" workshop. Sonia Xavier, a third-year cognitive science student, Emmy Cao, a first-year cognitive science student and Kim led the workshop, where they discussed the importance of target demographics and consistency in branding. The presenters kept students engaged by asking them to come up with ways to market similar, competing brands, like LimeBike and Bird, and also by having them design their own apps.
Throughout the final 15 minutes of the presentation, Kim spoke about her personal experience creating her own EP, "Retroactive." She said she was in charge of every aspect of the release, including the artwork, which she created by taping a light to the wall of a bathtub and using a humidifier to produce a smokey effect. Kim said she hoped to show that even without a steep budget or a large team, people can apply the principles of the design industry to execute something by themselves.
"In the modern age, you always have to brand yourself," Kim said. "When you're applying to jobs, when you're on social media and you want to increase your clout."
As an exercise, students brainstormed words while contemplating their hypothetical mixtapes, and then drew sketches of EP covers that incorporated those keywords. The finished products ranged from images of hungry cats to sunny palm tree scenes.
The students' distinct creative perspectives were even more prominent during the competition. In response to the theme of "growth," one team conceptualized an app that mimicked a scrapbook by thematically organizing pictures uploaded by the user. Summer Farren, a first-year computer science student, said the app would be designed for people who wanted to capture snapshots of life while still living in the moment. She said she learned in one of the workshops that it is important to appeal to the audience's pathos, so she and her two teammates included a significant number of baby pictures in the online breakdown of their idea.
In the graphic design section of the competition, Johan Cristobal, a second-year mathematics of computation student, won first place. His design was based on the mathematical constant "e," which is used in exponential growth functions. The design consisted of three main parts: a two-dimensional triangle on the left, the words "experience," "evolve," "enrich," "exceed" and "enlighten" in the middle, and a three-dimensional pyramid on the right. Cristobal said his original idea featured a young boy on the left and an adult on the right, but he thought the use of people might deviate from the mathematical theme, so he decided to use shapes instead.
"It's very hard when you have a million ideas, and you just want to consolidate them into something coherent so people can see what you're trying to say," Cristobal said. "To me, what makes a good design is if you can convey a message without having to speak."
The event wrapped up with a panel that featured professional designers including Irene Shih, Maicol Parker-Chavez, Elisa Valdez and Mark Sloan. The speakers touched on what a typical day looks like in each of their professions, the unpredictable but exciting future of the field and advice for people pursuing careers in design.
"Ask a lot of questions even if you feel like you're being annoying," Valdez said. "Always stay curious, always stay inspired."