Movie review: 'Avengers: Infinity War'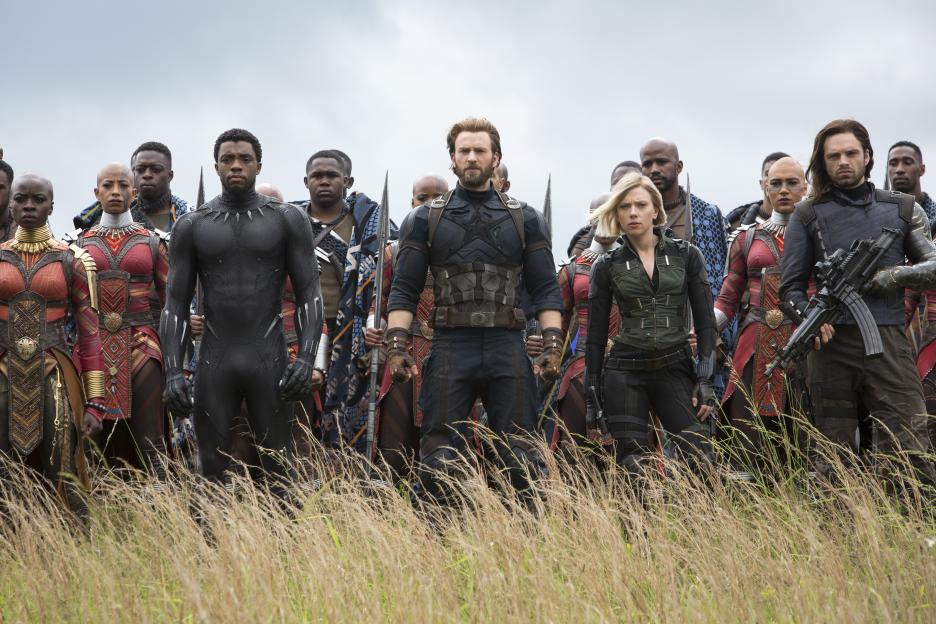 (Courtesy of Walt Disney Pictures)
"Avengers: Infinity War" Directed by Anthony Russo & Joe Russo Marvel Studios April 27
Superheroes from the past decade all assemble in the emotional, yet humorous "Avengers: Infinity War."
With a whopping 2 1/2 hours of runtime, the film features more than 20 heroes and villains from the Marvel Cinematic Universe. Thanos (Josh Brolin), the main antagonist of the film, aims to collect six infinity stones while characters from almost every Marvel movie thus far must join forces to stop him from destroying half of the universe's population. In one of the biggest crossover movies to date, familiar faces fill the screen, surprisingly creating a smooth narrative that doesn't get too confusing. With so much happening in one film, a lot could have gone wrong, but "Avengers: Infinity War" is just as much as a cinematic experience as its prequels were.
Considering the long lineup of characters, exposition easily could have ruined the movie, but the plot is constantly moving, propelled forward by the step-by-step task of obtaining the infinity stones. Scenes jump back and forth between Thanos and different teams of heroes, and subplots progress in small chunks, making them more comprehensible.
"Avengers: Infinity War" opens with Thor (Chris Hemsworth), Loki (Tom Hiddleston) and the Hulk (Mark Ruffalo), before showing the now-scattered Avengers and Guardians of the Galaxy. Each shift in scene brings the plot toward its climax while fluff shots involving scenery and unimportant banter are few in number, interweaving comedy into the dialogue in ways that feel natural.
Humor is not forced, and only the characters who have been established as comic relief in prior films make jokes. Drax (Dave Bautista), for instance, finds himself stuck in the background of a romantic moment between Star-Lord (Chris Pratt) and Gamora (Zoe Saldana). When the two notice Drax, Drax is shocked that his slow-motion popcorn consumption wasn't covert enough to go unperceived. Witty jokes provide welcomed breaks from the more intense aspects of the fast-paced narrative, but don't distract from the larger plot that the entire universe is at stake.
Notable computer-generated image also aids in the plot's success, and the animation is an incredible experience in and of itself. The designers seem to have treated every single computer-rendered feature with equal importance, making for a convincing cinematic universe filled with realistic portrayals.
Though completely computer-generated, Thanos exhibits lifelike movements and human facial expressions. Thor's use of lightning is even more impressive than in previous movies, and the fight scenes involving the god's powers are jaw-dropping. Meanwhile, Iron Man (Robert Downey Jr.) and Spider-Man (Tom Holland) get new, intricately designed CGI suits, both of which demonstrate the superior visual details of "Avengers: Infinity War." Iron Man's armor, for example, is made up of nanobots that can form different weapons as needed, and Spider-Man gets four new metallic appendages that aid him throughout the movie.
However, the real power on screen was the acting. With an impressive roster of characters comes an all-star cast to act their parts, and among the actors, Hemsworth, Holland and Elizabeth Olsen stood out most. Hemsworth's Thor retains his trademark humor throughout the film but now balances it with emotional vulnerability.
Holland's Spider-Man is just as amusing and lovable as he was in "Spider-Man: Homecoming." The actor plays his teenage character in realistic ways, talking at quick speeds, dropping pop culture references and coming off as believably awkward. Holland also brings a heavily emotional tone to his lines, enhancing the nuance of his role.
Olsen plays Scarlet Witch, the love interest of Vision (Paul Bettany), a synthezoid – a synthetic human robot powered by one of the infinity stones. Scarlet Witch serves as one of the most powerful heroes in battles and brings a newfound confidence to the role. Olsen also makes Scarlet Witch seem vulnerable in the wake of Thanos' hunt for the infinity stones, creating a character who is visibly on edge about the destiny of her lover.
However, their relationship aside, "Avengers: Infinity War" devotes virtually no time to character development because of its heavy focus on plot. The film assumes the audience already knows each of the characters shown throughout the movie, except for Thanos, whose backstory is the only one covered in any significant way.
The lack of growth in characters is the only thing holding the film back from achieving perfection. The already lengthy runtime probably accounted for the lack of dynamic personalities, and the ambition of filling a movie with so many protagonists may have been larger than the production itself. However, with its engaging plot, visuals and cast, "Avengers: Infinity War" succeeds as a crossover event of monumental proportions.
Countryman served as a senior staff writer. He was previously the 2018-2019 Music | Arts editor and an A&E reporter.
Countryman served as a senior staff writer. He was previously the 2018-2019 Music | Arts editor and an A&E reporter.