Gamer's Guidebook: Nostalgia in video games, when not stale, can attract wider audience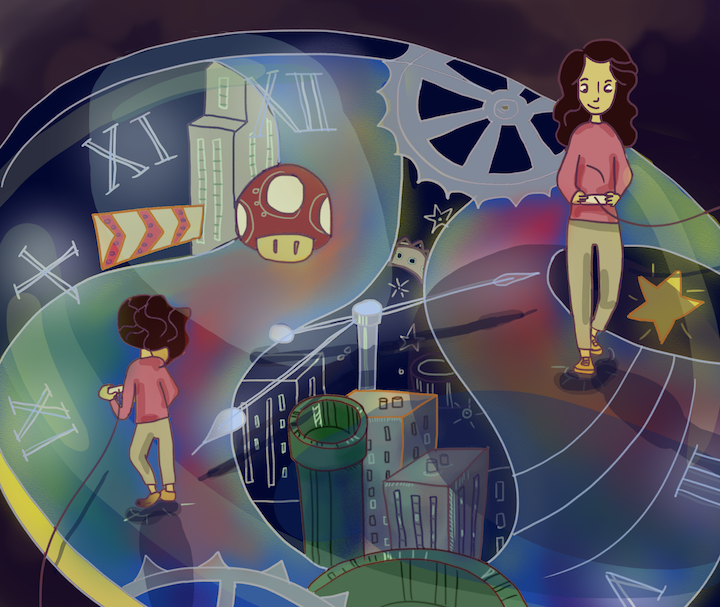 Games have always been a huge part of the entertainment industry, but what makes them entertaining? Game makers expend significant effort making design decisions people often don't think about when they're playing each game. Each week, columnist Evan Charfauros will examine the pros and cons of different game mechanics as seen in the modern gaming industry.
Nothing matches the rush I first felt while revving past the starting line in "Mario Kart 8 Deluxe" for Nintendo Switch.
The gorgeously rendered high-definition version of Moo Moo Meadows begins with the same jaunty string riff that opened the course's soundtrack on the Wii, bringing me back to the world I raced through in middle school.
Nostalgia is a common factor in modern game design – if a new game is an imitation, sequel or remake of an older game, it's bound to be popular among players who enjoyed its predecessor.
Gaming journalists have called the focus on nostalgia detrimental to the gaming industry as a whole, arguing a reliance on the past will eventually fail to interest the younger generation that is growing up playing mobile games. But nostalgia in games shouldn't be demonized – by bridging old and new, nostalgia can actually be a great way to advance industry innovation.
Admittedly, subpar sequels that seem like little more than cash grabs can be a problem. Long-term game franchises are the biggest transgressors in the eyes of nostalgia's critics as new games in decades-old series often ride the coattails of previous entries. Recent commercials for franchises like "Pokemon" and "Call of Duty" have even explicitly referenced their intended nostalgic appeal by depicting young adults rediscovering the modern versions of their childhood pastimes. However, bringing back classic elements of games doesn't have to be stale; some franchises succeed in celebrating both the old and the new.
"Super Mario Odyssey" takes the iconic hero out of the Mushroom Kingdom to explore the globe for the first time. It does away with series mainstays like Boos and Bob-ombs for completely new species of characters, ranging from the ghostly hat creatures of the Cap Kingdom to the cute neon talking forks of the Luncheon Kingdom. I promise it's not as weird as it sounds.
The game redefines the Mario formula by packing each kingdom with dozens of power moons that can only be found with thorough exploration and puzzle-solving, a level of detail none of the previous games have.
Even as "Odyssey" sets a precedent for future Mario games, it pays tribute to its history. The game reintroduces Pauline, the original damsel in distress from the arcade version of "Donkey Kong," Mario's first game ever. Pauline is now the mayor of New Donk City, an urban area where Mario climbs skyscrapers and jumps between steel beams suspended by cranes over a cloudy abyss. I just about flipped when I noticed the pink steel beams I was climbing on were the same design as the ones Mario traversed in the 8-bit, Donkey Kong original.
The New Donk City portion of the game wraps up with a citywide festival during which players navigate a redesigned 2-D Donkey Kong level amid fireworks, shimmering confetti and a live performance of "Odyssey's" jazzy theme song from Pauline herself. The various deviances from the tried-and-true Mario formula might have hurt the game in longtime players' eyes, if not for the multitude of moments that embrace Mario's storied history.
In other words, nostalgia complements innovation. The 2017 hit "Cuphead" also draws more explicitly on nostalgia by reusing the visual style of old 1930s cartoons.
Players control the titular character or his partner in crime, Mugman, who each look like a cross between old-school Mickey Mouse and, well, drinkware. While the gameplay is stellar, the biggest draw of the game is the seamless animation and aesthetics that make it look like the player is actually controlling a cartoon character in a 2-D world. As someone who grew up watching old "rubber hose animation" cartoons, being able to place myself in that world is an incredible feeling.
But perhaps the best recent example of nostalgia complementing innovation can be seen in the 2015 indie hit "Undertale." The game draws players in with its charming retro graphics and format, which assumes players are experienced with role-playing gaming. The presentation of what seems to be a classic RPG allows the game to subvert player expectations, building off what players assume they know about the game based on games they've known and loved in the past.
While players kill enemies on sight in most games, "Undertale" allows players to talk to or even flirt with their opponents. Fighting isn't always the best option, which seems obvious to an outsider, but isn't intuitive to a gamer used to killing everything they see with no consequences. There are consequences in "Undertale" – if you kill a character, the game will remember and other characters may remind you of your transgression. The game subverts several other assumptions as well, such as the idea that you can shut off a game without saving to retry a task you failed.
Without memories of other games to draw from, new gamers don't get the same thought-provoking experience out of "Undertale's" story and gameplay that experienced gamers do. The title takes RPG nostalgia and turns it on its head to create a visually dated game that's years ahead of many of its HD counterparts.
While too much reliance on what came before can lead to dull and uninspired games, many of the best releases take our fond memories and turn them into something bold and new. One day we'll look back on today's games with the same wistfulness that we do with those of our childhood, but new releases will allow them to live on in ways we can only guess at.