Daily Bruin contributor predicts 2018 Academy Awards winners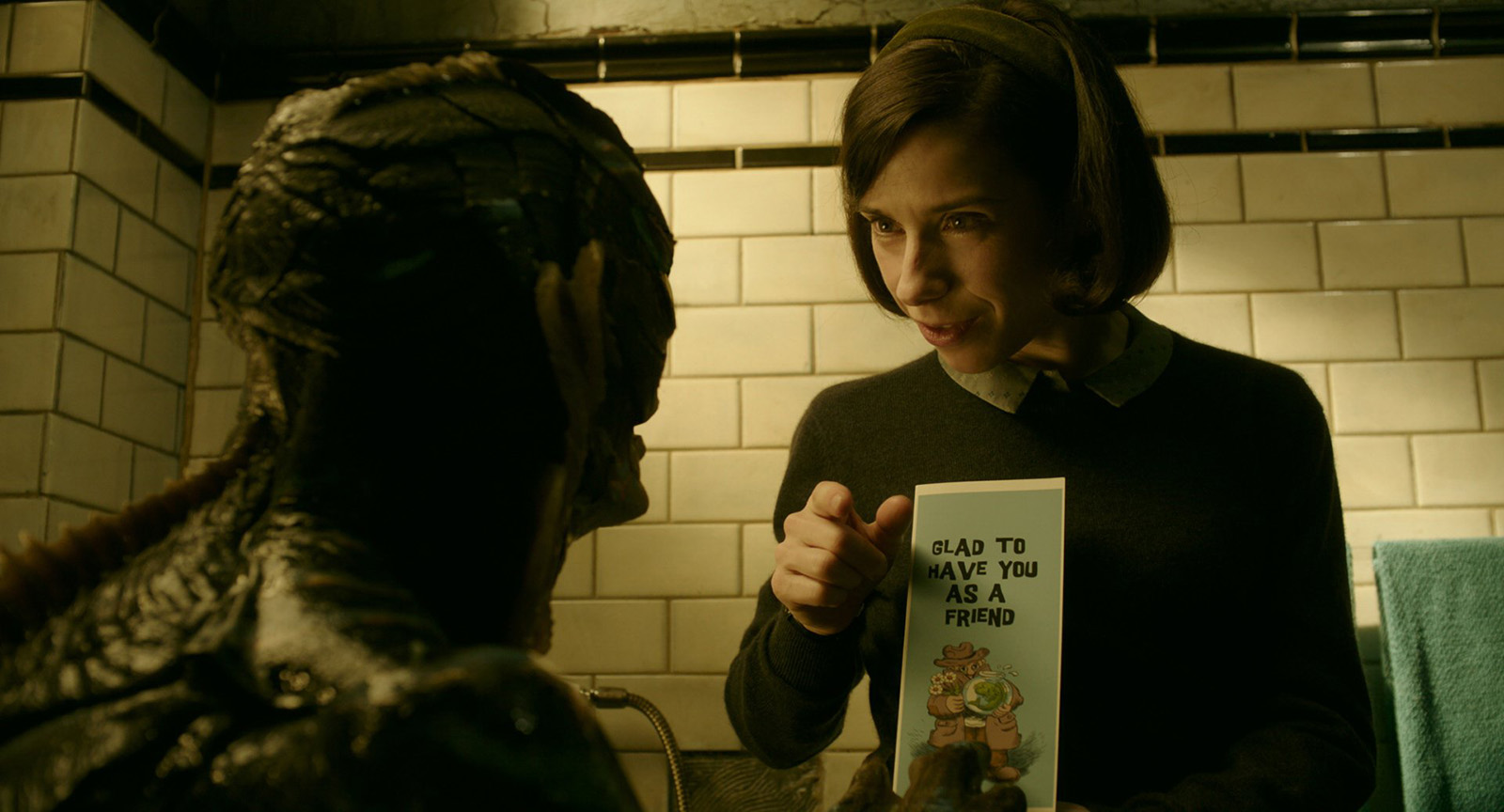 (Courtesy of Fox Searchlight Pictures)
2017 films turned cinema conventions on their heads.
In one best picture nominee, sadistic white, self-proclaimed liberals play the villains. In another front-runner, the love interest takes the shape of a humanoid amphibian creature.
Jordan Peele's directorial debut "Get Out" and Guillermo del Toro's whimsical romance "The Shape of Water" are just two of the nine best picture nominees that will battle it out at the 90th Academy Awards. Film legends, including Meryl Streep ("The Post") and Daniel Day-Lewis ("Phantom Thread"), are interspersed throughout the acting categories along with younger but equally talented adversaries, such as Saoirse Ronan ("Lady Bird") and Timothée Chalamet ("Call Me By Your Name").
The Daily Bruin's Alissa Evans predicts the winners in six of the most anticipated and hotly contested categories of the 2018 Academy Awards.
Best picture: "The Shape of Water"
"Mute janitor falls for mythical fish-man" is not the tagline of the typical best picture winner. But after garnering a whopping 13 nominations at the Oscars – more than any other 2017 film – del Toro's otherworldly fairy tale has quickly become a top contender.
"The Shape of Water" boasts dreamlike visuals, including stunning underwater shots, an exquisite dialogue-free lead performance from Sally Hawkins and a timely political message about accepting superficial differences. These elements, in conjunction with an acclaimed director, tick all the necessary boxes to win the biggest prize of the night.
The academy has historically favored more realistic dramas – such as "Moonlight" in 2017 and "Spotlight" in 2016 – and has not awarded a fantasy film like "The Shape of Water" the best picture title since "The Lord of the Rings: The Return of the King" in 2004. However, genre bias aside, "The Shape of Water's" wide range of nominations and best picture win at the Critics' Choice Movie Awards foretell its success.
Best director: Guillermo del Toro – "The Shape of the Water"
This year's best director category embraced diversity: Peele and Greta Gerwig ("Lady Bird") became the fifth African-American and the fifth female, respectively, to be nominated for the award. But del Toro's momentum is virtually unstoppable: He won the title at the the Golden Globes, Directors Guild Awards and the Critics' Choice Awards.
His biggest competition is Christopher Nolan, who, despite being heralded as one of the best directors of the century, has never before been nominated for best director. After "Inception" and "Interstellar" failed to win any of the major awards, Nolan is long overdue for a win, and his monumental work on "Dunkirk" is worthy of the trophy. But as del Toro has picked up all the major directing accolades throughout awards season, Nolan's potential win is seeming less and less likely.
Best actor in a leading role: Gary Oldman – "Darkest Hour"
In a category historically dominated by seasoned actors, this year's nominees are a welcome combination of veterans and fresh faces.
Newcomers Daniel Kaluuya ("Get Out") and Chalamet join the ranks of acting icons for their performances. Oldman, however, is the real shoo-in for his transformative portrayal of Winston Churchill in the biopic "Darkest Hour." Profiting from layers of makeup and prosthetics, Oldman adopts Churchill's stutter, upper-class English accent and brash but endearing demeanor in true Oscar-bait fashion.
Although unlikely, Chalamet could steal the gold for his gut-wrenching depiction of adolescence and first love in "Call Me By Your Name." At just 22 years of age, Chalamet is the third-youngest nominee in the category and would be the youngest winner ever. But Oldman's lead seems to be widening as he continues to sweep at every major award show.
Best actress in a leading role: Frances McDormand – "Three Billboards Outside Ebbing, Missouri"
In contrast to the best actor categories, the academy generally favors younger women, such as Emma Stone, who won in 2017 when she was 28 and Brie Larson, the 2016 winner who won at 26.
Despite McDormand being 60, her unflinching portrayal of a grieving mother in "Three Billboards Outside Ebbing, Missouri" demands attention. She previously won in the same category for her depiction of Marge Gunderson in "Fargo" in 1996.
Ronan could benefit from Hollywood's proclivity for ageism and from her win at the Golden Globes, but McDormand's domination this awards season makes her a safer bet.
Best actor in a supporting Role: Sam Rockwell – "Three Billboards Outside Ebbing, Missouri"
After Armie Hammer was snubbed for a career-defining performance in "Call Me By Your Name" and Christopher Plummer nabbed a nomination for his last-minute work on "All the Money in the World," best actor in a supporting role became one of the more unpredictable categories.
However, Rockwell secured his position as a front-runner after winning the Golden Globe for his role as the appallingly racist and pitifully idiotic police officer Dixon. Rockwell showcases his comedic chops but also portrays Dixon's sympathetic nature in a performance that adds nuanced complexity to what could have been a one-dimensional antagonist.
If the controversy surrounding a racist character's redemption arc gains enough traction to influence voting, Willem Dafoe could potentially pull ahead for his gentle turn in "The Florida Project." Rockwell's character, however, is not likely to spark enough dissension to cost him the trophy.
Best actress in a supporting role: Allison Janney – "I, Tonya"
Janney expertly infuses dark humor into one of the most unlikable characters in recent memory.
As figure skater Tonya Harding's shockingly cruel mother, Janney packs every icy glance with a scene-stealing conviction that evokes both an extreme distaste and a begrudging admiration in the viewer.
Janney edged out her biggest competition, Laurie Metcalf ("Lady Bird"), at every precursory award show and practically secured her place among this year's Oscar winners with a fierce performance that is the foundation for the film's critical acclaim.