Dance Break: Casual nature of Greek, Bulgarian festival dances connects students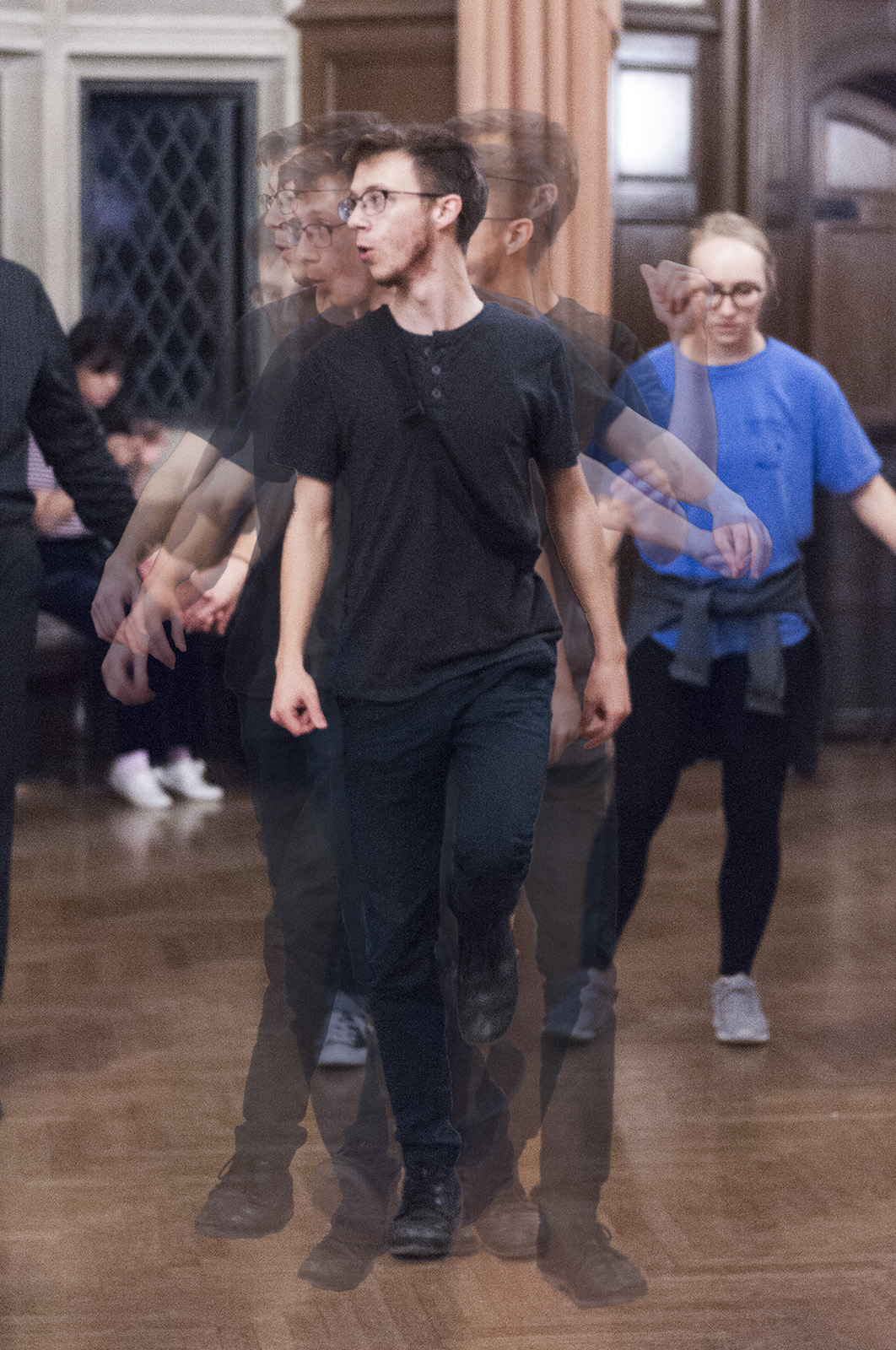 Second-year ethnomusicology student Nathan Bernacki taught Bulgarian folk dances at the International Folk Dance Club and Global Dance Club's 19th annual fall quarter Greek/Balkan Culture Night. The social, rather than competitive, nature of the dances made it so that the stakes were low, and messing up didn't feel too bothersome. (Photo: Hannah Burnett/Assistant Photo editor; Illustration: Michal Zshornack/Photo editor)
November 27, 2017 10:40 pm
Daily Bruin columnist Christi Carras' limited dance background consists of bingeing episodes of "So You Think You Can Dance," grapevining her way through high school show choir and stumbling through rehearsals at a daycare-like dance studio until the age of 8. As a personal experiment, she attended workshops and lessons for 10 campus dance groups fall quarter and documented her experience as a nondancer for Dance Break.
My early memories of Greek festivals revolve around fried, honey-drenched dough balls, classic carnival games and lots of dancing.
I remember fearlessly squeezing my little elementary-school self into the rapidly spinning chain-link circle, my tiny hands encased in the giant palms of strangers. At the time, I imagined I was as expert a dancer as the veteran Greeks grapevining and hopping around. I now realize the most impressive feat my pint-sized legs probably ever performed was stumbling fast enough to keep up with them.
I haven't attended a Greek festival in approximately a decade, but learning the syrtos Greek dance at the International Folk Dance Club and Global Dance Club's 19th annual fall quarter Greek/Balkan Culture Night resurrected my childhood memories in surprisingly fine detail. The hourlong workshop, which included a mix of Bulgarian and Greek folk dance styles, was perhaps the most community-oriented dance lesson I've taken thus far – and it was, without question, the most nostalgic.
I'm the first to admit I'm not the best Greek person. Growing up in the Greco-saturated Chicago suburbs, my fellow Greek classmates were almost always shocked to discover I was technically one of them. If I didn't attend Greek school at Holy Apostles Greek Orthodox Church from the day I could form a sentence, was I even really Greek?
Truth be told, this identity-centric question never kept me up late at night. I had a general distaste for most Greek foods, and the majority of my Greek cultural knowledge came from Disney movies and public school history lessons. I wish I could say these embarrassing truths haunted me, but they never did.
Despite the fact I was not an active member of the Greek community, several elements of Greek culture have filled my past with fond memories – one of which is festival dancing. So, I was more than willing to link hands with strangers to finally learn the syrtos the way it's supposed to be performed. As it turns out, the dance really isn't all that challenging for the adult mind and body.
To begin the lesson, my fellow participants and I circled up, hand in hand, leaving a gap in the middle for the leader. The instructor demonstrated the step sequence, which was a combination of cross-steps behind and direct steps forward and back, which repeated after a short round of counts. Greek dances are almost all footwork, given that the hands are preoccupied with keeping the circle connected.
The result is a sort of complex version of "Ring Around the Rosie" without the final drop to the ground. Since the combination repeats itself over and over, the practice is built into the performance itself. As the Balkan band continued to play at increasing speeds, my feet became more and more comfortable with the sequence and the rhythm.
Stakes are also low because Greek dances such as the syrtos are social rather than competitive. After tripping up, all I really had to do was look at the feet around me and listen to the beat of the music to jump back in. The casual nature of the style also explains why, as a little girl at Greek festivals, I didn't bother people by accidentally stepping on their toes.
The lesson also included Bulgarian dance, which had a similar framework – hand-in-hand, circular dancing. However, I found the intricate footwork slightly more difficult. Second-year ethnomusicology student Nathan Bernacki taught us Paidushko number five, Kopanitsa number 11 and Daichovo number nine, each of which featured a different accompanying song and was more demanding, coordination-wise, than the last.
Bernacki said the Bulgarian routines, like the Greek dances, are performed at social events, historically in village squares or at Bulgarian festivals, accompanied by musicians ranging from local amateur to professional.
Unlike the syrtos, however, the Bulgarian dances contained some added hops and tougher, off-beat steps. The step-together-step of the Paidushko horo became more manageable to execute after repeating it several times, but I never quite got the hang of the forward- and reverse-steps of the Daichovo horo, no matter how many times I tried.
After the lesson, I felt I had begun to fill a hole in my cultural upbringing – at least whatever small part the syrtos covers – and I can't wait to show off my new skills at the next Greek festival I attend.
Carras is an A&E senior staff writer. She was previously the assistant editor for the Theater Film and Television beat of A&E.
Carras is an A&E senior staff writer. She was previously the assistant editor for the Theater Film and Television beat of A&E.