Restaurant review: Ministry of Coffee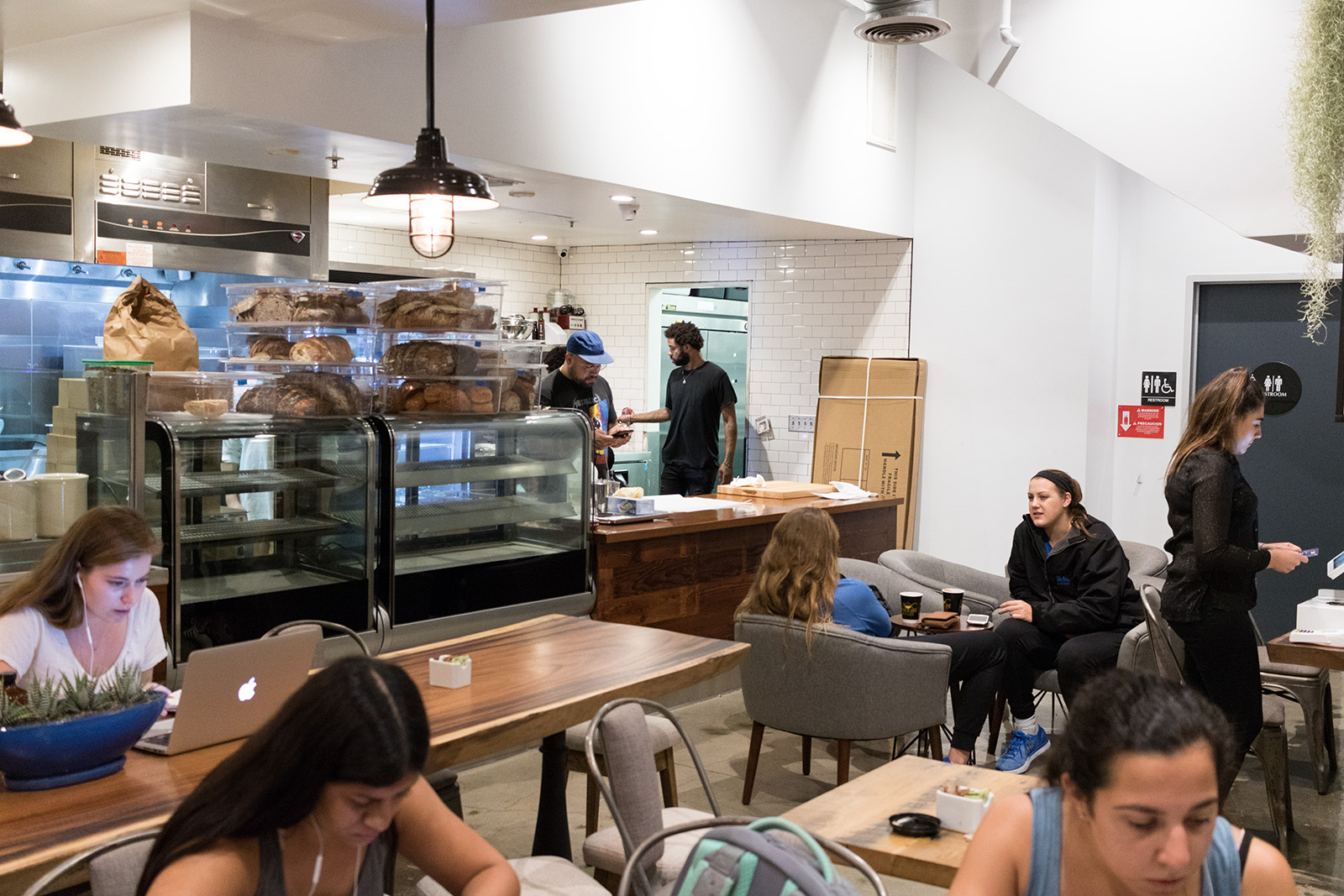 Ministry of Coffee opened last week on Glendon Avenue in between Trader Joe's and Jersey Mike's. The chic, minimalist atmosphere makes it a great study spot for students looking for a place to catch up on school work. (Jacob Preal/Daily Bruin senior staff)
1010 Glendon Ave, Los Angeles, CA 90024
Students can cram for exams in style at a new Australian coffee shop on Glendon Avenue.
Nestled in between Trader Joe's and Jersey Mike's, Ministry of Coffee offers artisanal drinks and satisfying foods to the UCLA community.
After opening Tuesday, Ministry of Coffee offered an introductory menu to preview some of the food they will serve, which includes avocado toast, market lettuce salad, and bagels and cream cheese. Though the restaurant provides primarily breakfast and bread-based plates, it elevates simple foods and maximizes its small space to create a fashionable study spot.
The sounds of milk steaming and espresso beans grinding welcome customers as they enter Ministry of Coffee's front doors. Meanwhile, hits by King Krule, Wild Nothing and Tame Impala play throughout the shop at a pleasantly moderate volume, accentuating the hip ambience.
Customers can sit in cushioned lounge chairs, at a large communal table or in small stools in the corners of the restaurant. Along the walls, antique globes, artisanal coffee equipment and bags of the shop's own brand of coffee beans sit atop sleek and simple-looking metal shelves. The cafe's comfy interior and casual setting make studying and completing schoolwork feel like less of a strenuous chore than some of the cramped study spots on campus do.
Toward the back of the restaurant, cooks prepare dishes in an open kitchen, complete with stainless steel appliances that add another level of chic minimalism to the atmosphere. This minimalism might help customers focus on what's on the table in front of them – be it flashcards, a glowing laptop screen or a handcrafted drink alongside a filling dish.
Dishes range from a $6 Bread n' Butter Plate to  heartier meals costing $12. In addition to the food menu, Ministry of Coffee also offers coffee, tea and crafted hot and iced espresso drinks, most of which fall around $5.
UCLA students already overpay for mediocre coffee and caffeinated drinks at campus cafes, so paying $4.50 for a delicious mocha with Instagram-worthy designs is worth the extra expense. Topped with typical leaf-like latte art and a sprinkle of chocolate powder, the Ministry of Coffee's mocha balances chocolate and espresso flavors without an overbearing sweetness or bitterness – a definite step up from the watered-down $5 mochas offered on campus.
From espresso drinks to nourishing dishes, Ministry of Coffee takes simple foods and elevates them, as seen with their $12 grilled cheese. Ministry of Coffee enhances the classic sandwich by using toasted sourdough bread and a combination of fromage blanc and gruyere cheeses. Mixed greens, red onion slices and pickles also add a level of freshness to the dish, and the tanginess of the small pickle slices along with the savory red onions complement the rich taste of the flavorful cheeses.
The Ministry's innovation on classic foods, such as its grilled cheese, make other items from their full menu, such as smoked salmon bruschetta and lamb skewers, even more enticing.
Ministry of Coffee provides a satiating and reasonably priced menu within a sleek study space for work. The coffee shop from down under is definitely on track to rise up as one of Westwood Village's hippest study spots.
Del Rosario is the 2018-2019 prime content editor. She was previously an A&E staff reporter.
Del Rosario is the 2018-2019 prime content editor. She was previously an A&E staff reporter.