Alumnus helps direct play that aims to normalize transgender identity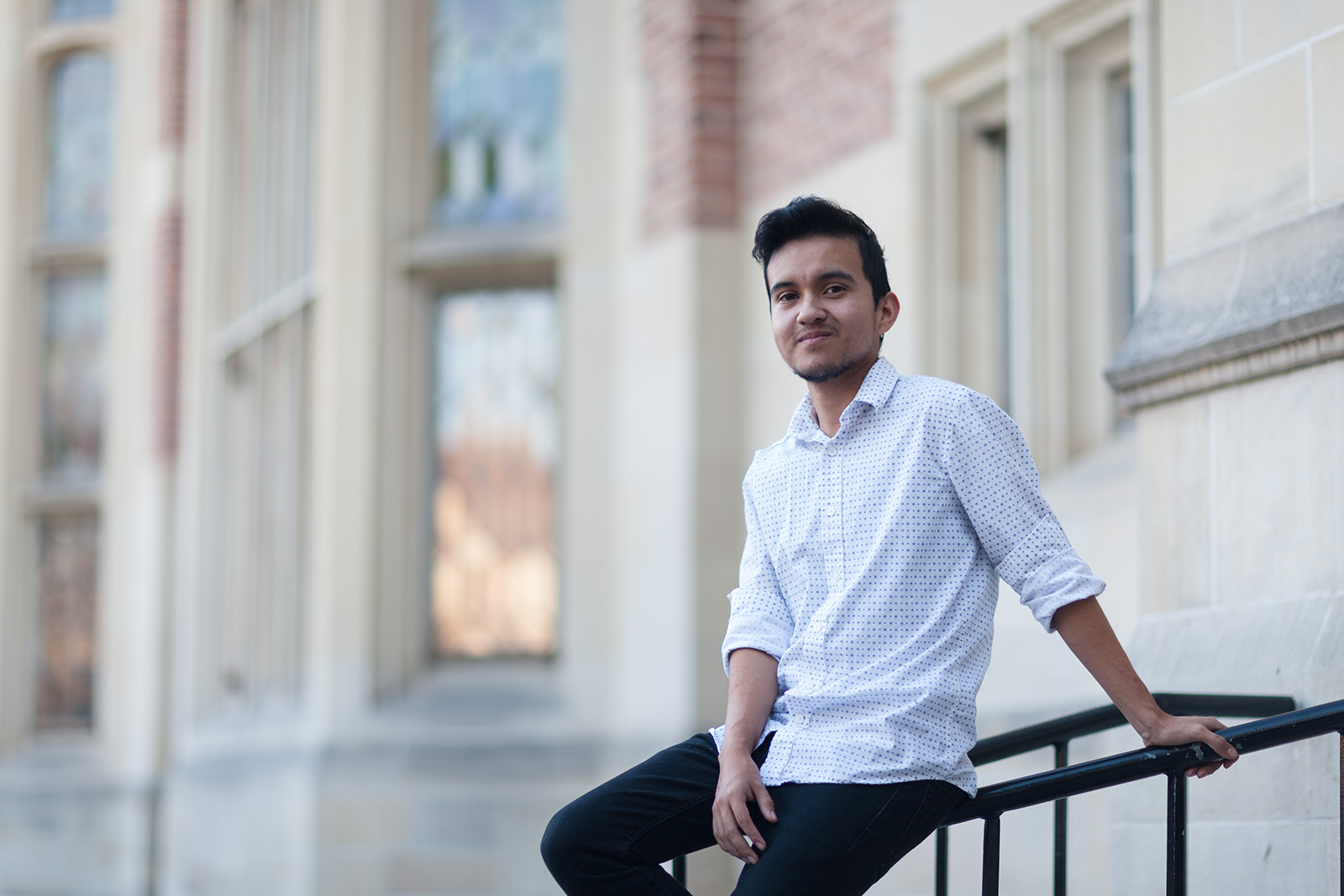 Alumnus Shen Heckel helped direct the play "Rotterdam," which is about two women in a relationship who must redefine their relationship when one of them comes out as transgender. (Aubrey Yeo/Daily Bruin senior staff)
"Rotterdam
Nov. 11 – Dec. 12
Skylight Theater
Student advance tickets $20
Other ticket prices vary
Shen Heckel didn't get the lead in "Rotterdam," but the opportunity to work on a play about transgender identity made him determined to join the production.
Heckel became the assistant director for the play, which tells the story of two women in a relationship as one struggles to come out to her parents, while her girlfriend comes out as a transgender man named Adrian. He originally auditioned for the role of Fiona/Adrian, but when he didn't get the part, he contacted a friend who was producing the play about his interest in becoming an assistant director. Soon, he began working alongside the show's director. The show runs Nov. 11 to Dec. 11 at the Skylight Theatre in Los Feliz Village.
Heckel said he offered insight from his own experiences as a transgender individual to help craft a story the transgender community would find truthful while also being relatable to an outside community. "Rotterdam" director Michael A. Shepperd, who works as the creative director for the LGBTQ-focused Celebration Theatre and as the guest director for the Skylight's theater season, said Heckel brought a needed perspective to the show's direction.
"I immediately thought, 'Well, how perfect is that?' seeing as I'm not trans and Shen is trans … and he was amazing," Shepperd said. "He was an integral part of the process."
Heckel said he was initially surprised at how inclusive Shepperd made the directing process. Shepperd would often direct a scene and then turn to Heckel to ask for his thoughts on elements of the show related to the transgender experience.
In one scene, Shepperd consulted Heckel on how a character would move when putting on a chest binder, as well as whether the character's emotions mirrored Heckel's own experiences.
"I was a little overwhelmed at how generous he was – first rehearsal, he's like, 'Chime in any time,'" Heckel said. "It's very collaborative, very open."
Heckel also worked closely with actors Ashley Romans and Ryan Brophy, who play siblings Fiona/Adrian and Josh. Romans, who plays Fiona/Adrian both prior to and through the character's transition, said Heckel helped foster an environment where she felt comfortable asking questions about Heckel's own identity to better understand her character.
Heckel encouraged the actors to use improv to explore their characters' emotions in a personal way. In one argument scene, Heckel had the actors improvise their characters' inner monologues, and in the heat of the moment, the actor playing Josh accidentally misgendered Adrian, using feminine pronouns instead of his preferred masculine pronouns.
Heckel said the exercise was important because Brophy's accidental misgendering showed the character's internal struggle with accepting his sibling's gender identity despite appearing outwardly supportive. Although misgendering can be either deliberate or accidental, Heckel said the improvised misgendering was true to the broader transgender experience and helped explain the significance of misgendering to the actors.
Romans said the improv exercises also helped her develop Fiona's/Adrian's thoughts about the sibling relationship by forcing her to consider their pasts, which weren't explicitly written in the script.
"As an actor, you always try to look for that in between the lines, the white space, and fill it up as much as possible," Romans said. "(Shen's) improvs definitely allowed us to explore our relationship as siblings, … explore the day we had before that and all the crap we're bringing into the scene."
The relationships between the characters create a dialogue that extends beyond the LGBTQ community, Shepperd said. While accurately portraying the transgender experience was a core concern, the show chose to focus on the characters' emotions rather than their identities, he said.
"I hope that cisgendered, heteronormative folks come in and go, 'Oh, that's the same conversation I had with my husband or my boyfriend or my girlfriend or my partner,'" Shepperd said. "Change is change no matter what it is, and relationships are just relationships – they all come with struggles and challenges."
Heckel said he also hopes the show will be accessible to a broad, diverse audience and extend beyond a niche story for a specific group. He said the production is an attempt at normalizing transgender stories and their legitimacy in theater.
"This is a great theater production of a great story – yes, it's a queer story with a trans character, but that should be right on par with going to see 'The Little Mermaid' or 'Oklahoma!'" Heckel said. "It's just as interesting – it is for everyone, and that's how we make these stories normal."