Student's art exhibition spotlights nuances of human interaction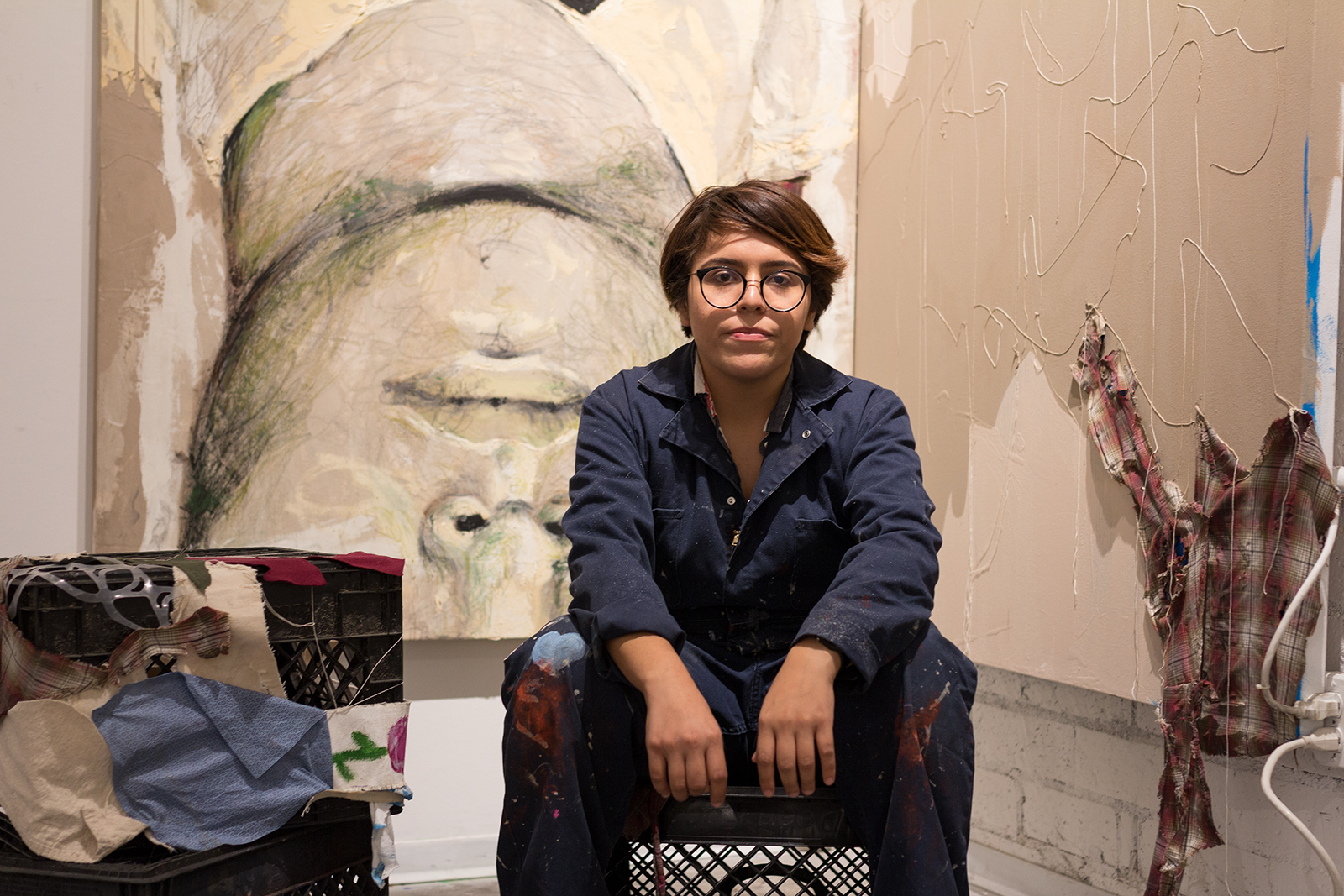 Vanessa Guzmán, a third-year art student, suffered from anxiety and panic attacks when she was a high school student. After being homeschooled and overcoming a two-year-long state of social isolation, she began exploring new mediums of art at her community college, such as performance art. Her exhibition "Ellos" was recently displayed in the Broad Art Center. (Chelsea Zhang/Daily Bruin)
November 14, 2017 12:08 am
Vanessa Guzmán had her first panic attack in the middle of a high school math exam.
Guzmán said she felt the walls closing in on her, and all the noises around her magnified. She ran to the restroom, struggling to calm down.
"Everything came alive. Walls, breathing, everything became animated," Guzmán said. "I just became hyperaware of the surroundings, and even of my own body."
After her first panic attack, Guzmán said she fell into a two-year-long state of social isolation due to her anxiety. Having now recovered, the third-year art student said she uses visual and performance art to emphasize the importance of social interaction. At the UCLA Broad Art Center, Guzmán recently displayed her art exhibition "Ellos," a series of works focusing on human connections.
"My isolation is definitely one potential reason on the direction of my artwork," Guzmán said. "The two-year-long isolation reminded me of the importance of being surrounded by people and the influence they had on me."
Guzmán's frequent anxiety forced her to leave her traditional high school for homeschooling. For two years, Guzmán said she could not leave the house for long periods of time without having a panic attack. When she was 18, she spent 15 minutes in Walmart for the first time and cried from excitement.
"I went back to the house and I still have my diary, and in it, it just says 'I was at Walmart for 15 minutes,' with 10 exclamation points," Guzmán said.
Through her artistic endeavors, along with therapy, medication and her family's support, Guzmán said she slowly recovered. During her recovery process, she said she learned to appreciate the beauty of details in her life that she previously ignored, such as watching sunlight stream down onto her white bed sheets.
Guzmán's artistic mediums and subjects shifted to focus more on the nuances of how humans influence each other. Now she focuses on sculptural painting, in which the artist uses thick layers of paint to create a three-dimensional effect. In "Ellos," her art pieces focused on the theme of human interaction – specifically on how people influence each other.
Erica Guzmán, Vanessa Guzmán's sister, said Vanessa Guzmán has always been gifted in the arts and often drew for the church where their parents worked as pastors. When Erica Guzmán visited the gallery, she said she could not hold back her excitement about her sister's accomplishment.
One piece Erica Guzmán saw in the show was called "Artist Talk," a collaborative effort between Guzmán and her friend and roommate Angel King, a third-year art student. The video depicted them eating out of Campbell's Soup cans alongside a video of the artist Andy Warhol eating a hamburger. King said the piece was a parody of Andy Warhol, as well as a commentary on the nature of modern art.
Vanessa Guzmán also incorporated elements of performance art into the gallery by inviting spectators to eat donuts with her in the exhibition room Nov. 1 and photographing them as they ate.
King said Guzmán is an idea-based conceptual artist who constantly brings new ideas to their collaborations. She said their shared vision of art as a communal experience has kept them working together.
The title piece of the gallery, "Ellos," was an abstract collection of paintings and everyday objects. In the creation process, Guzmán grabbed different materials around her, including crates that she used to sit on and her late grandfather's ripped shirt.
"(The art piece) is really personal to me, but also I used fabrics belonging to other people, people I don't know," Guzmán said. "My (art) is about the effect of others in our individual lives. I chose the name 'Ellos' because my show revolves around others."
Guzmán said she could not have imagined working intensively with other people months ago. However, she said that many people would not even know she has anxiety based on the way she carries herself. Although she still goes to therapy, she has not had any anxiety attacks for more than two years.
"When you learn to appreciate the little things … there is no reason not to be happy or content," Guzmán said.