Restaurant Review: Eataly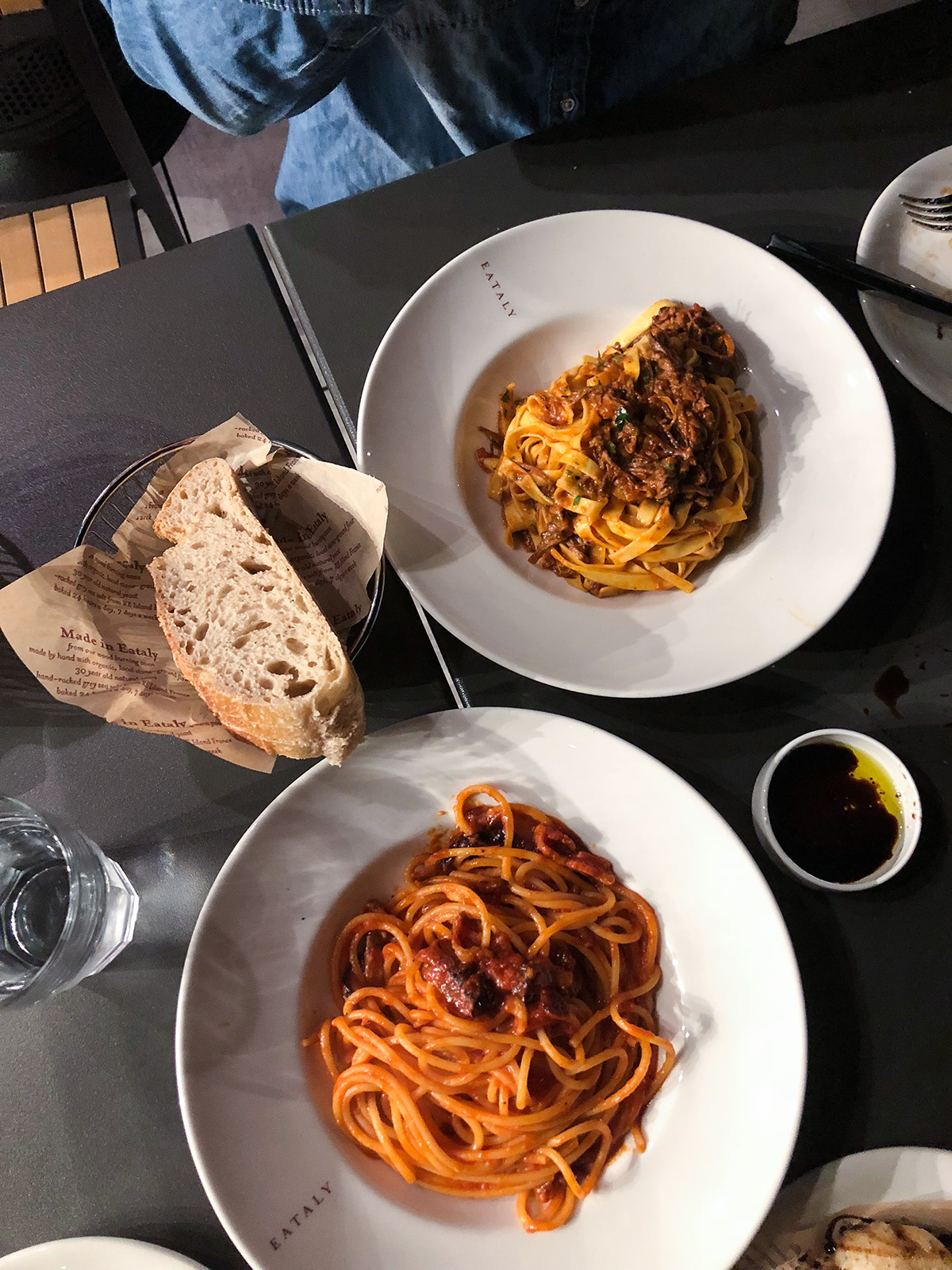 (Olivia Mazzucato/Daily Bruin)
Eataly L.A. has been called a "Disneyland for Italian-food lovers," and while the new multistory eatery lacks roller coasters and rides, the description is oddly apt.
The Italian marketplace, complete with different food counters, restaurants and markets, sells all things Italian – fresh food to inspire taste buds, authentic ingredients for tasty home-cooked meals and all manners of kitchen appliances to help bring Italian cuisine to life. The location at the Westfield Century City mall, which opened Friday, marks the first West Coast opening and is the newest addition to the franchise, which has dozens of locations in cities such as New York City, Tokyo and Rome.
As a young establishment, it's clear that Eataly's still working through some growing pains. The check-in system at restaurants is confusing and the layout is jumbled. There's also a lengthy line just to get into the complex, not to mention hourlong waits to be seated at the restaurants. Nevertheless, Eataly serves up delicious dishes while offering a bite of Italian authenticity.
The main floor of the store is part-market and part-food hall. The outside perimeter of the room stocks a variety of food items for purchase such as pasta, cheeses, cooking appliances, fresh produce and wines, and the inside portion hosts a number of different food counters, with ready-to-eat fare such as pizza and dessert.
However, Eataly's main attractions are its two restaurants – Il Pesce Cucina which serves seafood dishes, and La Pizza e La Pasta. After putting their names on the waitlist at a small booth, guests were told to wait an hour before checking in to be seated. It's unclear whether the somewhat chaotic system is permanent or simply a temporary solution for opening weekend crowds, but the wait provides ample time to explore the additional contents of Eataly. A word of advice – if you're waiting for a table to open up at the restaurant, browse around the store but don't buy anything. Your stomach may protest, but your wallet will thank you.
La Pizza e La Pasta offers guests inside and outside seating, along with a lengthy menu of antipasti, pizza and pasta. The restaurant encourages family-style eating, which is helpful in contending with the generous portion size and overall expense of the dishes.
Italian meals traditionally begin with an antipasto, known in English as an appetizer, and the shiitake mushroom fritti was a surprisingly delicious option. The batter offered a delicious crunch that contrasted nicely with the tender shiitake mushrooms. Saba, a grape-based condiment similar to a thicker version of balsamic vinegar, topped the dish, lending it a sweet, yet savory contrast.
La Pizza e La Pasta also offers two different types of pasta – pasta secca, which is dry pasta made in Italy and pasta fresca, which is made daily within the restaurant. The pastas are more expensive than your average Italian restaurant, ranging from $17 to $24, but are well worth the cost.
The bucatini all'amatriciana, a pasta secca served in a red sauce made up of tomatoes, pork, onion, cheese and chili flakes was delicious. The pasta is served al dente, which means "to the tooth" in Italian, which results in a firmer pasta. The bucatini delivered its promised firm quality, offering a delightful textural contrast to the mushy, overcooked pasta that characterizes many so-called Italian restaurants. The dish may have been simple, but in this case, the simplicity allowed for perfection.
Another pasta option, the tagliatelle al ragu is a pasta fresca, and the tenderness of the fresh pasta helped the noodles soak up the sauce. The pasta was served in a meat sauce with braised brisket, which was so rich and tender it practically melted in my mouth with each bite. In both pastas, the sauce was delightfully flavorful, finding a balance between being overwhelming and bland.
For customers who still have room after dinner, a dessert counter on the main floor offers a selection of Italian treats such as tiramisu and Venchi chocolate. The pastry and gelato counter on the first floor also provides a full selection of gelato flavors, as well as cannoli and bomboloni.
The lemon gelato was light and fresh tasting, the ideal palate cleanser after a flavorful, decadent meal.
In many ways, Eataly encapsulates the most trying elements of a place like Disneyland. The long lines to get in and to get food can feel similar to the hustle and bustle of a theme park, and the expensive prices are only slightly higher than what you might pay at Disneyland.
However, for those who enjoy good food and authenticity, Eataly might be their new "happiest place on Earth."