Students explore trendy Halloween costumes, creative group themes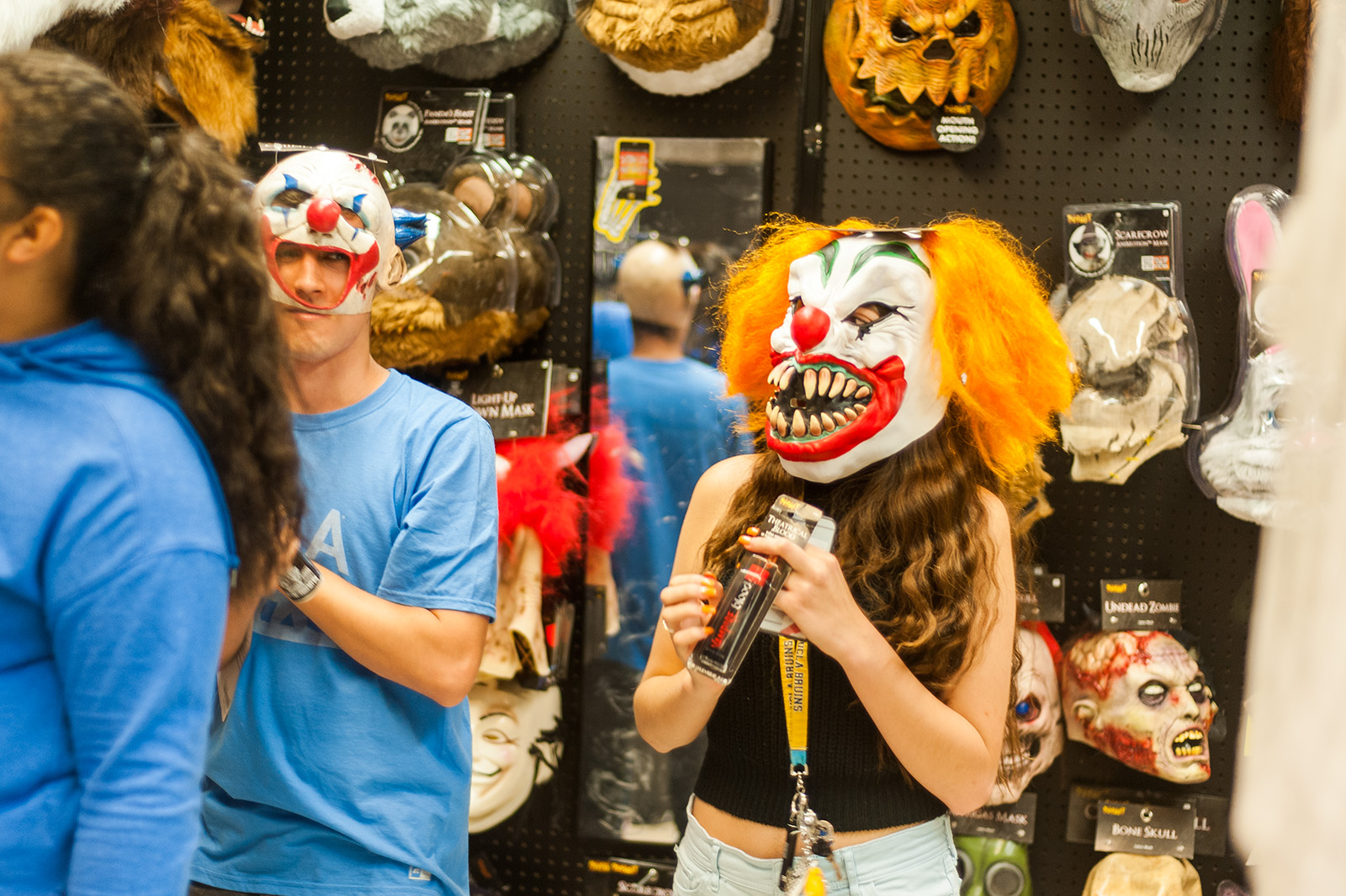 Students at UCLA are dressing up in costumes this Halloween portraying characters like Pennywise from "It" and Evan Hansen from "Dear Evan Hansen." The students all have different plans and meanings behind their costumes from simply wearing them to go out trick-or-treating or using them to make a larger statement on costumes in modern-day culture. (Hannah Burnett/Assistant Photo editor)
Pop culture, from classic Disney films to modern horror iterations, will serve as an inspiration for many students' costumes this Halloween.
Inspired by the 2017 film adaptation of Stephen King's "It," one group of students is teaming up to dress as characters from the film, with first-year biology student Phillip Winters dressing up as Pennywise the Dancing Clown. Although Winters didn't initially want to dress up as the infamous clown, he's hoping to scare some people.
"Someone had to be Pennywise," Winters said. "I didn't choose it, but (my friends) told me I should, and I was like, 'OK.'"
Winters and the rest of his group are just one example of students who will be donning store-bought and do-it-yourself costumes to celebrate Halloween this year. Students are wearing their costumes for a variety of purposes – including dressing up to trick-or-treat and kickstarting larger discussions about costumes in modern-day culture.
Many of the students chose to dress up as characters they found to be relatable. First-year physiological science student Sean Panado chose to dress up as Peter Pan, a character he had portrayed in the past. Panado dressed up as Peter Pan for a leadership conference he attended when he was younger, and used the film to explain leadership qualities to middle school students.
Although he'd gotten rid of elements of the old costume, he pieced together a new costume using items he still had, such as a pair of moccasins, and cutting up a green shirt to fit the costume, he said.
Andres Esparza is also putting together a DIY costume – something he said he's done many times before. In the past, the second-year English student put together outfits to portray Marty McFly from "Back to the Future" and Chris Pérez, guitarist and husband of singer Selena. This year, Esparza will be dressing up as Harry Potter with friends Feven Negussie and Armando Berumen, who will portray Hermione Granger and Ron Weasley, respectively.
The costumes were inspired by an online post that featured an artistic rendition of the Harry Potter Golden Trio as people of color, with a Latino Harry and a black Hermione, Esparza said.
"Me and (Negussie) were like, 'That's exactly what we are,'" Esparza said. "Harry Potter's always been something about bravery, unification, and … the focus in 'Harry Potter' isn't your skin color. So we just did something that's close to us and had fun with it."
The Broadway musical "Dear Evan Hansen" served as the inspiration for Trevor Sepulvida, who dressed as the title character. The third-year political science student bought clothes from Ross Stores that resembled the titular protagonist's outfit from the end of the show – a black jacket with a blue button-down shirt.
"I picked (the costume) because I fell in love with the show and I think it's so poignant for a lot of young people living in a digital age," Sepulvida said. "I felt like I could relate a lot to Evan Hansen."
Students dressing up have a variety of ideas about when and where they'll wear their costumes. Esparza wore his costume when he went out with friends Thursday night and also at an event he hosted Friday for his floor as a resident assistant. The event, called Carving Through Costumes, allowed residents to carve pumpkins while also learning about cultural sensitivity and appropriation as it relates to Halloween.
Esparza said he hoped his own costume added to the discussion by showing positive examples of the portrayal of people of color.
"Fictional characters aren't really portrayed (as people of color)," Esparza said. "I want to show that characters that are heroes – superheroes, wizards, things like that – can be of any color."
The "It" group plans on trick-or-treating in Bel Air because they heard houses in that neighborhood typically give out money and big candy, said first-year linguistics and psychology student Amanda Alcala, who will be dressing up as Eddie Kaspbrak.
For "It" group member and first-year psychology student Lani Williams, who's dressing up as Ben Hanscom, this will be her first time trying out the Halloween tradition of trick-or-treating.
"This is my first time trick-or-treating, my second time dressing up for Halloween," Williams said. "I'm really excited. I'm so ready to have fun, especially because I get to go with friends."